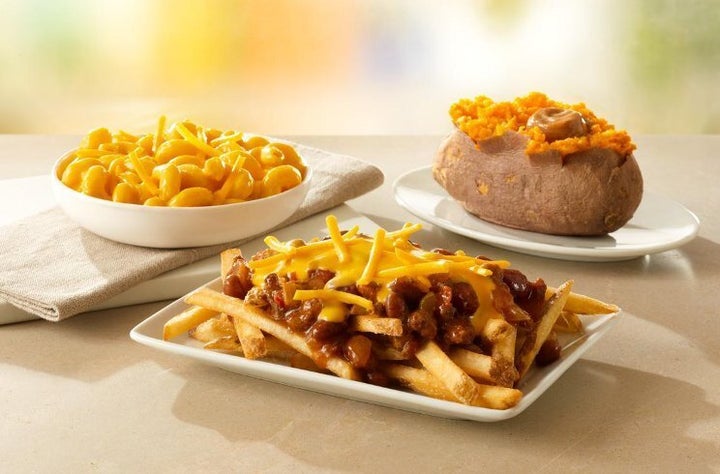 A lot of fast food chains focus on introducing new sandwiches or salad meals -- including mega-chain Wendy's, but now its latest focus is on sides. Wendy's has stepped up the sides game with the introduction of three new signature side items not typically seen in an operation with drive-thru service: Macaroni & Cheese, Chili Cheese Fries and Baked Sweet Potatoes. They obviously aren't marketing them with the health trend in mind, but that doesn't matter as long as "you know when it's real." Here's how the new signature sides rate:
The Claims: Wendy's has three new sides: Macaroni and Cheese, large spiral noodles in a creamy, Cheddar and American cheese-based sauce, topped with shredded Cheddar (370 calories); Chili Cheese Fries, its regular fries topped with Cheddar cheese sauce and the company's signature chili, also topped with shredded Cheddar (570 calories); and the Baked Sweet Potato, served with a buttery cinnamon spread on the side (380 calories). You can upgrade a meal combo with each new signature side (at a small additional cost), or buy them individually.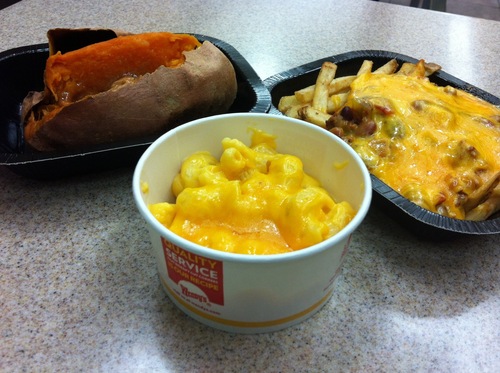 Macaroni and Cheese. Grade B-. It's surprising that Wendy's hasn't offered this before; the chain already has a stock cheese sauce in the kitchen for the baked potatoes, and pasta is pretty easy and convenient to make. Well, Wendy's has stocked up on macaroni to bring you its version of Mac 'n Cheese, which is a step above your generic grocery-store powdered version -- but don't expect a baked crust of breadcrumbs on top. Instead, there's a garnish of shredded Cheddar (also from the already existing inventory), which tries to bring dimension to the gooey, salty side dish, however, it melts and blends in. Salty cheese blended with salty cheese is nice, but with all the other things in Wendy's inventory, the chain could have easily made things interesting with broccoli or bacon options.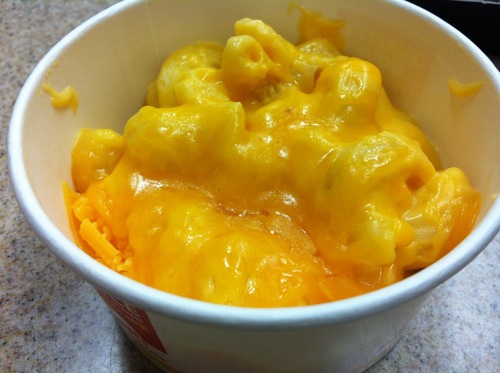 Chili Cheese Fries. Grade: B. Here's one exercise in reshuffling things that already exist in the kitchen. Take the fries from the fryer, add on the chili you've served for years, and top it with the kitchen's stock cheese sauce. Combined, it's actually a really good combination, but nothing out of the ordinary. It's exactly what you'd expect if you combined the already familiar ingredients, with the gooeyness of the cheese sauce, and the beef, beans and tomato base of the chili. However, all the toppings make the fries really soggy, so much that this is one dish you'd have to eat with a fork.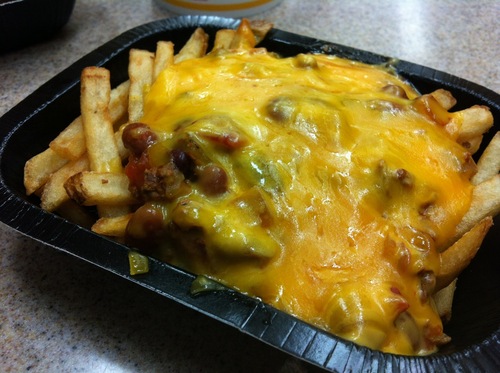 Baked Sweet Potato. Grade: A-. Despite the previous reshuffling of existing inventory, it's refreshing to know that a fast food chain can be inventive, or at least break the mold of what kind of food can be prepared and served quickly for the masses. Sure, some places have sweet potato fries, but what other fast food mega chain is serving up whole baked sweet potatoes? There's not much to this item other than the novelty that you can get one, which is already a welcomed change. The sweet potato is soft, chewy and naturally sweet on its own, but you can make it even sweeter -- and saltier, which helps -- with the addition of the little ball of cinnamon sugar-coated "buttery spread" that comes in a little condiment cup on the side. Wendy's says it's a "buttery cinnamon spread," which makes me believe it's not real butter, but merely its regular "buttery best spread" coated in cinnamon and sugar. With everything "real" going for them, I wonder when the company is going to upgrade that.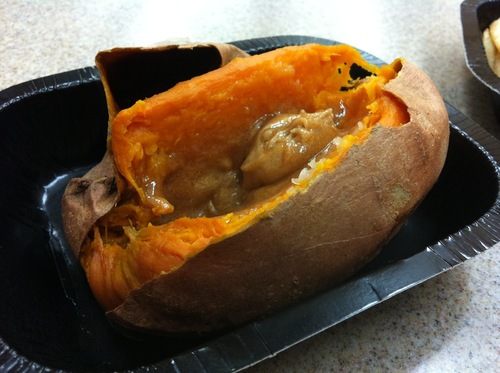 Popular in the Community