Your eyes do not deceive you -- this nine-patty "T-Rex" Wendy's burger is real, but only at a single location in Brandon, a city in Canada's Manitoba province. A Reddit user recently posted the below image of the gargantuan sandwich, and HuffPost decided to investigate.
A call to the eatery revealed that the "T-Rex" allegedly came into being after a tongue-in-cheek ad featuring the burger, then fictional, appeared in a Sports Illustrated magazine as long as nine years ago. Customers began requesting the burger, and management at the Brandon Wendy's obliged.
An odd story, no? Although the "T-Rex" isn't on the location's official menu, a photo copy of the original Sports Illustrated ad is displayed in the restaurant and hungry patrons can order it for $21.99.
UPDATE: The Brandon Wendy's has stopped selling the T-Rex, writes the Canadian Press. "For obvious reasons, Wendy's of Brandon neither condones nor promotes the idea of anyone consuming a nine-patty hamburger in one sitting," said Barb Barker, an outlet employee.
Related
Before You Go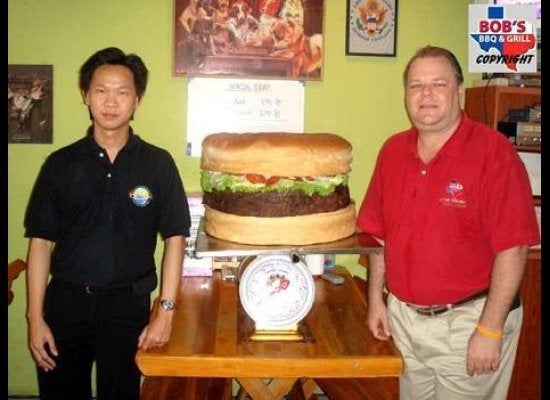 World's Biggest Burgers
Popular in the Community