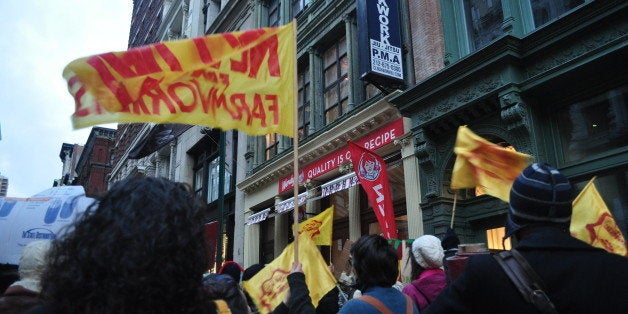 NEW YORK -- With a brass band accompanying chants of "Your burgers might be square, but your food ain't fair," and "Wendy's sucks, give up some bucks," about 200 people marched in front of two Wendy's restaurants in Manhattan this past Saturday, demanding the company pay 1 cent more per pound of tomatoes in order to boost farmworkers' wages.
The protest, which coalesced outside a Wendy's on 14th Street before moving south to another Wendy's in the East Village, marked the latest move in a long-running campaign by the Coalition of Immokalee Workers, an organization that advocates on behalf of Florida farmworkers, to press Wendy's to join the CIW's "Fair Food Program." Companies that join the program agree to pay the extra penny per pound of tomatoes, as well as to abide by a code of conduct designed to rein in abuses like sexual harassment and forced labor.
In 2005, Taco Bell became the first major company to join the Fair Food Program. It was followed by other corporate giants like McDonald's, Burger King and Whole Foods.
But Wendy's has refused to join the coalition.
"They're exploiting farmworkers, when it's because of them that we have food on our plates," one of the protesters, Lyzbeth Paredes, 20, told The Huffington Post. "Consumers have a lot more power than they think."
Some protesters carried signs showing tomatoes emblazoned with the word "Justice." Others waved yellow flags that read "New day for farmworkers."
The Wendy's corporate office declined to comment on the protest or the farmworkers' demands.
Gerardo Reyes Chavez, 37, first began working in the tomato fields of Southern Florida in about 2000, he said. He joined the Coalition of Immokalee Workers, which takes its name from a town in the region, after a stint laboring in the state's orange groves.
"Wendy's, like many other corporations, are profiting from the artificially low prices that they push on workers," Reyes Chavez told HuffPost. "We don't understand why Wendy's chooses to perpetuate these problems when it would only cost them a penny more per pound [of tomatoes]."
The protest came one day after the New York premiere of "Food Chains," a documentary co-produced by actress Eva Longoria and journalist Eric Schlosser that depicts the CIW's efforts to boost wages and guarantee rights for Florida farmworkers. The film will run in New York for the rest of the week.
Priscilla Gonzalez, 23, passed the demonstration at the Wendy's on Lafayette Street while on her lunch break from a nearby clothing retailer. After buying a meal there, she told HuffPost she hoped the farmworkers would win the concession.
"For me, I'm on my lunch break and this is the closest thing and it's the cheapest," said Gonzalez. "But I hope they get it."
Calling all HuffPost superfans!
Sign up for membership to become a founding member and help shape HuffPost's next chapter