As riots rage in Baltimore, it is challenging to understand how we got here. Better yet, it is hard to understand why we are still here. Why would anyone have to declare that Black Lives Matter in 2015? Isn't the fact that all lives matter, including Black lives, obvious? Why is it that over a century after the Emancipation Proclamation and many decades after The Montgomery Bus Boycott, Brown vs. Board of Education, and The March on Washington, many African-Americans continue to feel politically disenfranchised, economically disempowered and physically at-risk?
Indeed, African Americans feel this way because it is true! According to the Pew Research Center, the wealth of White households was 13 times the median wealth of Black households in 2013. The March 2015 unemployment rate for Black Americans was 10.4%,which is nearly twice that of the White American unemployment rate of 4.7% . Moreover, historian Isabel Wilkerson points out that the rate of White police officers fatally killing Black men in the seven years ending in 2012 was about twice a week, which is eerily similar to the rate of at which Black men were lynched in the Jim Crow South for mundane infractions, every four days.
Why does it seem like the more things change, the more they stay the same, and what does that have to do with my title which discusses the need for diversity in children's animation?
Things have stayed the same because, in part, the American mindset surrounding white superiority and black inferiority has not changed. During the ground-breaking Supreme Court case, Brown vs. Board of Education, psychologist Kenneth Clarke presented data that African American children were being psychologically harmed by segregation. During the 1950's, Dr. Clark demonstrated this by revealing evidence that when asked questions about inanimate black and white dolls, Black children generally associated all positive attributes in terms of beauty, intelligence and morality to the white doll and all negative attributes to the black doll. In 2010, CNN commissioned psychologists to recreate the test, testing both White and Black children, and the results were the same! Moreover, White children were far more biased and more likely to attribute positive attributes to whiteness and negative attributes to blackness than their African-American counterparts.
How do we eliminate the bias against black skin which seems to be so inextricably linked to issues of discrimination that have a real impact on the progress of African-Americans?
I certainly do not have all of the answers. Economic investment, legal reform and improvements in education are certainly needed. But, I also believe that positive multicultural media is part of the solution. Children are especially in need of multicultural images during their formative years.
The campaign We Need Diverse Books has been immensely successful with respect to raising awareness about the issue of diverse children's books. As an author, education consultant, boutique publisher and distributor of multicultural and socially conscious children's books, I completely understand the need for diverse books, but I do not personally feel the lack of diverse books. Just Us Books is a twenty-six year-old publishing house devoted entirely to multicultural children's literature. The diverse children's books of authors such as myself, Jabari Asim, Natasha Anastasia Tarpley, Tamara Pizzoli, Wade Hudson, Floyd Cooper, Michael Wynn, Ashanti McMilllon, Setsu Shigematsu, Betty K. Bynum, Grace Lin, Trish Cooke, Barbara M. Joose, Crystal Swain-Bates, Cathryn Falwell, Tulani Thomas, Ylleya Fields, Rachel Isadora, Shana Bernabela and many more are all on my shelves. My two preschool aged boys, routinely ask for the works of those authors. I also recommend many of these authors in my professional development courses on culturally responsive teaching.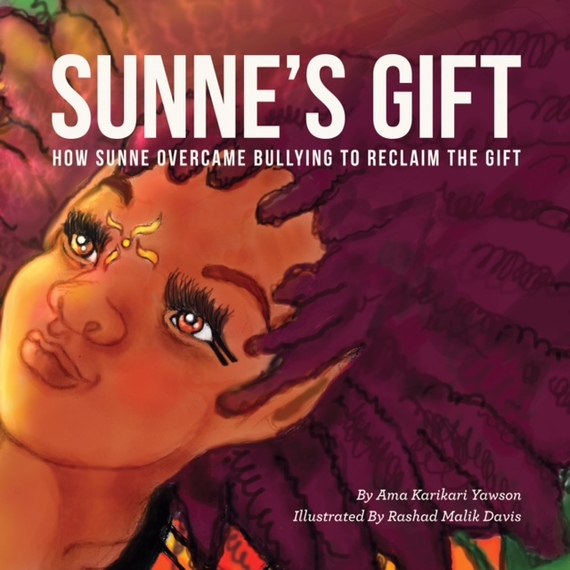 Sunne's Gift Courtesy of Milestales Publishing and Education Consulting
However, I have a much harder time finding diverse animation to watch with my pre-schoolers and to recommend in my courses. Some of the obscure DVDs and youtube videos that I have watched in my search for diverse animation have content that is too mature, sassy or stereotypical. Like it or not, most children watch TV and university studies have shown that the more television that White girls and children of color watch, the lower their self-esteem due to the lack of positive television imagery of girls and all children of color.
All children deserve positive and empowering representations of themselves. Thankfully, a very new crop of independent animators of African descent is emerging to fill this gap. I highlight three of them below.

Bino and Fino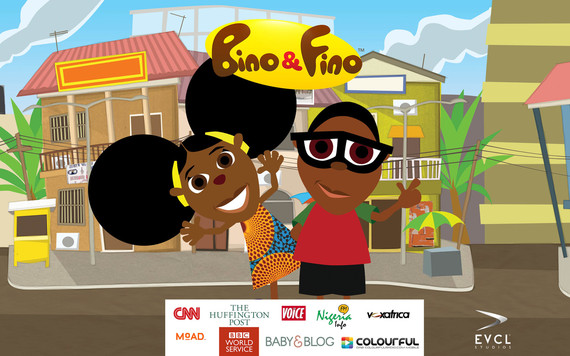 Courtesy of Bino and Fino.com
I was delighted when I came across Bino and Fino in this Baby and Blog post on animation. My children own the first Bino and Fino DVD and watch various youtube clips and we love it! Bino and Fino is about a brother and sister who live in a modern Sub-Saharan African city. Each day, they discover new things with the help of a magical butterfly named Zeena. Adamu Waziri of Nigeria created the series because he wanted children to be able to enjoy African culture through the power of animation. "I believe that children should be able to see positive representations of themselves and other cultures and races. If they don't, a poor foundation is set where they think that they are superior or inferior to another culture or race. This can last up until adulthood and has subtle to outright dangerous implications", says Waziri. Waziri concedes that producing the animated series has had its challenges. The series is completely produced in Nigeria and training and retaining animators is challenging given the brain drain pressures that many African countries face, but he says that it is worth it. Additionally, Bino and Fino does not have the large marketing budget of mainstream studios so the team depends on stakeholders who understand the need for diverse animation. These stakeholders purchase the DVDs and tell others about the show. Please check out the Bino and Fino website and Facebook page to learn more.
http://www.binoandfino.com/
http://www.facebook.com/binoandfino
Everett Downing, creator of the Book of Mojo, echoes Waziri's belief in the power of imagery. "Imagery is powerful. The media has a very dramatic effect on our psyches. The effect it has on children is quite dramatic. Children are very impressionable, it's built into their DNA so they can learn and adapt quickly. They take what they see as law. When my child watches television, and she sees that most all of the heroes are white, then she starts to feel displaced. She begins to feel that something is wrong with her. I know this because she expressed this to me. I try to buy diverse books, but it is still hard because the effect of popular culture is very powerful", says Downing. This situation partly inspired Downing to leverage his fifteen years of animation experience at Pixar, Dreamworks and Blue Sky to create his own animated story, The Book of Mojo. The Book of Mojo follows a thirteen year old runaway witch named Creepy and an enchanted statue named Mojo. Creepy wants to learn magic to reunite with her father, and Mojo has an unknown origin that threatens both of them. Downing hopes to raise $80k to fund this action packed story. You can support the campaign on IndieGogo here. . Everett believes that major studios do not invest in diverse films because they believe that they can't sell. His greatest advice to people who want to see diverse animation is to financially support diverse animation and spread the word about such shows and movies. Please check out the Book of Mojo website and Indiegogo pages.
https://www.indiegogo.com/projects/the-book-of-mojo-animated-pilot
http://www.bookofmojo.com/
Kimberly Jesika of Doll Face Animated Films felt a particular need to show positive representations of women in animation, especially African-American women. "Very seldom do you see a brown girl in animations ever living happily ever after, kicking butt, saving the day, figuring out a mystery or just having her dreams come true", says Jesika. Jesika wanted inspire girls of African descent to see their own possibilities. In her upcoming movie, Beautiful Danger, an ancient war eradicates nearly all of civilized life and a diverse cast of characters has to engage in an epic battle to save the universe. Please check out Doll Face Animated Films' website and facebook page so that you can keep up with the Beautiful Danger production process.
http://dollfaceanimatedfilms.com
https://www.facebook.com/dollfaceanimatedfilms?fref=ts
With great people such as Adamu Waziri, Everett Downing and Kimberly Jesika, working diligently to create empowering and diverse animated images, I have great hope that the way that African-American children see themselves and the way that children of other races see African Americans will soon change. Hopefully future generations will no longer have to declare that Black Lives Matter and we will see an immense cultural shift with respect to the opportunities available to people of all races, genders, and economic backgrounds.
Please email me at milestalespublishing@gmail.com if you know of other diverse and empowering chidren's books and media.
Popular in the Community