New York City Mayor Bill de Blasio called slain NYPD officer Wenjian Liu a courageous family man who followed "a path of kindness" as he addressed a crowded funeral home in Brooklyn Sunday.

While many officers listened respectfully, some still turned their backs in protest, as they had done previously, at Liu's partner's funeral a week ago.
Earlier in the day, thousands of NYPD officers and mourners crowded a funeral home, joined by law enforcement official from throughout the country.
Buddhist monks led a Chinese ceremony for the 32-year-old officer, followed by a police ceremony and eulogies led by a chaplain. Officers lined up for blocks outside the Aievoli Funeral Home in the Bensonhurst section of Brooklyn to pay their respects.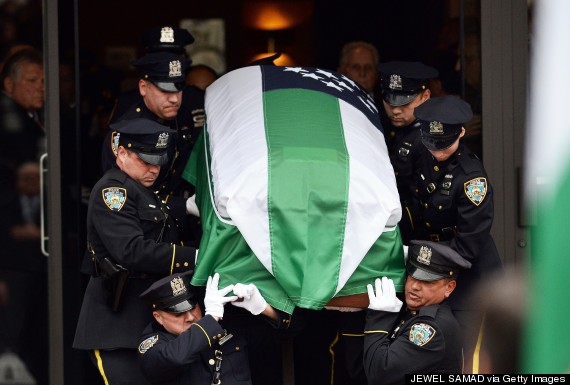 New York Police Department (NYPD) officers carry the casket of their fellow officer Wenjian Liu during a funeral in New York's borough of Brooklyn on January 4, 2015.
Liu, born in China, moved to the United States with his parents and a dream: To become a New York City Police officer. He was on the force for seven years and got married two months before he was killed along with his partner, Officer Rafael Ramos, on Dec. 20. Ramos' funeral was held a week ago.
"When he joined the NYPD he knew his family would worry about him," the mayor said. "So he did one of those caring acts that showed the good in him. At the end of every work day he called his father to tell his family he was safe and was on his way home."
His widow, Pei Xia Chen, spoke through tears as she said to Liu, "I love you forever."
"I thank you for sharing this moment with me, with us, with our family, to reflect the goodness of his soul and the wonderful man that he is. He is my soul mate … my best friend," she said.
Officer Lucas Grant of the Richmond County Sheriff's Office in Augusta, Georgia, said he came to Liu's funeral with about six other officers from neighboring departments "to support our family."

"When one of us loses our lives, we have to come together," Grant said.

As Liu's family arrived for his funeral, Police Commissioner William Bratton tweeted: "We will never forget his sacrifice."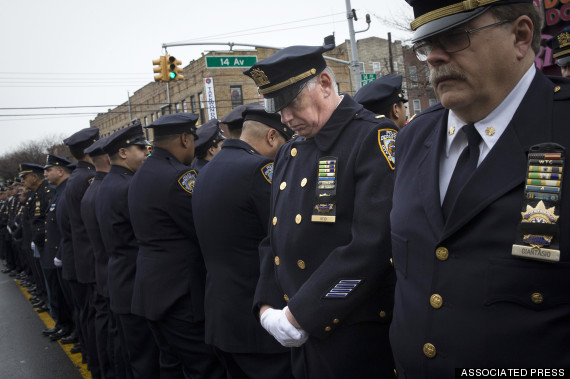 Some police officers turn their backs as Mayor Bill de Blasio speaks during the funeral of New York Police Department Officer Wenjian Liu at Aievoli Funeral Home, Sunday, Jan. 4, 2015, in the Brooklyn borough of New York.
"This was his dream, to become an NYPD officer," Cuomo said outside his wake. "In some ways, it's the ultimate assimilation into America, into New York, to become a police officer. And obviously he was so proud, and he was so proud for his whole family."
The governor was unable to attend the funeral because of the death of his father.
Liu was killed along with Officer Ramos as they sat in their patrol car in Brooklyn. The shooter, Ismaaiyl Brinsley, referenced the killings of unarmed black men at the hands of white officers online when he promised to put "wings on pigs."
Investigators say Brinsley was an emotionally disturbed loner who started off his rampage by shooting and wounding an ex-girlfriend in Baltimore. He later killed himself.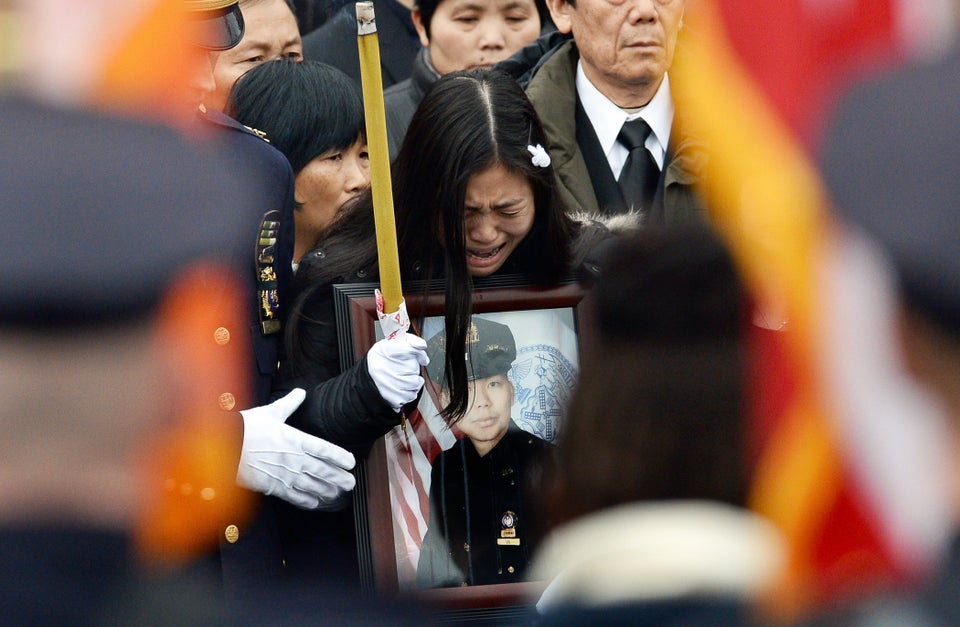 JEWEL SAMAD via Getty Images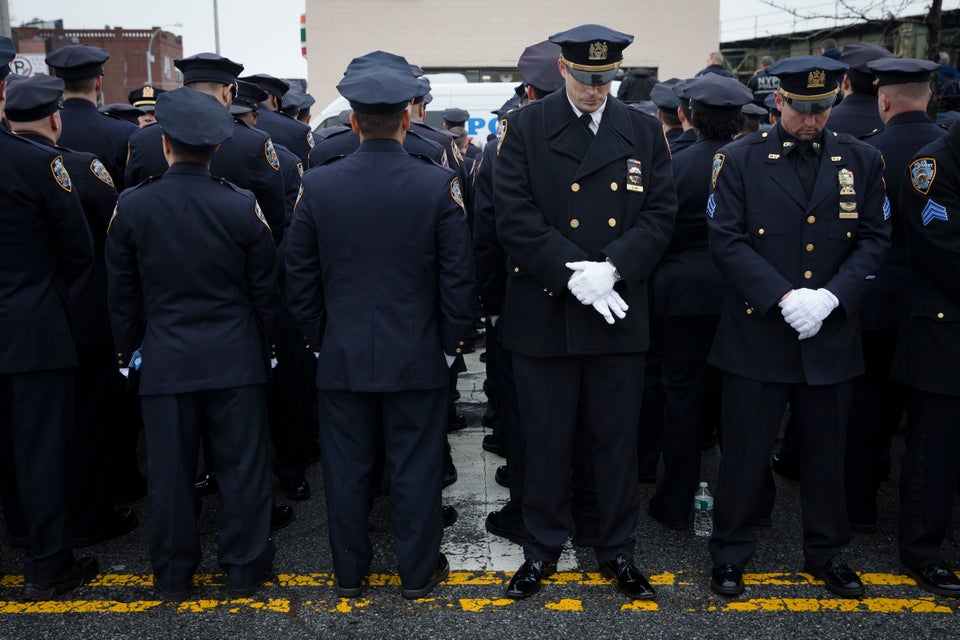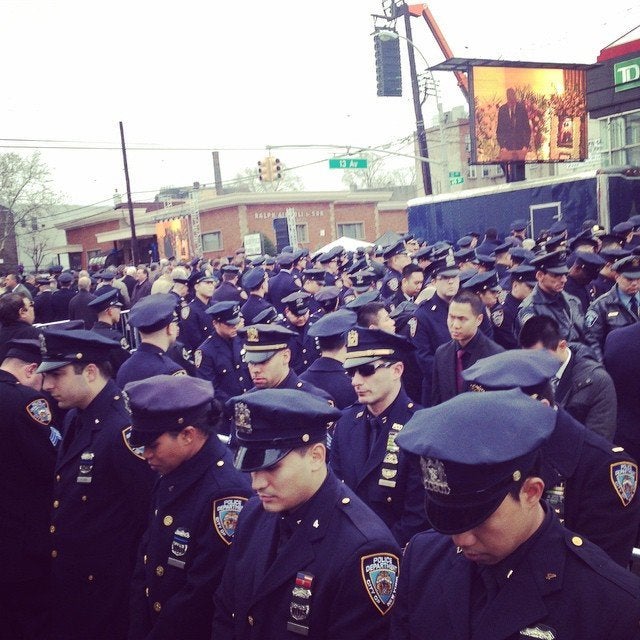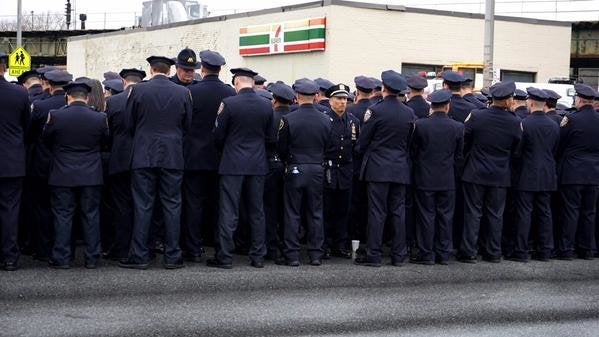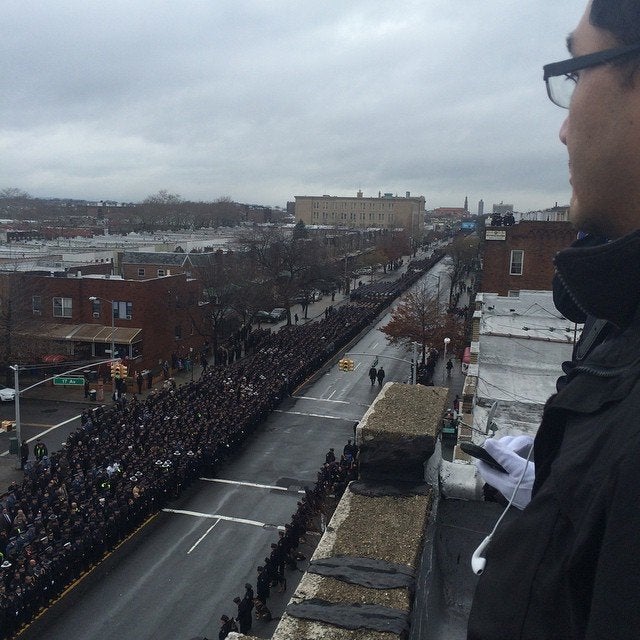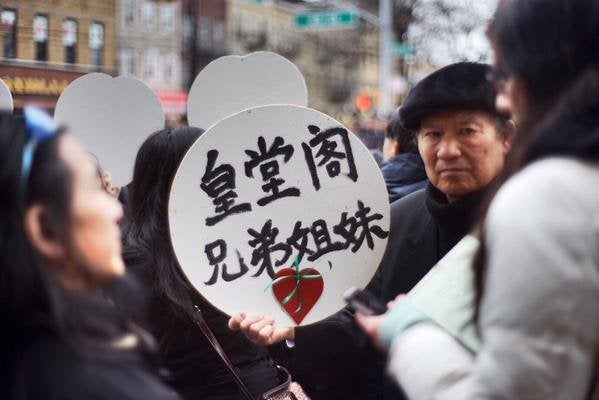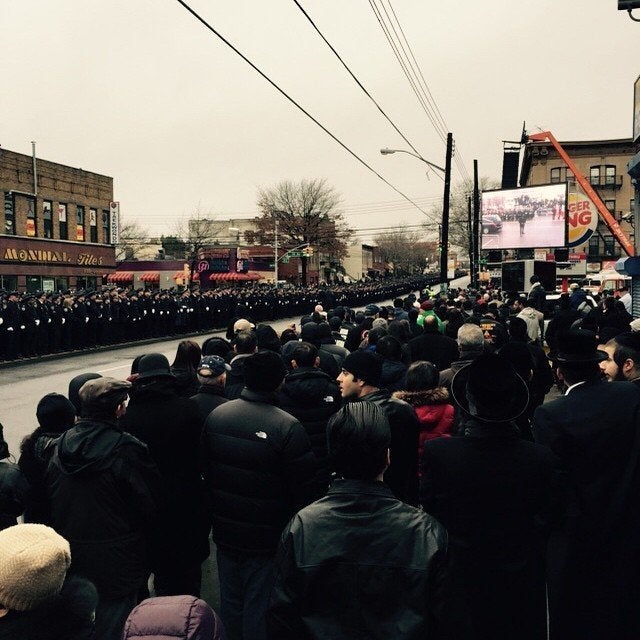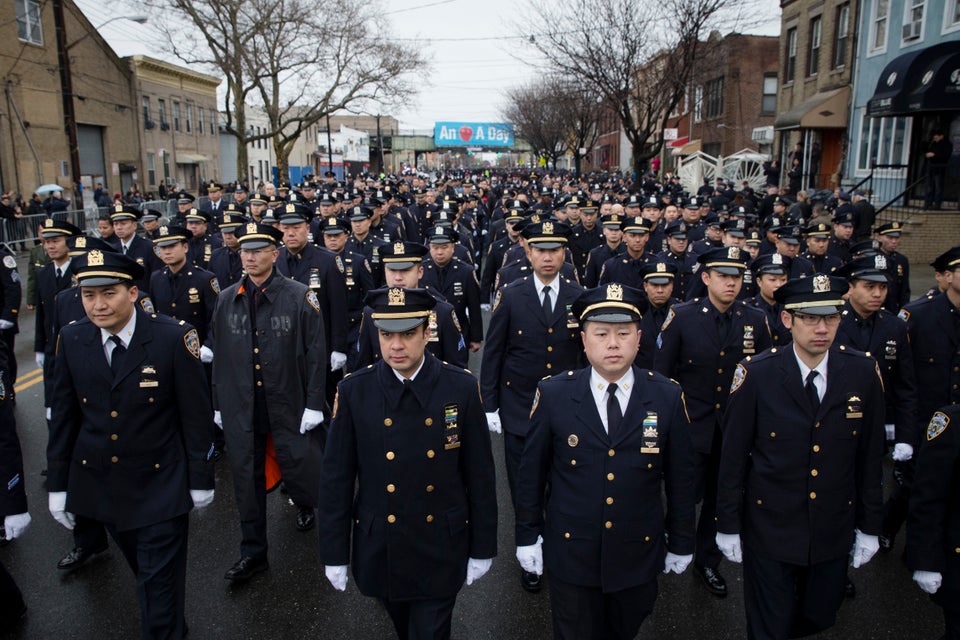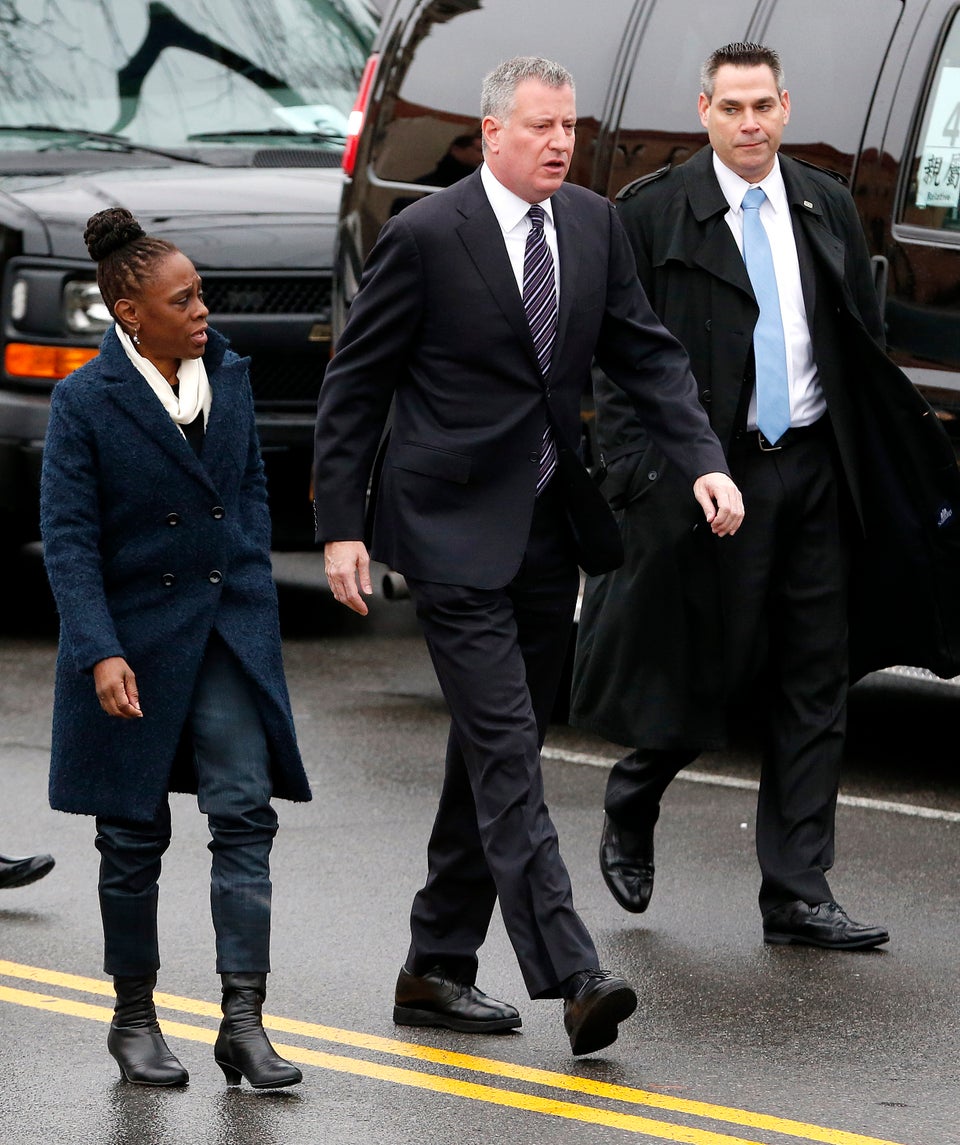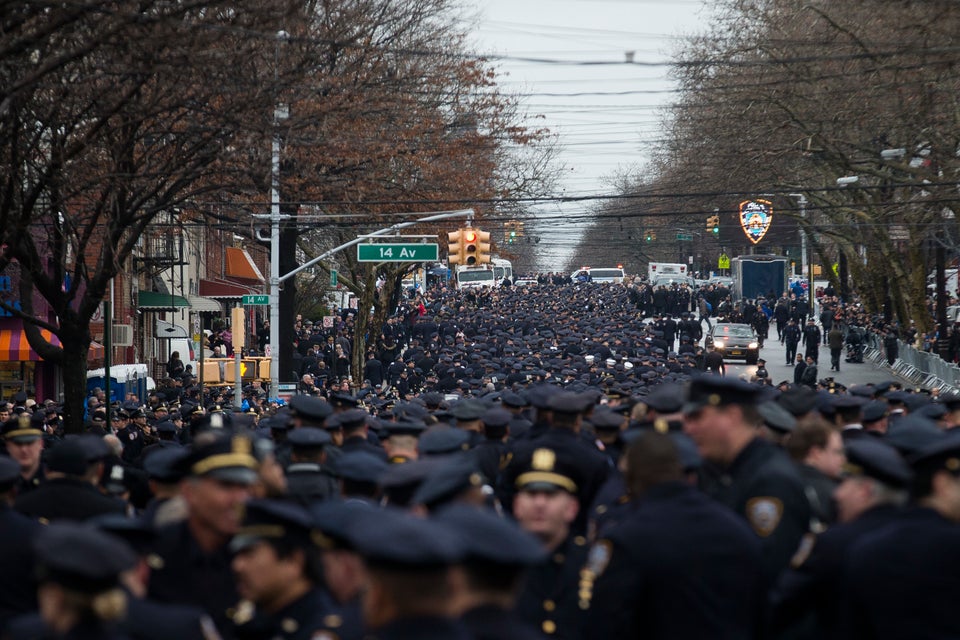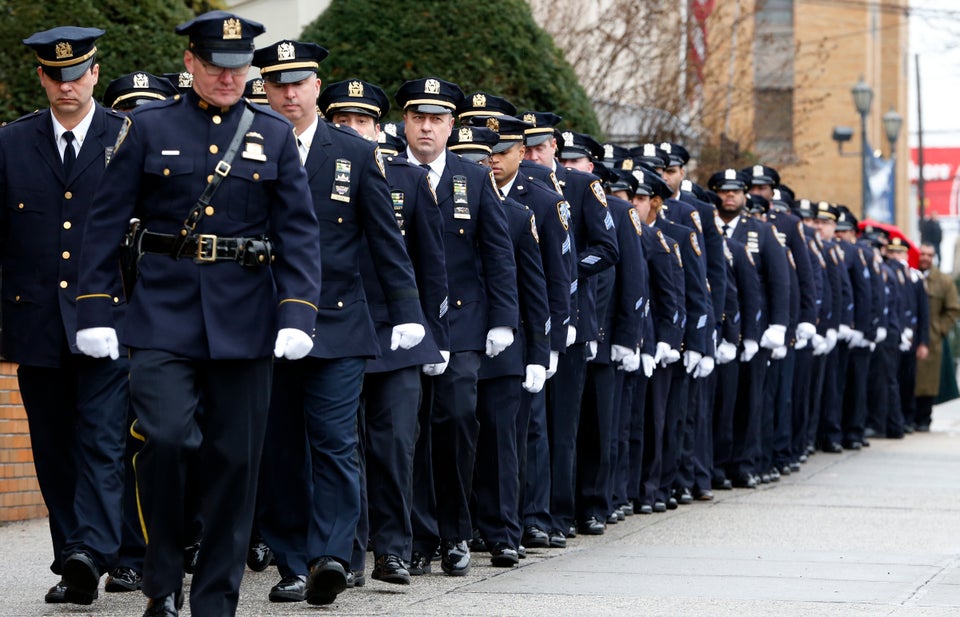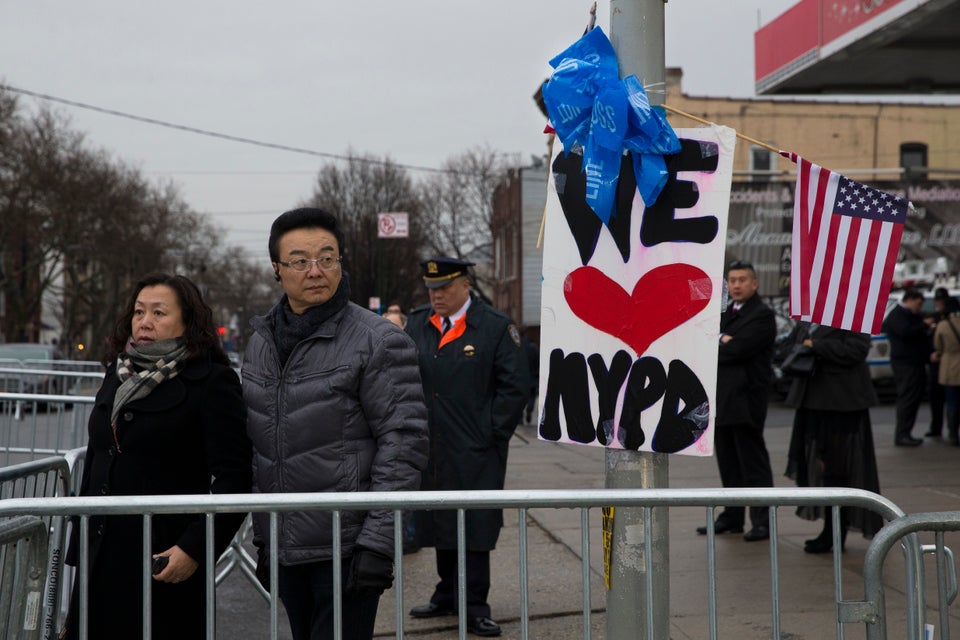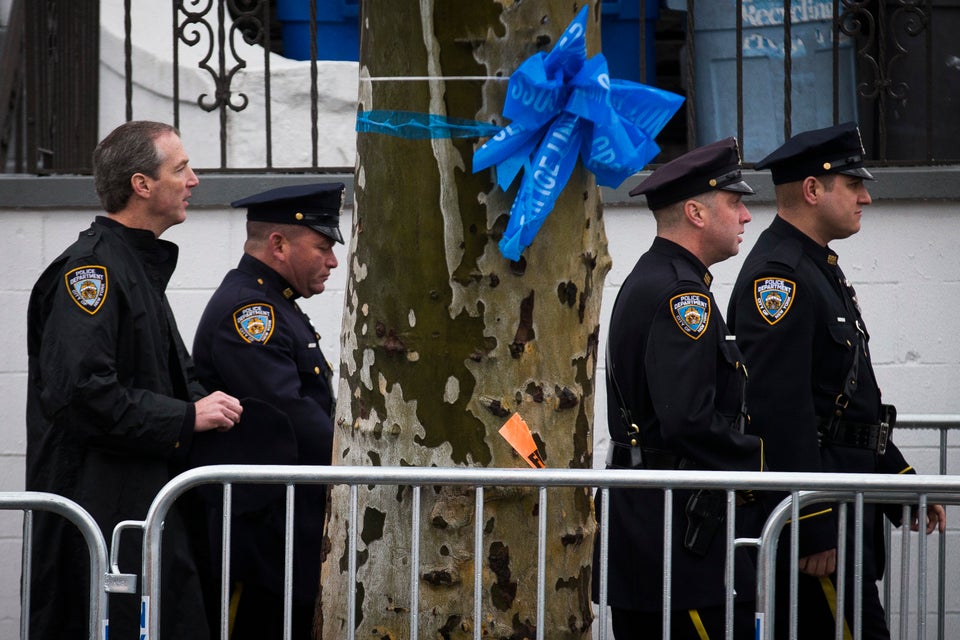 Related
Popular in the Community