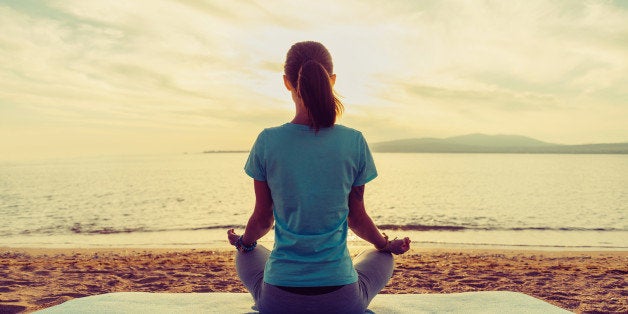 Yoga is reaching more people than ever before in America, but at the same time, the cost of running a yoga studio might not translate into more places to practice, and it doesn't mean yoga studios are on a clear path to profit.
A just released 2016 Yoga Journal/Yoga Alliance Yoga in America study shows a 50 percent increase in the number of people practicing yoga now, versus just three years ago. Today, yoga is seen not as a "hippie" activity, but an accessible and needed part of life - for everyone.
Stress relief, flexibility, and physical fitness are the top reasons people are heading to class, according to the survey. 36 million people now consider themselves yoga practitioners, up from 20.4 million in 2012.
75 percent of Americans see yoga as "good for you"
34 percent of Americans are likely to try yoga for the first time in the next 12 months
The number of men doing yoga has grown from four million to 10 million
14 million practitioners are over 50
According to the report, nine out of every 10 people in this country are aware of yoga, and this new awareness is also driving the business of yoga. Spending on products and services is estimated at 16 billion (yes, B) in the last year, up from 10 billion in 2012, but saying those dollars make it to all yoga studios is a stretch. Overhead for owning and running a studio represents about half of the owner's income, which means that trying to keep a studio open, let alone thriving, can be stressful.
In New York, the balance of rent and lease issues closed yogi star Elena Brower's Virayoga, after 12 years in business. On the opposite coast, San Francisco's Urban Flow, founded by Rusty Wells, closed for similar reasons.
"My advice is: don't open a yoga studio," said Alison West, former director of yoga advocacy group, Yoga for New York, and owner of her own studio, Yoga Union, which specializes in back care. She sees teachers graduate from training with the dream of opening a studio, while students increasingly want the best and lowest deal possible. "They don't know the slightest idea of how hard it is to make ends meet in a yoga studio. If they did, they would understand why they should pay more. I shortchange myself on the money I would normally make on teacher trainings. I put it back into the business."
Meanwhile, national gym chains such as Equinox continue to add more yoga classes and teachers, retaining its yoga-only property, Pure Yoga, opening lower-cost versions of its gym in Blink Fitness, and riding the wave of its wildly successful Soul Cycle. The company just announced it will launch hotels that cater to health-conscious travelers. The flow of business from a growing number of yogis can boost attendance, but it doesn't guarantee earnings.
The biggest winner in this cultural yoga surge is almost surely by companies that outfit yogis, if you look at other, recent numbers. The overall athletic wear market, sometimes called "athleisure" is the power player in all of this good news about a mainstream audience seeing yoga as "good for you." Athleisure is predicted to be a $100 billion dollar market by 2020. Designers from Tori Burch to Alexander Wang, are creating athleisure lines to get their hands on the customer who's willing to spend a lot of money to go from yoga to brunch, from casual Friday or post-work class to happy hour. Lululemon is rolling out of a successful, and better-than-expected holiday season.
While the corporations clean up, what are independent yoga studios doing to balance their spiritual offerings with a healthier share of this boom? Some yoga studios have partnered with services like ClassPass, a membership fitness network that helps students find and attend an unlimited number of classes per month at one, flat rate, and kicks back a per-head portion to the studios. Studios get more students and revenue, and more people can try yoga while they keep spinning, boot camping, and more.
"ClassPass introduces us to cool new people and revenue for sure," said Dana Flynn, former Wall Street stock broker and owner of Laughing Lotus Yoga Center, which opened its third location in booming Brooklyn, New York on New Year's Day 2015. "But, I wouldn't say it's what gives our business more stability per se. We have something powerful and unique to offer, and it's really the demand or longing for yoga, wellness and happiness that continues to grow."
West says the rewards for a studio using these and other marketing tactics, such as Groupon and Living Social promotions, are nominal and damaging. Rather than feed the studio with new and steady clients for business growth long term, they churn in students looking only for "deals," rather than the best possible teachers, before those students move on to the next yoga deal.
Adding to the financial challenge for studios is government, now probing more into how they operate. In the past few years, studios have gone to court hearings and met with government officials, sometimes resulting in large fines for independent studios surrounding the issue of whether yoga teachers are employees or independent contractors. The larger the take from a lucrative yoga industry, the more attention studios will get from government, even though these aren't necessarily the businesses making big money.
Like yoga, which helps people change perspective and maybe even their lives, the yoga industry will continue to change, shift, and evolve in an unavoidable effort to accommodate all those new yogis and ride the wave of real world business challenges.
Though the survey might not reflect it, yogis know that a yoga practice is also about community and giving. If you want to do your part to keep the yoga boom going and help independent studios stay healthy, too, recruit someone new to yoga and head to a beginner, level one, or a basics class -- a move that can support someone in their own new endeavor, too.
Our ability to tap into an ancient practice with modern benefits, long term, depends on the survival of places where we can practice and the cultivation of yoga community in many forms. Wherever you practice (and whatever you are wearing), by exploring your options for classes and teachers at a time when yoga is thriving, it'll be obvious with each breath that you are definitely not alone in your search for health and happiness.