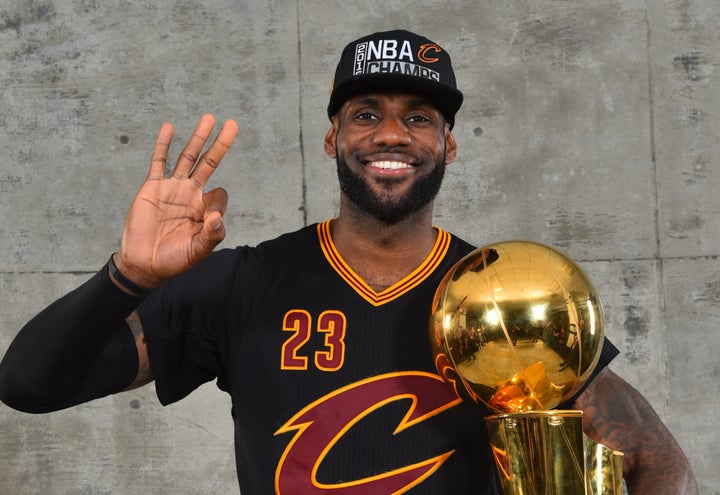 Today is LeBron James Day. It's not an official holiday but, come on, Jun. 20, 2016, is a day for admiring the Cleveland Cavaliers hero.
Except, Jun. 20 also marks the first day of the NBA offseason, which means we're already abuzz with this summer's free agent class. LeBron has an opt-out clause in his contract and can theoretically become a free agent and sign with any team this summer.  
So mere hours after LeBron won a title for his hometown, some NBA media members already launched into full free agent speculation mode. Predictably, the target was our Man of the Day, as well as best player potentially available this summer.
"If he were to decide to leave, I would say to you, at the moment, L.A. is in the mix more than I ever imagined," ESPN's Stephen A. Smith said on "First Take" Monday morning. LeBron in Calabasas? Sure.  
The thinking goes: Now that LeBron has the Cleveland championship monkey off his back, he can and should go to a bigger television market and live the superstar life in a superstar's city. Los Angeles, New York (let this please happen), Miami? It's all in play, apparently! He can show up at any city in the United States and immediately become the big man on campus.
In fact, unlike "The Decision," LeBron would apparently get a pass for leaving Cleveland this time -- says none other than Magic Johnson:
There's a restlessness about James that craves the next big move, the next power play ... As for James himself, well, he has gone so far as to publicly describe an end-of-career scenario that doesn't include Cleveland.  
We are less than 24 hours removed from LeBron achieving the single-greatest feat of his NBA career. He's on the most expensive team in the NBA. Kyrie Irving blossomed into the youthful 24-year-old star scoring sidekick LeBron's never had. The team has a trade to make this offseason involving this overpaid and surplus guy named Kevin Love. Cleveland rocks. 
And yet we're really going to talk about where he's headed? Come on, LeBron isn't going anywhere. 
Calling all HuffPost superfans!
Sign up for membership to become a founding member and help shape HuffPost's next chapter
BEFORE YOU GO
PHOTO GALLERY
LeBron James Through The Years