The most recent season of The Rachel Zoe Project was replete with changes in the life of the world's most famous fashion stylist. Not only did she get pregnant with and give birth to son Skyler, launch a clothing collection and move homes, but she also took on Jeremiah Brent as the latest member of Team Zoe.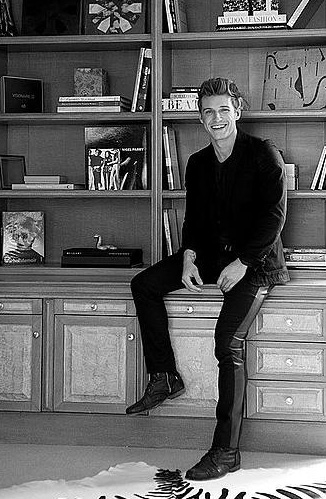 Jeremiah Brent photographed in the home he designed for Rachel Zoe (photo by Stephen Busken)
With a background in furniture building and interior design and a love for fashion, 27-year-old Brent was eager to join Rachel's team in order to test his styling chops. However, as fans saw, although Brent had some great styling moments, much of his work focused on helping Zoe with her interior design projects. Most impressively, Brent designed and installed the interior of Rachel's new home in a mere 10 days. And although Zoe and husband Rodger Berman were blown away by his work, there wasn't enough for him to do at the company and he was eventually let go. He got his job back, however, after he designed Zoe's nursery before she got home from the hospital and created the in-store installation that now houses the Rachel Zoe Collection at Bloomingdale's nationwide.
These days, Brent serves as Zoe's go-to design expert (he oversees all of her in-store installations among other projects) and also has his own interior design clients on the side. He spoke with us about interior design, typical day at the Rachel Zoe offices, and his favorite holiday decorating traditions. It was, as Zoe would say, "bananas."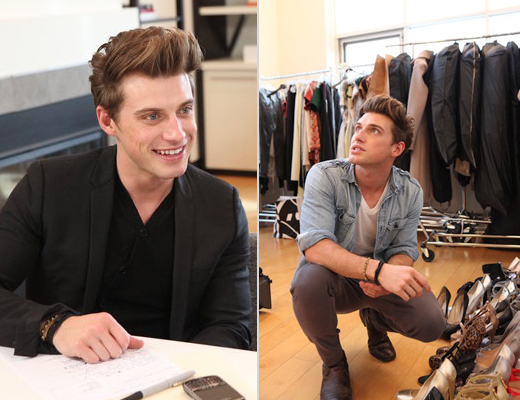 Jeremiah Brent on the set of the "Rachel Zoe Project"
The Inside Source: How did you originally fall in love with interior design?
Jeremiah Brent: I've always had a fascination with interior design. As a kid, I used to go to real estate open houses with my parents on the weekends. Like a nerd! I would think of how I would piece rooms together at those open houses. And I think growing up I painted my room 35 times. My poor parents!
The Inside Source: And even though you joined the Rachel Zoe team as a fashion stylist, you've done a lot of interior work for her. What has been one of your favorite projects?
Jeremiah Brent: I look at a room probably how Rachel looks at a rack of clothes. I loved working on Rachel's home. Getting everything done in ten days was a little bit terrifying and not something I necessarily want to relive! The best moment was when they asked me to do the Bloomingdale's installation. It was a big moment because it gave me the opportunity to bridge two things that I really love: fashion and designing the space that houses all of those beautiful things.
The Inside Source: What's a typical day like working at Rachel Zoe?
Jeremiah Brent: Well, you know, it's non-stop! I have no life! People always ask me, "What time do you check in and out?" But, the truth is, you never really check out. I have an office at my house, so when I go home I am always pulling inspiration and putting ideas together. The amazing thing about working for Rachel is that everybody there is doing something they are absolutely in love with. Rachel is the biggest advocate for people doing what they are passionate about.
The Inside Source: When you designed Rachel's house, there was a very strict neutrals-only color palette. How did you attack the neutral decorating challenge?
Jeremiah Brent: Not only does Rachel like neutrals, but she also has a very sophisticated modern aesthetic. Everything has ultra clean lines. In order to add some warmth, I really tried to play with textures. For example, the sofa I got her has a modern, simple silhouette, but it also has a chesterfield detail, which is a little more traditional. I really tried to find her pieces that were going to keep the space cozy, while still holding onto that modern clean look she loves.
The Inside Source: What would you say is a signature "Jeremiah Brent" design element?
Jeremiah Brent: I would say what I call the "third layer." When you design a room, you bring in all the pieces: furniture, wall treatments, lightings, etc. But, that last layer that makes the space personal, that's what I think I am really good at. With Rachel, every piece of art and every item she had collected throughout her entire life was placed in her house in a way that she could enjoy it. I feel like I did a really good job of making her feel like she was at home.
The Inside Source: What is one design or décor item you just can't live without?
Jeremiah Brent: I love a good bourbon leather chesterfield sofa. I have one in my house and I am obsessed with it. It's just timeless. It's my favorite piece of furniture ever! I am never letting it go.
The Inside Source: So, the holidays are coming up. What does Jeremiah Brent do to celebrate the holidays?
Jeremiah Brent: Well, I am a big fan of the holidays. This year I am mixing it up and throwing my first ever family dinner here. My parents and my sister are coming in. I am cooking everything and just praying that I don't burn anything! You don't even understand; I haven't even turned on my stove's gas yet! That's how much I cook!
The Inside Source: What are your holiday traditions for making a place feel like home?
Jeremiah Brent: I'm not a big fan of the tchotchkes. It always reminds me of a grandma's stuffy home with a million Santa dolls. I really love how stores like West Elm do really clean, neutral holiday decorations, many of which aren't specific to any kind of religion. Personally, I always do a Christmas tree. The last few years I have incorporated glass balls and then grey and gold decorations onto my tree. I love it!
The Inside Source: Finally, are you an eBay shopper?
Jeremiah Brent: I shop on eBay and I sell on eBay. It's just so easy! eBay has always been both really good and really dangerous for me. I've bought clothing off of eBay, which has been the death of me! I purchased a linen slipcover off of eBay and it was the easiest transaction I have ever dealt with. I've gotten art and pieces for clients that were sold out in stores but, like magic they were of course on eBay!"
(interiors images by Stephen Busken; images of the "Rachel Zoe Project" courtesy of Bravo)