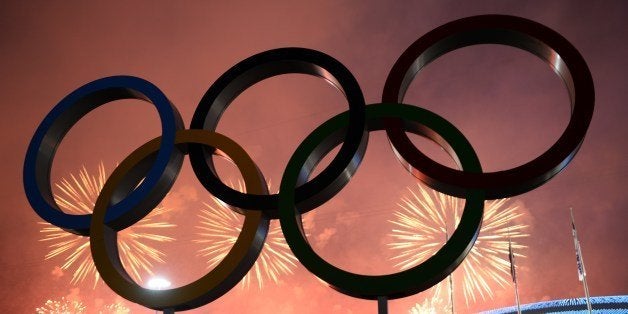 At no point in U.S. history has the nation seemed more unified behind gay rights as they have in the lead up to the Sochi Olympics. President Obama stated on the Tonight Show that he has "no patience" for Russia's anti-gay laws. Chevrolet and AT&T, two corporations that have long profited from embodying Americana, have spoken out as well. And you know something is important when Google doodles about it. From Greek yogurt to higher education, Democratic senator to Republic member of Congress, U.S. corporations, politicians and media seem to finally be united behind basic civil liberties that it has taken the United States far too long to rally behind.
Earlier this month, CNN ran a headline questioning whether gay marriage was even a political issue any longer in the U.S. This proposition seemed slightly out of touch with reality, considering that only 17 states and D.C. have legalized gay marriage, yet it was consistent with the political and commercial rhetoric we have seen of late. In thinking about what might account for such spontaneous unanimity, I was reminded of the interest-convergence dilemma, which Derrick Bell used to explain the success of Brown versus Board of Education.
Bell's argument, published in the Harvard Law Review in 1979-80, posited that Brown versus Board of Education passed namely due to a convergence of interests between the two parties, namely black and white Americans. By the late 1940s, it is well documented that the Soviet Union was using institutionalized racism in the U.S. as key component of their anti-U.S. propaganda. "This propaganda was overblown", writes Emory School of Law Professor Mary Dudziak, "yet it had an impact because the long history of oppression of African Americans was well known around the world".
Bell wrote that supporting Brown v. Board of Education offered "immediate credibility to America's struggle with Communist countries to win the hearts and minds of emerging third-world peoples." Following this logic, Bell concluded that, as interests between white and black Americans diverged following Brown v. Board of Education, segregation continued. By positioning Brown v. Board of Education as a strategic and utilitarian decision, rather than a moral one, it placed the onus of burden of implementation, enforcement and support on motivated individuals, both white and black, rather than on the state.
60 years later, a similar phenomenon seems to at least partially explain the recent support the U.S. has shown for gay rights. Given the choice between homophobia and Russophobia, the U.S. has weighed the odds and thrown their lot behind the latter. While it is wonderful to see the U.S. appear rhetorically unified behind gay marriage, convergence theory posits that this will last only insofar as supporting gay rights is at the expense of Russia's public image. To bolster this claim, one only must look at the pervasive Russophobia that extends to other aspects of the Olympics.
TIME magazine's Feb. 10 cover illustration depicts a ski jumper jumping over the Olympic rings made of barbed wire alongside the title article "Inside Sochi's Ring of Steel." The allusions towards Russia's tight security infringing on personal freedom is troublesome only in that it is not applied equally. Occurring just five months after September 11, the 2002 Salt Lake City Winter Olympics faced unprecedented security, validated by an August 2013 Wall Street Journal expose which stated that the FBI and NSA arranged to monitor all email and texts around Salt Lake City for up to six months around the Olympic games. Russia has justified it's increased security after the October and December bombings in nearby-Volgograd, much like the Atlanta 1996 bombing and September 11 rallied domestic support for increased security in Salt Lake City. One can imagine the backlash TIME would receive questioning the bolstered security that has already been announced to accompany the upcoming April Boston Marathon in light of last year's attack.

Another field that journalists have targeted is the narrative surrounding the opening ceremony. TIME's headline reads "Sochi's Opening Ceremony Fiddles With History" while USA Today published an article titled "5 things you will, and won't see in opening ceremony", which explored the less savory sides of Russia's past achievements that were featured in the ceremony. Fair enough, but I don't recall the opening ceremonies of the Olympic games ever being regarded as the appropriate forum for host countries to face their own history. Surely, neither Salt Lake City, Atlanta nor Los Angeles utilized the time allotted to grapple with difficult questions of manifest destiny as imperialism or the use of slave labor in building the U.S. economy. (Unless that's what that guy with the jetpack was trying to express in L.A.)

Lambasting Russia for everything from construction delays to their use of the Cyrillic alphabet, as embodied in articles such as the Washington Post's "15 Signs that Russia is not very ready for the Olympics" and Vanity Fair's "The Winter Olympics of Our Discontent" supports the hypothesis that Russia is a merely a lightning rod for polemical issues that arise in most, if not all, Olympic games. (This is to say nothing of Buzzfeed articles with titles such as "Photographic Proof That Sochi Is a Godforsaken Hellscape Right Now," and the popular Twitter handle @SochiProblems). As Justin Peters noted via Slate:
Georgian luger Nodar Kumaritashvili died during a practice run at the 2010 Vancouver Olympics, an accident that was later partially ascribed to the track being too fast; nobody reacted to that tragedy by blaming Canada.
But perhaps nothing better signifies the U.S.' obsession with Russia bashing than the near fanatical support shown towards Masha Alyokhina and Nadya Tolokonnikova, ex-members of the feminist collective Pussy Riot. They have been welcome by Stephen Colbert, Bill de Blasio and Marina Abramović, yet if anything their recent New York tour may have negatively affected their credibility at home, as they were kicked out of Pussy Riot following their performance at the Barclays Center. The question Christian Caryl raises in foreign policy is worth dwelling on:
Most of the adoring coverage of the two Pussy Riot stars presumes that their protest is having an enormous impact on the political situation in their home country. If not, why are we (and Madonna) paying such inordinate attention to them?
The issues I've raised above, including but not limited to gay rights, civil liberties and security, and owning one's own history are important issues, and Russia's execution on each of these points lies somewhere between abysmal and poor. While Russia certainly deserves extra scrutiny as a global leader (Olympic host, permanent member of UN Security Council etc), it is also important to bear in mind that Russia is not exceptional in these regards. Only 15 countries worldwide have national policies recognizing gay marriage, in addition to parts of the U.S. and Mexico, and the one instance I know of a host city using the opening ceremony as a time to approach sensitive issues (Sydney 2000) was met with fierce backlash from Aborigines. Rather than merely commenting on the use of heavy-handed security in the prevention of terror, a much more productive conversation would center around why such security is necessary in the first place, raising important questions about, in the case of this particular Olympics, the ongoing violence in the Caucasus.

In some ways, it is good that Sochi has, if just for the time being, brought to the media forefront of the media support for gay rights, the paradoxes of securing a state, and the problems with revisionist history. However, this change will be shortlived if it is couched in anti-Russian sentiment rather than an earnest desire for gay rights, transparent security and honest history. As the torch is now literally and figuratively passed to Rio and Pyeongchang, each of us should ensure that our criticisms abroad are consistent with our actions at home. Not only is this a surer way of achieving meaningful change for the issues we care about, but it's far more in line with the spirit of the Olympic games.
P.S. An often-missed drawback of the 65-nation, 1980 Moscow boycott is that a lot of the world did not have the opportunity to fall in love with Misha, probably the most adorable sporting mascot ever.
REAL LIFE. REAL NEWS. REAL VOICES.
Help us tell more of the stories that matter from voices that too often remain unheard.