In November 1983, The Pointer Sisters released their most successful album, Break Out, which spawned four Top Ten singles, won two Grammy Awards, and sold three million copies. One of its hits, The Neutron Dance, prominently featured in Beverly Hills Cop, peaked at #6 on Billboard's Hot 100, #4 in Australia, and #1 in Canada. Written by Grammy and Tony Award winner Allee Willis and the late Danny Sembello, the song has never had a proper cover version - until now.
Los Angeles-based musician Shyboy has teamed up with Willis to craft an entirely new, indie-pop version of the classic single with Shyboy's understated tenor lilting over delicate, synth-driven grooves. It's almost hard to believe that this song, which famously featured Ruth, June, and Anita Pointer's full-bodied, mighty stampede of sound could ever be described as "delicate" or "understated," but in Shyboy's hands, it is. Produced by Shyboy with Willis, Jeff Hoeppner and Mark Nubar, we're digging this fresh, new Neutron Dance.
Shyboy's Neutron Dance (2016):
Shyboy, who has released two richly textured albums of lush pop (2013's Water On Mars and 2014's Lost In Space), has worked with Willis before. They collaborated on writing and performing the striking Water On Mars track Carousel. For her part, Willis, went one step further by directing and animating a delightful music video to accompany this latest Neutron Dance.
Shyboy is no stranger to tackling pop favorites of the 1980s. His previous 80s covers include a trio of British pop jewels: Nik Kershaw's lone American hit Wouldn't It Be Good?, Sade's Is It A Crime? (never recorded but frequently performed live), and, with his former band Hypnogaja, Eurythmics' Here Comes The Rain Again. Another U.K. songstress who emerged in the 1980s, Julia Fordham, had her Where Does The Time Go? recently remixed by Shyboy for her Mixed, Shaken and Stirred album. The guy has great musical taste.
I chatted with Shyboy recently about all things Neutron Dance --
Xaque Gruber: What are your earliest Pointer Sisters memories?
Shyboy: Probably the Beverly Hills Cop soundtrack, which featured Neutron Dance. My Dad loved that movie, as did I. He had both the soundtrack album as well as the Pointer Sisters' Break Out cassette, both of which I listened to all the time. All the way back to childhood, I've always loved vocally-driven music and they really sang and harmonized so well together - it really caught, and kept, my attention.
The Pointer Sisters' Neutron Dance (1984)
XG: You've collaborated with Allee Willis now a couple of times. How did you two meet?
Shyboy: I originally met her via Facebook. She messaged me saying that she liked my style and we added each other. I immediately knew who she was (songwriter for Earth Wind & Fire, Pet Shop Boys, The Pointer Sisters, and many others) and was extremely thrilled and flattered by her message. A good couple of years went by without us ever meeting face to face. When it came time to record my first solo album Water on Mars, I reached out to her in hopes of collaborating - and our mutual friend Ellen Greene put in a good word for me. Lucky for me, Allee agreed to meet up for a writing session and we ended up writing one of my favorite songs, Carousel. I toured to support the Water on Mars album, and did shows at L.A.'s Hotel Cafe regularly. I'd written music for my album with so many great songwriters (Wendy Waldman, David Batteau, and Allee), so I wanted to showcase them in a live setting. For the show Allee was a part of, we did a cover of Neutron Dance, and she told a great story of how someone actually tried to steal her car during the session! That's where the "someone stole my brand new Chevrolet" line comes from. After having so much fun performing it together on stage, we decided to record a version. 
XG: And then Allee created the new Neutron Dance music video with her trademark animated style.
Shyboy: Allee has so much style and creates so much art, she can't be contained to just music. For The Neutron Dance video, she illustrated everything by hand - even created the cover art for the single, and had an animator come in to bring it all to life with her. I love that her style and humor shines through so well. I smile from ear to ear whenever I watch it. I think it's the first time my music has actually sounded so happy! Fun from start to finish.
(Courtesy of Shyboy)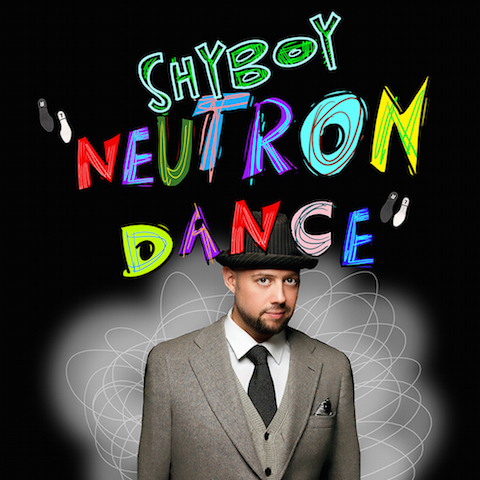 XG: Were there any challenges in the creation of this track?  
Shyboy: There are always challenges in music making and record production, especially when you're covering a really well known piece of music. We wanted to give the song a different feel, and I think the four-way collaboration with producers Jeff Hoeppner, Mark Nubar, Allee, and I worked well. We were able to put a new spin on the song. During the first recording session, Allee asked me to record a scratch vocal track so that we could hear how the vocal would work against the new chords and parts. That particular day, there was no mic set up in the studio we were in, as we were planning to only work on instrumentation. So, we improvised. I sang into Jeff's iPhone - and he emailed it to himself and placed the audio file into the track for use as a placeholder/demo vocal. It was NOT intended to be used in the final mix, the idea being that we would re-record the vocal down the line, in a proper session. However, Allee fell in love with the one-take vocal, saying that it was particularly understated and casual, which played perfectly with the lyrics of the song - so we kept it. We built backgrounds and doubles around it, but the main vocal you hear on the track was sung in one take into an iPhone. Gotta love technology!
XG: Is Neutron Dance going to appear on a ShyBoy album?  
Shyboy: Right now, it's just a standalone single - but I've always loved the album format, so don't be surprised if it makes its way onto a future LP release.
XG: Apart from Neutron Dance, what's the latest music news from ShyBoy - and what can we expect in the months to come?
Shyboy: The same production team from Neutron Dance is creating three more singles, all coming in 2017: two originals we've co-written and co-produced with Allee plus a remake of another one of her hit songs, the Pet Shop Boys/Dusty Springfield classic What Have I Done To Deserve This? Allee co-wrote What Have I Done To Deserve This? with Pet Shop Boys themselves and also sang the Dusty part on the original demo, something we are hoping she will repeat for us on the new version (which is slated to appear on a Pet Shop Boys covers album). I'm working on a couple of other things as well - a new album with Jeff Hoeppner and Mark Nubar as well as a couple of other developing music projects. I can't wait until I can speak more about everything and share all of the new music.
Artwork by Allee Willis (Courtesy of Shyboy)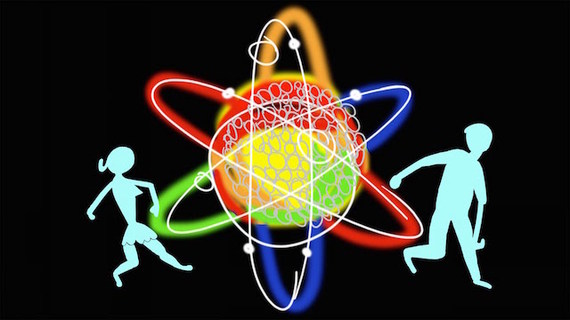 Calling all HuffPost superfans!
Sign up for membership to become a founding member and help shape HuffPost's next chapter