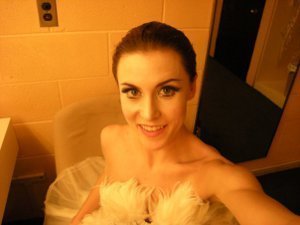 "The f---ing Ziegfeld! Brooklyn at the Ziegfeld! Apologies to mom, but I cut classes to see 'Raiders' here." That was Darren Aronofsky, the local boy made good, greeting the crowd packing the stadium-sized Ziegfeld for the premiere of his film Black Swan. Joining him on stage were its stars Natalie Portman, Vincent Cassel, Winona Ryder, and Barbara Hershey. They had made their way here via the "red carpet," a ritual that turns journos into paparazzi hustling for a photo! a smile! a soundbite! while the "talent" parades past like the new exhibit of the baby baboons at the Brooklyn Children's Zoo.
Swan could preen to great advantage at the Ziegfeld, where the dynamite sound system boomed out Tchaikovsky's beloved score. And the film, mixing art house with commercial appeal, was big enough to fill the gigantic house. Aronofsky is a hungry young director with cojones. A man who goes into worlds, like that of wrestling, and makes it compellingly interesting for an audience that didn't know it was interested.
Now Aronofsky has done the same for ballet. With Natalie Portman as aspiring ballerina Nina, he has plumbed the Swan Lake fairytale for its inbuilt elements of Goth-horror. Evil magician Von Rothbart, if you remember, has turned a girl into a "swan queen" who the prince falls in love with. But when Rothbart produces an ersatz black-swan double, the prince believes she's his beloved, which triggers all manner of trouble.
Aronofsky tips his hat to the Red Shoes theme of a ballerina dying for her art. But most intriguingly, he proposes the black swan as Nina's -- or anyone's -- dark doppelganger, a sort of gateway to mayhem, madness, murder. The swan becomes a malevolent creature -- think were-swan instead of werewolf. In a museum Nina gazes up at a headless, black-winged statue in a moment that's a masterstroke of creepiness. The movie constantly works the rich theme of doubles. Early on Nina spots her own image riding a subway train. The omnipresence of mirrors also, er, reflects the world of the ballet dancer, who scarcely exists outside of her "double" in a mirror -- which, in turn, stands in for the audience.

But fidelity to ballet world personalities also proves to be a weakness of the film. As a former dancer myself, I can tell you that most ballet dancers are hardly well-rounded, complex beings. They tend to be meek, mincing, and uni-dimensional, slaves to the killing discipline of their art -- and not a little masochistic, a trait nailed by Aronofsky.
Apologies to former dancer Toni Bentley, an exception and a woman of letters, author of a memoir about, I think, anal sex. But dancers really do, as in Swan, sit around sewing pink ribbons on toe shoes and massaging their insteps, when not vying for the attention of the man we used to call Mr. B (Balanchine). That was all that mattered: to be Chosen by Mr. B.! Such a limited perspective does not make for a riveting character, a truth reflected in Natalie Portman's sole expression: Swan Queen angst. It's to Portman's credit that her beauty and screen presence keeps us focused on Nina's journey.
But in casting an actress as a ballerina, Aronofsky faced his biggest challenge. The choice certainly hasn't worked for other directors -- Neve Campbell as a dancer was laughable in Robert Altman's The Company. Yet casting real dancer Ethan Stiefel didn't work either because his stage magic didn't translate before a camera. The fact remains, dancers start in childhood to fashion their bodies into formidable instruments. Portman, for all her reported pre-shoot dance training, simply doesn't have the dancer's signature majestic carriage that blows you away the moment she steps on stage. Think of the great Russian ballerinas, the gorgeous hyper-extended arms and upper body power of their swan queens. A non-dancer simply can't reproduce through acting and coaching what it takes a dancer twenty years to achieve. (Sharing this insight with my fellow critics after first seeing Swan in Toronto, I was told that most viewers won't notice. In fact, Portman is considered Oscar bait for her performance.)
Following the premiere, a crowd packed the after-party at the St. Regis for champagne and gnocchi. The night was strangely balmy for almost-December, the women wore fluttery summer nothings, and I was put in a mind of a cab driver who informed me "the end is coming." Earlier that evening, I checked in at the Focus Features reception for The Kids Are All Right at art-world eatery Il Bottino in Chelsea. Hey, someone's gotta do it! The film bears the imprint of brilliant and genial Focus boss James Schamus. Like Swan it hits the sweet spot of commercial-yet-offbeat, standing a family dramedy on its head by making the married couple lesbians. Mark Ruffalo, who's several degrees hotter in person than on screen, stood in a corner holding forth on his character, the sperm donor who falls for a gay Julianne Moore. "Here's this guy," he said, "who thinks he's got it all figured out and he ends up agonizing and miserable because a lesbian won't run away with him." Ruffalo seemed okay with that.
REAL LIFE. REAL NEWS. REAL VOICES.
Help us tell more of the stories that matter from voices that too often remain unheard.