When it comes to topping best of lists, New Orleans is the tops. We're the city with a chunk of the Eiffel Tower. Cole Porter could have written a song about it, including the Eiffel Society which has a section of the Eiffel Tower encasing a cocktail lounge. The past year saw Travel + Leisure choosing the Crescent City for best place to spend New Year's Eve, best concerts and bands, best wild weekend, best cocktail hour, best fine dining and best people watching lists. The list literally goes on and on. An expedited way to experience what all the fuss is about is taking a New Orleans tour. Some are brand spanking new, and some have been around as long as boats have floated downriver. I dove in for 72 hours of being a tourist in my own town. Here's a sampling of what you'll learn if you're willing to get your feet wet.
MOVIES: New Orleans is in one of the top movie production states in the country, as rated by P3, an industry magazine. New Orleans Movie Tour owners Jonathan Ray and his wife Michelle have a classic lemons from lemonade start-up story. He broke his arm while working on set, and while recuperating they hit on the idea of a movie tour. They tried to talk themselves out of it, but couldn't think of a single reason not to proceed. He drives like a ninja, and she's an encyclopedia of New Orleans knowledge. He has movie set experience, and Michelle copilots their deftly navigated tours. It works. Over 30 video clips are shown as the tour passes sites where they were filmed. They pass and mention celebrity homes, but make a point of not stopping. (As an inadvertent Pitt-Jolie neighbor, I appreciate any tour guide who doesn't drop a crowd onto the sidewalk with a bag of chips for intermission.) After Associated Press and Reuters articles on the New Orleans Movie tours were published, the Rays are booked weeks in advance. As word gets out, it would be a good idea to book now if you hope to take their tour during the Mardi Gras or festival seasons. Highlights include riding under the balcony where Elvis sang in King Creole while the movie screens. Jonathan says one woman was disappointed that the man who walked out onto the balcony during their screening wasn't Elvis. There's really only so much a tour guide can conjure.
SWAMPS: Departing from the Hotel Monteleone's remodeled Carousel Bar, the Jean Lafitte Swamp starts out as a culture shock. Pop culture meets Louisiana heritage as a tourist in a Swamp People television show t-shirt attempts to demonstrate the finer points of how tickling an alligator on the belly will put the gator to sleep. It does not, but lucky for him the gator is young. The swamp tour winds through canals originally dug for oil barges down into the natural bayou. Winter is a dormant time for gators, so they're most often seen sunning themselves on logs. They may be dormant, but their teeth don't look it. It's a sleepy time of year, but turtles still leap from logs, and blue herons take off into a crystal sky over cypress trees. It's easy to forget how much natural beauty can be found in a 30-minute ride from New Orleans.
RIVERBOATS: To follow history down the Mississippi River and back to the spectacular backdrop of the New Orleans skyline, a riverboat tour is a classic option. The New Orleans Paddlewheel Creole Queen tour includes a dinner buffet, Dixieland band and a ride down the same river that entranced Mark Twain and countless other dreamers. The night of our riverboat tour, a blimp circled the city under a crescent moon. New Orleans is tops in sporting events this year with the NCAA Final Four, Sugar Bowl, BCS Championship and New Orleans Bowl occurring within months of one another. And the granddaddy of sporting events, the 2013 Super Bowl, will take place in New Orleans. You don't hear debates about whether or not New Orleans is back after a lineup like that.
HAUNTINGS: What is it about New Orleans that draws the paranormal, I ask Brian Huff of the spirited 2 ½ hour Boos! & Booze Tour. In a word, "Water. We are completely surrounded by water, even below us, as New Orleans was founded on a swamp. Back in the day we were called, The Isle of Orleans. Our spirits are energy. Energy never dies, it changes form. When our bodies die, our spirits continue. Water conducts and amplifies energy--consider electricity and water." His tour includes a Bourbon Street style cocktail, handy for strolling the haunted sites of the city, but he loves "a well-made Sazerac, the official cocktail of New Orleans." There's been a recent apparition. His tour doesn't go in Muriel's at Jackson Square, but just as he was sharing stories of their Séance Lounges something happened. "As I touched precisely on the part of the tale where someone was pushed by an unseen hand, three guests were leaning against what were originally the carriageway doors and they suddenly buckled--hard enough to shove all of them off of the door--as if someone had pushed it from behind. You can see through the doors. There was no one there. The guests, three women from the same family, screamed and jumped a mile high," Huff said. Muriel's is just off Jackson Square, formerly the Place d'Armes where the army trained. "Executions were carried out there. Hangings. People were also broken on the wheel. An Ursuline nun, Sister Marie Madeleine Hachard, wrote several letters back to her family in France describing her life here. We have them," said Huff.
"The trial of a thief is completed in two days. He is hung or broken on the wheel, be he white, savage, or black there is no distinction or mercy," Sister Hachard wrote.
Huff concludes with words to the wise, with 2012 rolling along:
"Today's beauty against yesterday's agony. It gives me a perspective, anyway. "There is not one of us who has as much time as we think. It liberates one to enjoy what we have and not to constantly be a pain in the ass about everything."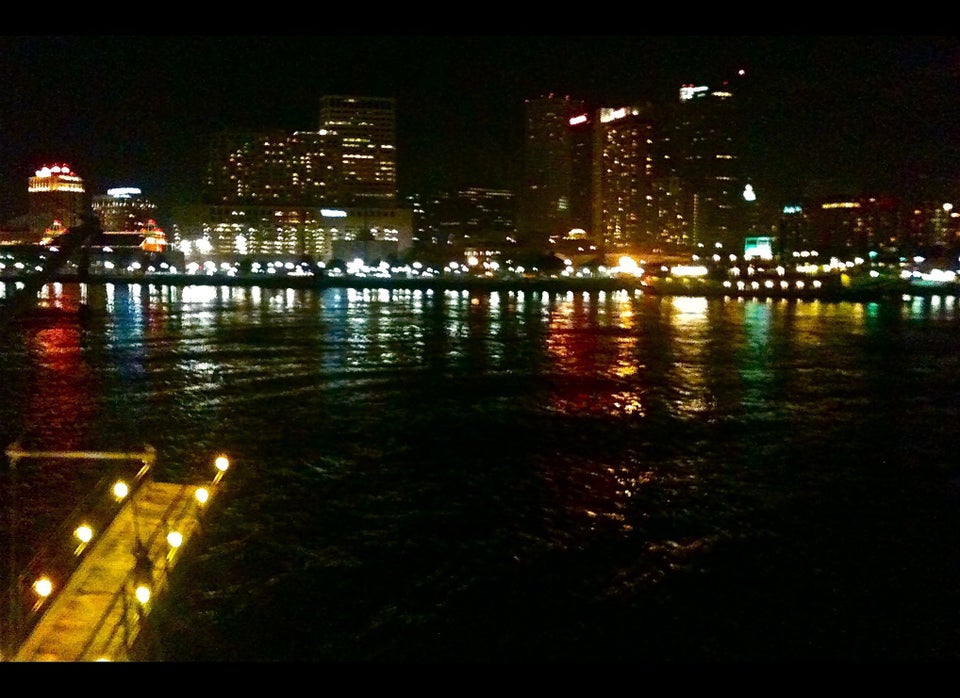 New Orleans Tours
Popular in the Community