The night of our third wedding anniversary, Frank and I arrived in Yosemite Valley at dusk. Insouciant from our wonderful experiences driving 9,000 miles around the country thus far, we confidently expected to get a room at Yosemite Lodge. To our surprise, the cheerful receptionist behind the counter told us "Sorry! We are completely booked!" The resulting night spent in our truck imbibing wine and crusty bread, sleeping fitfully with keys in the ignition in case a bear came along, is described in our book Legacy on the Land.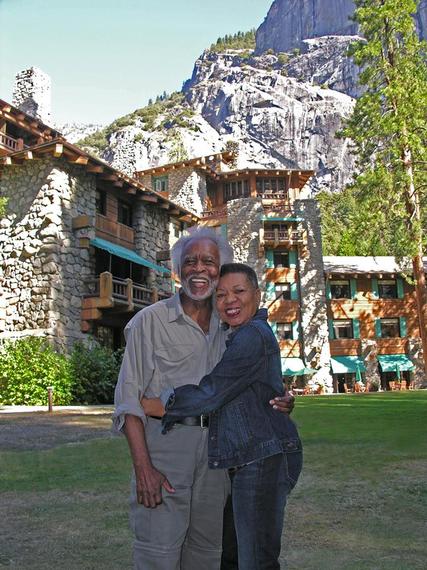 What a privilege to be included among Yosemite's Ambassadors! Frank and I were photographed in 2009 on the lawn of the Ahwahnee Hotel, a luxury lodging conceptualized by Stephen Mather, the first Director of the National Park Service. Kenn Karst photo.
So to be selected among Yosemite Ambassadors for the park's 125th Anniversary celebrations leading up to the National Park Service's centennial in August, feels like the completion of an incredible arc. It's comparable only to the thrill of serving as "Visiting Squire and Lady" at Bracebridge in 2010.
I have no idea how any of this happened since, as an immigrant from Jamaica in the 1970s, I never even knew there was such a thing as a national park until that fateful road trip of 1995. But from the first one I saw (Acadia in Maine) I fell so madly in love that I couldn't stand the thought that every American had not seen it. The glory I saw all around me was so uplifting I felt myself a part of it. (Recently I found that the great 20th century sociologist Dr. W. E. B. Dubois wrote of Acadia after his visit, "God molded his world largely and mightily off this marvelous coast and meant that in the tired days of life men should come and worship here, and renew his spirit..."( Darkwater: Voices from Within the Veil, 1920)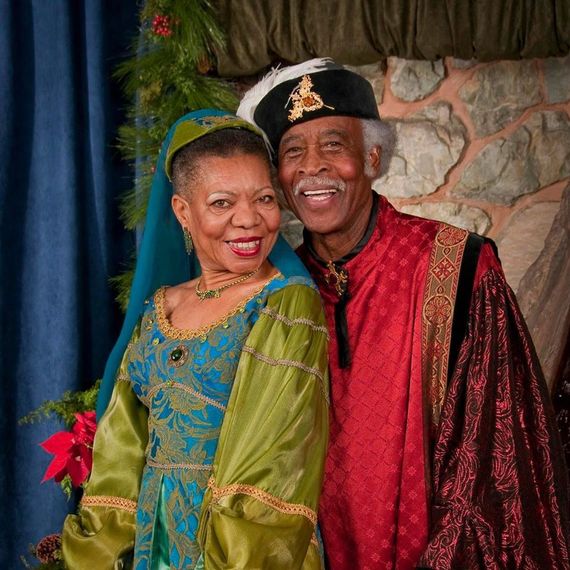 We're devoted to Yosemite and all our national parks, serving here as 'Visiting Squire and Lady Peterman' at a Bracebridge Dinner in 2010, compliments of our concessionaire colleagues at Delaware North Parks and Resorts.
My mother jokes that I came into the world in such a hurry, it seemed all I needed was high heels and my pocketbook to get started. Discovering the national parks gave me my mission to explore and publicize them. From the grocery store to Congress I told everyone I met about the parks and the glorious opportunities they represent.
When I found out that there were threats to the continued existence of these places, I went into hyper mode. I'm on so many action lists I often joke that by 9 a.m. most mornings I've sent out six or so emails to Congress, my state government and public land management agencies objecting to some noxious proposal that will hurt our parks, environment and people, or supporting the rare positive move.
So it was a rude surprise to me yesterday when I found myself wondering for the first time if we are fighting a losing battle. It happened when I responded to an alert urging me to write immediately to my state legislature and ask them to vote against a fracking bill. Dutifully, I personalized the message and sent it off. I posted it to Facebook and asked others to write and call. To my horror, within minutes I received a message that the bill had already passed and that now I needed to resist its Senate counterpart.
This was followed by an urgent message from Defenders of Wildlife asking urgent action to protect wildlife refuges from destructive oil and gas drilling. It was preceded by an appeal from the Sierra Club to help save grizzly bears in Yellowstone who may lose protections if the US Fish and Wildlife Service removes them from the Endangered Species List. A day before that an alert from the National Parks Conservation Association asked me to help protect the headwaters of Big South Fork National River and Recreation Area from the effects of surface mining. Whew!
So on this beautiful day at sea level in South Florida, celebrating the honor of being named an ambassador of Yosemite National Park in the rugged Sierra Nevada Mountains, I've come to the conclusion that we need a revolutionary new approach to conservation. If we as Americans truly care about our national parks, our public lands and our future, then we can no longer allow this macabre dance where "they" propose, "we" oppose and the incessant beat of destruction continues unabated. We must begin by electing people who share those values, and we must hold public land managers accountable to the mission of the agencies.
Do we really want that "post-apocalyptic" world where the entire landscape is raped and razed, where the seas have encroached and people struggle to survive in a harsh environment? That's where we're headed without concerted action. Many people running for office now deny the reality of climate change and would gut our public lands system. Please check out Naom Chomsky's assessment o the issue here.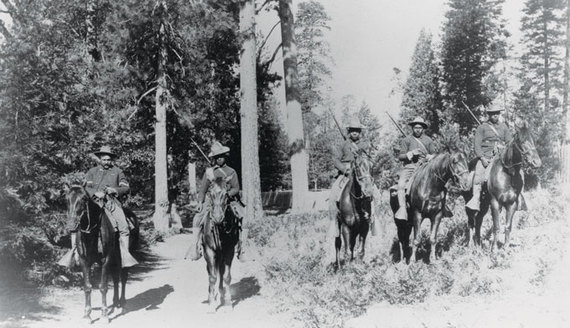 The African American 'Buffalo Soldiers' patrolled the realms of Yosemite in the early1900s and among other things, protected the park from loggers and ranchers. NPS photo.
Many people I speak with are quick to point to what others are/are not doing as an excuse for taking no action at all. But excuses will not save us. I am convinced now that only love will save us -- the love of the land we gained in places such as Yosemite. (In his historical novel Gloryland, Ranger Shelton Johnson describes the exultation of the Buffalo Soldiers who patrolled the park in 1904, saying how that sacred space made them feel like Sunday, and being at worship every day.)
The urgency of climate change and sea level rise are upon us, and our national parks and public lands are a key to help stave off those dire effects.I implore you to get out and fall in love with our land and become genuinely involved. If you can't get out today, click on one of the sites I've referenced and act upon the compassion and caring stirring in your heart. Love it and act upon that, or risk losing it all! That's the bottom line.
Calling all HuffPost superfans!
Sign up for membership to become a founding member and help shape HuffPost's next chapter