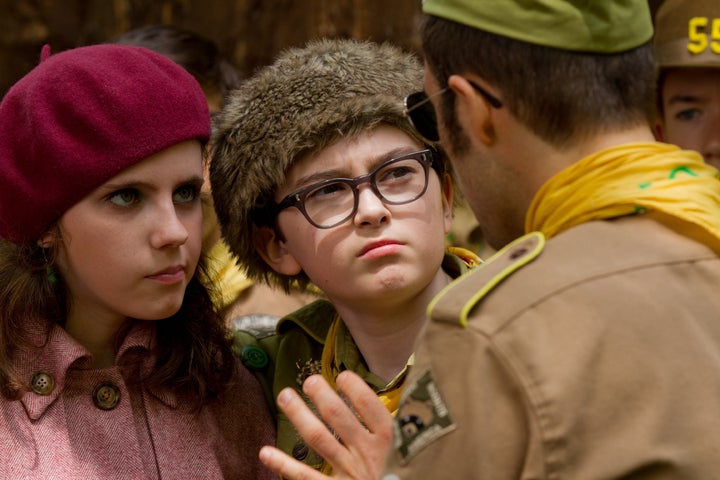 Wes Anderson is back. Moonrise Kingdom is his best film since Rushmore. The new film just premiered at Cannes and is being released in the States today, but I got to see it at a cast and crew screening in Newport, R.I. two nights ago.
I'm currently in R.I. finishing my degree at RISD. I got a week off from filming Seth Rogen's The End of the World in New Orleans so I would have time to go to the final critiques for my department, Digital + Media. My final piece is a plywood house that contains 16 video adaptations from a book of erotic fiction called Fucking James Franco. I think the critique went well; with that done, all I had to do was attend other people's' critiques. So when I heard that Wes's film was going to be screened in the area, it seemed like the perfect reward for two years of art school. One of Wes's former assistants, Gabrielle, is a friend of mine from NYU, so I asked her if she could get us into the screening, and she did. I took my assistant Anna, my bandmate and classmate Tim and my teacher Raphael.
Newport is 45 minutes from Providence and it's beautiful. Anna told me about some famous mansions in the area where they might have filmed an earlier version of The Great Gatsby. Wes had shot his movie in the area and used some RISD students as interns, but most of the film takes place in the woods, so I didn't recognize any of the buildings from Providence's College Hill in the movie. I actually ran into Wes on the train from R.I. to New York last winter; it was then that he told me that he was making a film here. Rhode Island is a beautiful place and I think Wes effectively portrayed it through his eccentric lens so that all the quaint Americana beauty of the area will be seen by the world.
I was sad to be away from Nana, because she would have loved the film, but she was in London helping the actors from Prometheus look good for their press conference. She read the latest posts I wrote for The Huffington Post and texted me to say that she liked them. One thing about Nana is that she is incapable of saying anyone's name correctly; we've called it her "condition" ever since watching Memento together and noting a kinship between her hilarious gaffes and Guy Pierce's character's short-term memory loss. She said that she liked being my "Sancho Panda." I told her that Don Quixote's sidekick was actually named "Sancho Panza" -- but Panda is even better, because she does look like a cross between a panda and a turtle. Anyway, the film.
We got to see it in an old theater called the Jane Pickens. Wes was still in France, but he sent a video message to all the local crewmembers and cast members, most notably the kids from Troop 55 and the two young actors who play the young lover leads. I was immediately pulled into the film. It almost goes without saying that Wes is a master of production design and that his shot composition, editing, pacing and use of music have influenced countless other filmmakers. He uses all those skills to full effect in Moonrise Kingdom.
But this is also his first film since Rushmore to feature child protagonists, and I think that makes all the difference. Wes has had some great adult performances in his precious films: Bottle Rocket gave Owen Wilson the best performance of his career, Gene Hackman was both extreme and grounded in The Royal Tenenbaums, Willem Defoe was at his quirky best in The Life Aquatic and Bill Murray is perfect in all of them. But Wes undeniably makes movies that use childhood motifs to address adult problems. He has said that this new film is based on Truffaut's Small Change, which does the same thing. My teacher Rafael says Wes's films remind him of school projects, in the best way. Wes has been both praised and criticized for his idiosyncratic approach -- but I think it's ridiculous to criticize his style. He is an original, someone who has created a new world for us through his films. And because his films are so detailed, they reward multiple viewings. Almost like your favorite children's book -- think Maurice Sendak. But even if his style is beyond reproach, we can still investigate his movies' content.
In Moonrise Kingdom, the plot turns on two young lovers who run away together. Wes hits every childhood fantasy that anyone ever had. I remember telling my mother that I wanted to marry my 13-year-old girlfriend; I planned an extensive runaway with friends; I adored books like L. Frank Baum's Oz series, Where the Red Fern Grows, My Side of the Mountain, Steinbeck's Cannery Row and The Red Pony; and I wanted to fight all the cocky bullies that stood in my way.
Wes loves scenes that display sets, props and costumes, scenes that focus on small, detailed moments and scenes that build in a staccato rhythm to moments of tender feeling. These types of scenes all work well with younger characters. I am not saying that Wes can't deal with adult characters. But it is much more engaging to see children grapple with issues that are too large for them -- as the kids in Moonrise Kingdom do when they try to have an adult relationship -- than it is to watch adults deal with childhood issues -- as the adult children in Royal Tenenbaums do when they pout because their dad is a jerk. Wes is a master director who works with a very controlled hand. And his characters have tons of heart. But in some of his films, those characters end up being flattened into pretty set design to match the rest of the mise-en-scene. In Moonrise Kingdom, the characters own their world, not vice versa. The teenage actors bring life to their oddball characters -- which, in turn, give vitality to the fantastic display around them.
Popular in the Community