We left the ABC Studios Building and walked across the blue serpentine bridge across Riverside Drive to the Walt Disney Studios lot. The 51-acre lot has so much history and fun themes, like Pluto's Corner. Today, we aren't here to tour the lot, instead we walk inside one of the buildings, and take a seat in a conference room, ready to interview Wes Bentley, star of Disney's Pete's Dragon.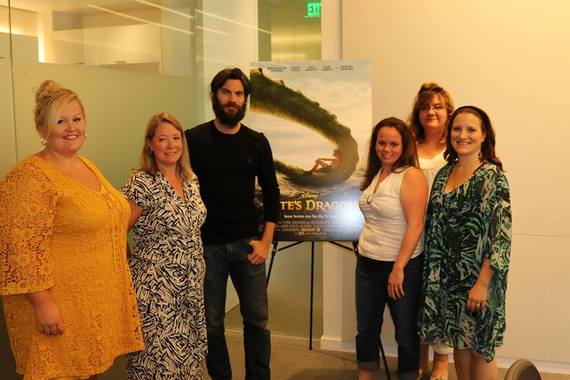 My oldest child knows him from his role in Interstellar where he played the character Dr. Doyle. I know him from his breakout role, American Beauty. My younger kiddos recognize him from his role in The Hunger Games. You'll love him in his latest role as Jack in director David Lowery's Pete's Dragon!
Wes Bentley came from the prestigious Juilliard School, but when he walked into the room, he seemed more like the Southern roots were dominate. He's from Arkansas and reminded me much of the people in my own southern community.
Pete's Dragon was filmed in New Zealand where Bentley spent three months on set filming.
"New Zealand was beautiful! My family came out for the last two months so I had my kids and my wife. I had a lot of time between shooting so I got to do a lot of the touring around and we did a bunch of exciting things. Everywhere you turn in New Zealand there's something exciting to do. It's the gem of the world. It's so far away from the madness and so you get that element. It was just stunning."
While Bentley is no stranger to acting and has an impressive run of characters in film Pete's Dragon is Bentley's first Disney film.
"I've been a Disney fan since I was a kid. I am excited to be a part of a movie with them. I have young kids and I wanted to do something my kids could see while they're young."

His son, who will be six in November attended the Pete's Dragon Premiere with the actor who noted,

"I don't know how he is going to react. He's seen images of me in a film, but he's never seen anything beyond a few words. This is the first film where he will see me acting."
While Bentley's son has not seen the original 1977 film Pete's Dragon, Bentley is okay with this stating that "kids are very aware of animation styles. There is a difference in the look, so I wanted him to first see this Pete."
In a sense, seeing this movie will be more than a father-son outing. It will be the fruition of Bentley's son's own contribution to the movie.
"My son sort of worked on this film. Obviously not really, but he would come to set with me and the assistant directors would get him to go get actors out of their trailers and get them to make up. They'd give a New Zealand dollar for the day."
Bentley feels he was fortunate in being asked to be a part of Pete's Dragon.
"I had met with David Lowery on another project maybe a year before. He really wanted me to be in this and convinced them that I could be in this and I could play a nice Disney dad. Thankfully, he did. I didn't have to audition or anything like that. I just sort of found myself in the film and couldn't be more excited. It was everything I wanted to do and the direction I've been wanting to head."
Looking at Bentley's Filmography it's easy to see his acting comes from darker characters like American Horror Story. He talked about the challenge of transitioning into a nice-guy role.
"It didn't feel like it should be hard because I am a nice guy! I have my own kids. I am aware of my film habits because I have for so long played guys who are darker or dealing with very complex issues and they're dealing with their darker sides. I came in like really very aware of this. Obviously, there were things about me that people see. Usually, it's my eyebrows! I was very aware of my eyebrows. Trying to make sure my face showed my inner feelings which doesn't always happen. I have always had to deal with, "Why are you so mad?" or "What are you angry about?" When, you know, I wasn't! I was thinking about lollipops and cotton candy!"
He found playing the nice guy more challenging, perhaps because we have seen him so much in these darker roles.
"I had to really work on being aware of my expressions. I had to know Jack and how he thinks and how I convey that physically so that people weren't reminded of me in something else or disturbed by something. David Lowry was aware of it and I asked him to help me. The writing was all there and the direction of the movie was there so it went well."
In the movie, Bentley's character, Jack is a lumberjack. Bentley talks about the research he did for his role.
"I tried to learn as much about lumbering--felling, I think it's called. I tried to learn about the types and versions of lumbering that you can do and what were the most environmentally impactful and tried to convey that to Jack.

I feel like Jack was walking the balance of having to make money for his company and all these men in this small town depending on that company. At the same time, he was environmentally aware but also more aware because of who he was in love with and what she cared about. It also worked over to his relationship with his brother, Gavin.

Gavin only wanted to make money and it made him a bit dangerous, creating a conflict between the brothers. Perhaps Gavin's prior choices led the business down the wrong path and this is why Jack, the younger brother, was handed the keys to the family business."
Working on Pete's Dragon, Bentley said it brought back all the imagination he had a child.
"My imagination was really hyperactive as a child and animated. I had those elements but as you live and go through the hardships, it fades. Pete's Dragon reawakened that. It rekindled the feeling of the invisible dragon."
While there were no imaginary friends for Bentley during childhood, he does share a moment from his growing up.
"I would create in my head all these clubs. I was the club president of all of them. One was named after the shoes that had lights on them in the 80's, British Knights. I had this whole clubhouse underneath the fence in my backyard and all these friends who were in the club. We lived in rural Arkansas so it wasn't like there was a kid next door to tell them to come over and play. You sort of had to have an imagination!

I had three brothers and we watched Monty Python sketch comedy a lot, Saturday Night Live, all of that. We joked around trying to make each other laugh. That carried over to church skits and school skits. I enjoyed the lighter side of comedy.

Then I had a knack for the dramatic and I got dramatic roles right away. I'd like to play a guy who doesn't think so much. I'd like a character whose words come out before he thinks about it. I want a character, who is just kind of dumb in that way. A guy who doesn't have too many dangerous, devious ideas. It would be fun to play a role like that."
Rekindle your inner child with Pete's Dragon in theaters now, and see Wes Bentley as Jack in theaters everywhere now!
A reimagining of Disney's cherished family film, "Pete's Dragon" is the adventure of an orphaned boy named Pete and his best friend Elliot, who just so happens to be a dragon.
For years, old wood carver Mr. Meacham (Robert Redford) has delighted local children with his tales of the fierce dragon that resides deep in the woods of the Pacific Northwest. To his daughter, Grace (Bryce Dallas Howard), who works as a forest ranger, these stories are little more than tall tales...until she meets Pete (Oakes Fegley). Pete is a mysterious 10-year-old with no family and no home who claims to live in the woods with a giant, green dragon named Elliot. And from Pete's descriptions, Elliot seems remarkably similar to the dragon from Mr. Meacham's stories. With the help of Natalie (Oona Laurence), an 11-year-old girl whose father Jack (Wes Bentley) owns the local lumber mill, Grace sets out to determine where Pete came from, where he belongs, and the truth about this dragon.
Like
Follow
Follow
Visit the official
Calling all HuffPost superfans!
Sign up for membership to become a founding member and help shape HuffPost's next chapter