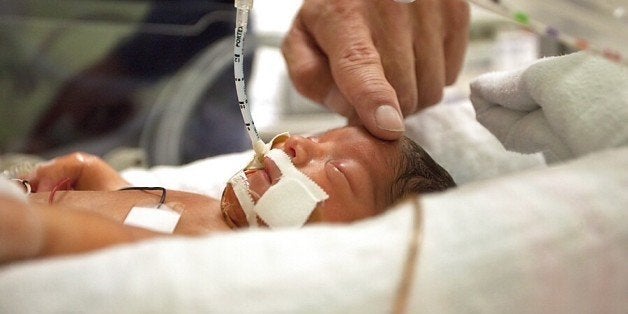 Wes Xavier was the most extraordinary baby of all the extraordinary babies. This was clear even before he was born, before he entered this world and lived his eight days on this planet with charm and gusto. After clearing out the cobwebs and other oddities that had accumulated in his mother's late 30-year-old uterus, Wes settled in, hanging some posters and subscribing to Netflix. He started out as a pretty typical fetus, demanding old-fashioned donuts and french toast via email and getting familiar with the outside world by eavesdropping. As a fetus, Wes had an extreme dislike for Xlerator hand dryers and his mother's restless sleep patterns. Over his 28 weeks in utero, Wes would make a bold impression on most of those who crossed his mother's path.
There was their first OB, for whom he did an actual dance for, his teeny arms and legs moving in sync as he floated around the screen during the ultrasound. And his multiple MFM doctors, some for which he refused to get into position for, preferring to keep his back to them. Others he would engage by kicking the ultrasound wand with a strong fetus foot.
In fact, had he lived, it's very likely that Wes would have been a great soccer player. His affinity for kicking was consistently recurrent. He kicked away at the fetal heartbeat probe, resulting in loud bashing sounds from the machine that could be heard at the other end of the house. The dog, accustomed to laying on his mother, would rest his head on the belly and he too would fall victim as Wes kicked until he retreated, confused and rejected. Even Wes's own father, who laid his head on my belly to hear his eagerly-awaited son, got a swift kick to the face. Wes kicked tricks for sport and didn't bother taking names.
Wes Xavier was brave. His bravery far exceeded that of his parents. He was brave like his Native American warrior ancestors. He was fearless. Over the course of many weeks, little Wes, not yet born, endured three surgeries. Here he showed his true grit as he was poked three times as they inserted a shunt to help his little bladder drain. After each surgery, Wes emerged stronger with hefty kicks and more determination making his already adoring parents proud beyond measure.
But Wes was also extremely considerate. When it was time for him to greet the world, he waiting until 9:05 p.m. so that his mother could finishing watching a new episode of "Scandal." And during his last moments, when it looked as though he had taken his last breath and his parents crumpled with grief, he rallied and breathed again to give them more time. This was the kind of wonderful boy Wes was.
During his eight days, Wes proved to be a baby with remarkable spirit and humor. He held fingers so tight they turned purple and he delighted his mother by making his signature "angry face" every time his father kissed him. His mother bragged that it was because Wes loved her more, but it was actually his father's stubble that Wes disapproved of. He liked being sung to and hearing stories of his family and all the people who were anxious to meet him. He would curl his toes and ball his fists as his parents spoke softly to him through the round incubator doors.
In his own way, the ever-strong and brave and ferociously loved Wes let it be known that his time here was over. There was peace in his readiness. His parents, who had never left his bedside, not even for a single night, were finally able to hold him. And that they did for 12 hours. And Wes held them back and still holds them now as they try to go on without him.
On October 24, after eight glorious days, Wes Xavier left this world while cradled in his mother's arms.
He leaves behind his parents, whose love for him will endure always and whose hearts while broken are full of joy and gratitude for being able to call him their boy. In his short life, he will always be credited for making them a better wife, a better husband, better parents and overall better humans. He will be loved always and missed infinitely.
To honor Wes, we would love it if you would do one small random kind gesture and share with the hashtag #WesTheExtraO.