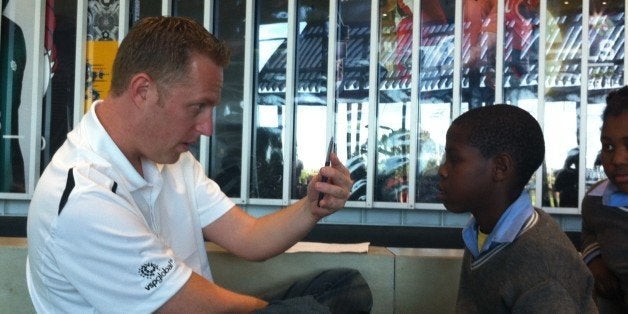 Do you remember what it felt like to read on your own for the first time? What about the first time that you saw the ball go into the net when you scored a goal? For thousands of kids in South Africa, not only are they potentially missing out on these small moments as a result of the lack of routine eye care, but they may also struggle with other obstacles to learning, playing and ultimately achieving their full potential as both students and individuals. As a third-generation optometrist taking part in the "We See" Child Eye Health Project, I'm seeking to change that for good in a community with a massive need.
I first arrived in Soweto, South Africa in 2012 on an exploratory trip as a practicing optometrist and VSP Global board member, along with colleagues from Marchon Eyewear (the third largest eyewear manufacturer in the world) and Nike. During that time, we evaluated how we might be able to help strengthen an existing community program that Nike had in place.
I didn't know much about the region at the time, aside from the fact that this was where Nelson Mandela called home, and that the area served as the backdrop for Apartheid events that segregated the country for years. What I learned then, and in the years following, is that in South Africa, there are less than 300 optometrists who are available in the public sector for a population of 41 million people. Given that it's recommended that even healthy children and adults get a comprehensive eye exam at least once a year, I realized that this shortage must mean that many people have no access to care. In fact, it's been estimated that 60 percent of Soweto children with vision problems can easily be helped, yet only 20 percent of them have access to eye care.
During my first trip, we provided 175 eye exams and prescribed glasses to 40 patients in just three days. Of those patients, at least 20 of them received a life-changing prescription that dramatically and positively changed their lives. I remember one girl who had such poor vision that she couldn't see anything past her arm's length -- and thought that this was normal. There was wonder in her eyes as she put on the glasses and viewed the world around her for the first time.
As I write this blog, I am back in Soweto, this time to launch "We See," the culmination of our initial trip. The last two years have brought together private companies (VSP Global and Nike) and local government (Gauteng Departments of Health and Education) and non-governmental organizations (Brien Holden Vision Institute) to create a sustainable solution for this unmet and crucial need. The project's goal is to provide eye health services to 30,000 children in Soweto over a three-year period and reduce uncorrected visual issues in school children by 90 percent.
Our hope is that this project will serve as a positive example of how collaboration between leaders in eye care, sports and social services can create sustainable solutions to address critical health needs across the globe. We also aim to show how establishing ownership at a local level by engaging the government can help to put focus on integration and eventual self-sustainability.
This project served as a good reminder for me to let my friends, family and colleagues here in the United States know that having access to eye care is a very important, yet often unrecognized health necessity for people of all ages. Even if you think that your vision is perfect, annual comprehensive eye exams allow optometrists to detect early signs of chronic diseases like diabetes and hypertension.
I'm eager to see the positive changes that "We See" will provide to children in Soweto, as thousands of kids are given the opportunity to see life a bit clearer, learn a bit easier and hold their heads up a bit higher. I chose to follow in my father and grandfather's footsteps and become an optometrist to make an impact in people's lives. To have the opportunity to fulfill this on a global scale is one of the most rewarding experiences, and I hope to continue doing so for many years to come.
Watch how Dr. Alpert and "We See" are making a difference in the video below:
Calling all HuffPost superfans!
Sign up for membership to become a founding member and help shape HuffPost's next chapter