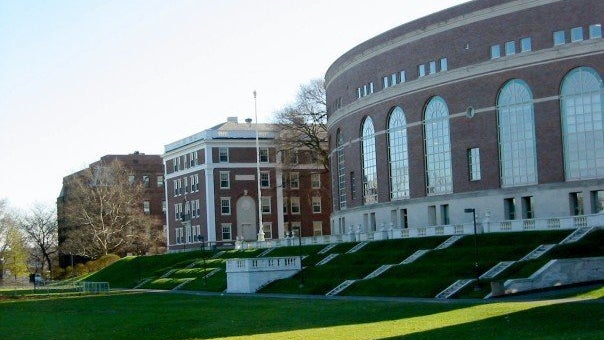 The student government at Wesleyan University is about to dramatically slash funding for the campus newspaper in the wake of a controversial op-ed that criticized Black Lives Matter. Or else the school newspaper might be getting a big increase in funding under a digitalization effort. It depends on who you're listening to.
The Wesleyan Student Assembly, the Connecticut university's student government, passed a resolution Sunday to move forward on a plan to significantly overhaul how it funds the independent student newspaper, the Argus. Resources would be divided among Wesleyan's various campus publications based on online readership as measured through Google analytics, and based on votes from the student body.
The resolution allows for details to be amended, but Sunday's vote affirmed creating 20 stipend positions with the initial aim to fund these roles through cutting the Argus' printing budget by $17,000. The student assembly would also reserve $2,000 for targeted Facebook ads meant to "make student publications more visible than ever."
The resolution passed in a 27-0 vote, with four members abstaining.
Although the resolution takes a $17,000 cut out of an annual $30,000 allocation for the Argus, the measure's sponsor insists the newspaper's funding will ultimately "be increased dramatically."
Alex Garcia, a junior who proposed the funding overhaul, said he expects the Argus will do well in the ranking system and collect a significant amount of the allocation. "Our goal is to have a written policy," he told The Huffington Post, "and have less of a gray zone from year to year."
Garcia's proposal was first posted online about a month ago, he said. Around the same time, activists were arguing, via petition, that the Argus should lose funding if it didn't agree to a set of demands crafted in response to an op-ed critical of the Black Lives Matter movement that the newspaper published.
Among the demands was that the Argus should create work-study positions at the newspaper -- a change the Argus student editors had no power to implement, but that has now essentially been approved through Garcia's resolution.
Garcia said the controversy over the conservative op-ed was "influencing," but said it was not the sole reason behind his resolution to overhaul the funding of Wesleyan's student publications.
"It is related to the discussion, but it's not a reactionary response," Garcia said Monday. "It's a well-thought-out and structural change."
Critics of the controversial op-ed -- written by Bryan Stascavage, a white student -- said the Argus should include more perspectives from students of color, a point Argus editors agreed with. Garcia said one major goal of his proposal for more stipend positions is to make it easier for lower-income students on financial aid to participate in campus media.
Garcia's proposal estimates the Argus could get about $25,000 in annual funding. That would still be less than its current $30,000, but if the paper were to focus more on digital distribution, it wouldn't need as much money for printing costs.
Still, with less printing, the Argus could end up collecting fewer dollars in ad revenue, preventing it from paying some staff members.
Currently, nine Argus positions -- including copy editors, layout staff, the business manager and the ads manager -- are paid using advertising revenue. According to Rebecca Brill, Argus co-editor-in-chief, "they all get paid more per month than the resolution's work-study program would pay them."
Brill and Tess Morgan, the other co-editor-in-chief, laid out many of their objections to Garcia's resolution in an editorial last week. The Argus gobbles up nearly three-quarters of all student publication funding, but Brill and Morgan noted that the paper has more people involved than most student organizations on campus, counting 30 editors and more than 110 staff writers, photographers and people on its layout and copy staff.
Out of its $15,000 semester budget, the Argus uses $12,435 for printing. Halving the print run of each individual issue would only save $5, which -- as anyone who works in printing can attest -- is because the biggest cost is the initial setup to print an issue.
"The Argus will lose all or most of its funding, and quite possibly its editorial autonomy," the newspaper currently warns on its website, in a request for donations.
Garcia said there will be a one-year period to study and collect data on student media and distribution before any final decisions are made. If alternative funding ideas are presented during that period, the WSA will consider them, he said.
According to details posted on the website of Kai Entrepreneurship, a student-run group of which Garcia is co-president, supporters of the Argus funding proposal hope it will establish "a model for other publications on campus and [elsewhere in] the country."
Related
Popular in the Community