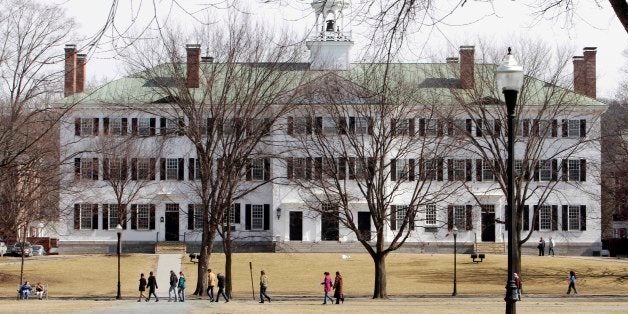 Two elite New England universities made major changes to their policies governing fraternities amid scrutiny over student misconduct on both campuses.
Wesleyan University in Connecticut, which is frequently listed as one of the top 10 liberal arts schools, told students Monday morning that its three all-male, residential fraternities must go coed or lose the school's official recognition.
"With equity and inclusion in mind, we have decided that residential fraternities must become fully co-educational over the next three years," wrote board of trustees Chair Joshua Boger and university President Michael Roth in a campus-wide announcement. "If the organizations are to continue to be recognized as offering housing and social spaces for Wesleyan students, women as well as men must be full members and well-represented in the body and leadership of the organization."
Meanwhile on Sunday night, Dartmouth College students had received word that all fraternities at the Ivy League school in New Hampshire would eliminate the traditional pledge period, which nationwide has been associated with the hazing of new members.
Earlier this month, Wesleyan banned students from attending events or living at the Beta Theta Pi fraternity, a Greek chapter labeled a "rape factory" in a 2012 lawsuit. After settlement of that Beta lawsuit, another fraternity at Wesleyan, Psi Upsilon, was hit with a suit alleging that a woman was raped at the frat house while others were present in the room.
Dartmouth's change follows years of debate about the role of fraternities on campus and comes just months after a majority on a student council overseeing sororities boycotted the midwinter rush because they believed the Greek system was unsafe for women. Hundreds of faculty members and two former Dartmouth presidents have advocated for a dramatic overhaul or abolition of the Greek system.
On Sunday, the Dartmouth Inter-Fraternity Council sent out a brief email to students announcing the latest change:
We, the Inter-Fraternity Council of Dartmouth, have unanimously elected to bring a formal end to the fraternity pledge period, commonly known as "pledge term." All newly selected members of IFC fraternities shall be considered full members upon joining a house. New members will enjoy full rights and privileges of current members. We will continue to work closely with GLOS [the Office of Greek Letter Organizations and Societies] to ensure the continuation of constructive individual and team-building activities.

It is the hope of the IFC that the formal end of the fraternity pledge period will work to strengthen the Dartmouth community we hold dear.
Members of the Inter-Fraternity Council declined to make anyone available for interviews on Monday. But the council's decision likely grew out of college President Phil Hanlon's effort, launched in April, to "move the college forward" and tackle social climate problems on campus. Many online responses to that campaign had suggested requiring significant reforms to the Greek system. Official proposals are expected to be presented to Dartmouth trustees this fall.
Wesleyan had received similar feedback from students and faculty this year. In April, 68 professors joined dozens of students calling on the university to force the three recognized fraternities on campus to admit women.
"This decision was made after the administration spent the summer soliciting and receiving feedback on the issue from many interested parties," Wesleyan spokeswoman Kate Carlisle told The Huffington Post in an email. Those interested parties included current fraternity members, student leaders and alumni. Carlisle said fraternity members were given advance notice before the campus-wide announcement Monday.
Amherst College in Massachusetts decided earlier this year to ban students from joining fraternities at all. The groups were already unrecognized by the college, but the school continued to experience problems with the frat houses.
Students at Swarthmore College in Pennsylvania, another Wesleyan peer, voted in favor of Greek houses becoming coeducational in 2013. Swarthmore has made no changes in policy regarding Greek organizations since that vote.
Related
Popular in the Community