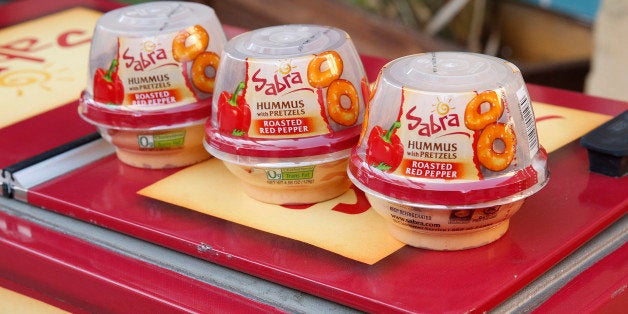 After briefly removing products from Sabra, the New York-based company that makes hummus, salsa and other dipping sauces, Wesleyan University confirmed this week that its dining facilities will once again carry those items, despite months of student activism in protest of the company.
The school will also carry Cedar's brand hummus in addition to Sabra, Wesleyan spokeswoman Lauren Rubenstein told The Huffington Post.
"By stocking both brands, Wesleyan will now offer students a choice," Rubenstein said in a statement to HuffPost Monday evening.
The Connecticut university initially decided to stop stocking Sabra in early November, before coming to the decision to restock on Monday.
Students led by the school's Students for Justice in Palestine organization have for months called for a boycott of Sabra products, due to the company's perceived connections with the Israeli military. Sabra is jointly owned by the U.S.-based PepsiCo and the Israel-based Strauss Group, which in the past has supported Israel's Golani Brigade with money and care packages. It's not clear what relationship, if any, the Strauss Group and the Israeli military currently have.
"Though the dining committee recently replaced Sabra with Cedar's after a small group of students voiced concerns, this was never intended to be a political statement by the university," the school statement said. "Rather, the committee was attracted to Cedar's profile as a local, all natural, family-owned brand."
The calls for removal began in March, when students went directly to the university's supermarket and asked it to remove Sabra products. After the managers declined to do so, students began protesting with pamphlets and by "surreptitiously plaster[ing] Sabra products [in the supermarket] with stickers that explained Sabra's connection to human rights abuses in the occupied Palestinian territories," according to a recent SJP press release.
In May, the Wesleyan Student Assembly adopted a resolution calling for the university to "divest from companies that profit from the occupation of the Gaza Strip, the West Bank, and East Jerusalem," The Wesleyan Argus reported.
Student activism continued in the new school year as the divestment resolution was implemented, though the initial decision to remove Sabra was not related to the resolution, one of its sponsors confirmed to Inside Higher Ed.
"From my personal point of view, as an active member of Wes SJP and a freshman at Wesleyan, this is an unfortunate reversal of the dining committee's earlier decision," student Henry Prine told HuffPost on Tuesday. "I plan on continuing my efforts around removing Sabra products, products that actively support military units in Israel known for their human rights abuses. I am sure that Wesleyan Students for Justice in Palestine will also continue to organize around this, especially once next semester starts up."
In an emailed statement to The Huffington Post, a representative for Sabra said that "the company has no political positions or affiliations."
A request seeking comment from the Strauss Group was not returned.

Colleges With The Best Campus Food 2013: Princeton Review Rankings