When she was diagnosed with breast cancer in 1997, actress Wendie Jo Sperber was surprised to find very little places to go for support. In response, Sperber founded weSPARK, a "home-like support center for people whose lives were affected by cancer" so she and others in the community could have a place to turn to, according to weSPARK's director Nancy Allen. "Unfortunately, Wendie lost her battle with cancer in 2005," Allen says, "but her vision has continued to flourish as weSPARK continues to serve more families in need."
Allen says that weSPARK's goal "is to continue to reach out to families in need" as well as to offer "free programming to more underserved populations, including the Hispanic and African American communities, as well as young adults." The center offers Children (12 and under), Teen, and Young Adult Networking groups for those affected by cancer, in addition to its general support groups. Activities during meetings include Fondue night, Thanksgiving Dinner, Self Defense and Cookie Decorating.
In order to raise money, the organization hosts big events throughout the year. Last year it hosted a Broadway Tonight Show, which featured performers like Wayne Brady and honored founding members Robert Zemeckis and Bob Gale with the Heart of weSPARK award. This year, weSPARK will host its Annual Jason Alexander Texas Hold-Em Poker Tournament, the Annual Wendie Jo Sperber Golf Tournament, and the center's annual Run/Walk. (To get involved and see photos of the events, see below!)
In addition to hosting fundraising events and providing support groups, the center offers workshops and creative programs to cancer patients and their families. "These programs are designed to alleviate stress and promote feelings of well-being by offering additional information and/or supplement the standard treatment of cancer patients," Allen tells us. WeSPARK offers everything from Jewelry Making and Creative Writing to Tai Chi, Yoga and Qi Gong. Workshops include Mindfulness Meditation for Health and Well-being, Healing Breath Yoga and an Integrative Lecture Series, all designed to help those with cancer--and their loved ones--through the process of diagnosis, treatment, and recovery.
Jason Alexander Texas Hold-Em Poker Tournament
When: Sunday, March 13, 2011, 1-6pm
Where: Sportsmen's Lodge, 12825 Ventura Boulevard, Studio City, CA
Cost: $100 Advance Buy-in; $125 Day of Event Registration!
Annual Wendie Jo Sperber Golf Tournament
When: Monday, May 23, 2011
Where: Spanish Hills Country Club, Camarillo, CA
To get involved or to find out more about weSPARK, visit their website here.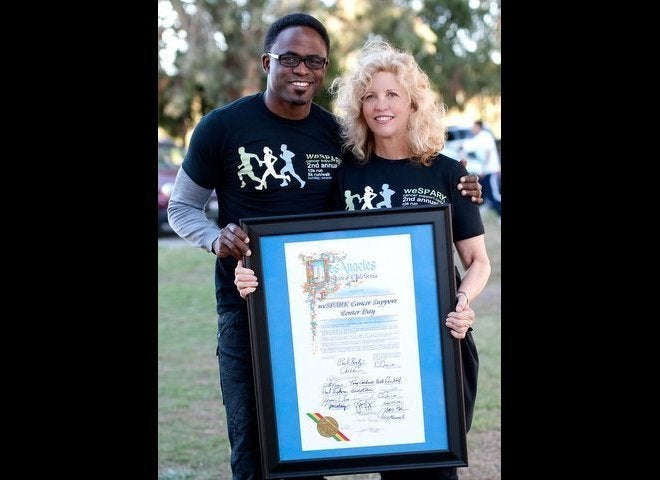 Gallery
Related
Popular in the Community