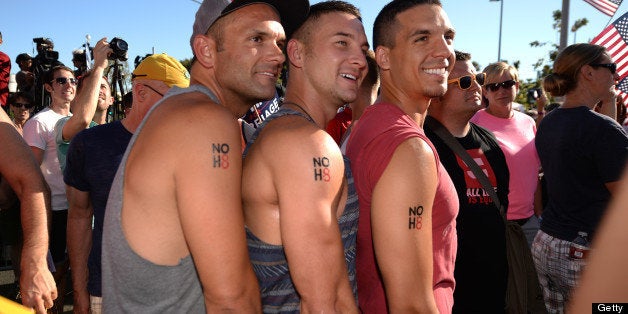 WEST HOLLYWOOD, Calif. -- Screenwriter and gay activist Dustin Lance Black began his Proposition 8 victory speech by acknowledging that today's lesbian, gay, bisexual, transgender community stands on the shoulders of those who had come before -- in particular, those of slain San Francisco politician Harvey Milk, the first openly gay person to be elected to public office in San Francisco.
"Harvey Bernard Milk, our dear hero, one of our father figures," began Black. "He said, 'We can no longer be satisfied with crumbs.' It is time for this community to stop asking for crumbs and demand the real thing, 'cause they may find that they could actually get it, and we have."
Black spoke on stage at a rally Wednesday evening in West Hollywood, the center of gay life in the Los Angeles area. The event drew hundreds of people to celebrate the Supreme Court's dismissal of Prop 8 and the overturning of the federal Defense of Marriage Act. And, like Black, some couldn't help but think back to bittersweet memories of loved ones who didn't live to see legal same-sex marriage in California.
Longtime couple John Borsum, 58, and Mark Ehrenstein, 53, spoke to The Huffington Post about Ehrenstein's great-grand aunt and her partner of 60 years, who lived in Missouri during a time that gay relationships were illegal and dangerous.
"They lived as sisters and moved around a lot," said Ehrenstein. "I think they're both looking down and celebrating with us. I really do."
Borsum and Ehrenstein, who have been together for 31 years, married in 2008 during the brief period in which same-sex marriage was legal in California. They can still remember the time, back in 1983, that a Las Vegas hotel turned them away when they requested one king-sized bed in their hotel room. It was experiences like those, in addition to California voters' approval of Prop 8 in 2008, that made them believe they would never see marriage equality in their lifetime.
Now, said Borsum, "we want to see it across the country."
Los Angeles resident Brad Bigelow, 58, had a more immediate memory. This week, Bigelow will mark one year since his longtime partner died. He fought back tears talking about the loss.
"My partner of 32 years died a year ago this Friday," Bigelow said. "This was our dream and he never got to see it."
Bigelow was at the rally with Bert Champagne, a friend who also lost his partner eight years ago. For Champagne, the day was an opportunity to celebrate that the next generation of LGBT people and their supporters will no longer be second-class citizens in the eyes of the federal government.
Back when Prop 8 passed, Champagne said, he took to the streets with his 16-year-old niece in protest of the ban on same-sex marriage. On Wednesday, five years after that protest, she texted: "Uncle Bert, this is what it was all about."
Black was joined on stage by West Hollywood council members, LA Mayor Antonio Villaraigosa, the anti-Prop 8 legal team Ted Olson and David Boies and the plaintiffs Sandy Stier, Kris Perry, Jeff Zarrillo and Paul Katami.
Couples, families and friends at the West Hollywood rally share their thoughts on marriage equality in the slideshow below.
PHOTO GALLERY
West Hollywood Celebrates Prop 8 Dismissal
Calling all HuffPost superfans!
Sign up for membership to become a founding member and help shape HuffPost's next chapter