SAN MARCOS, Texas ― On a warm morning late last July, Chuck Yarling yanked a baby blue swim cap over his head and put down his cane. His friend Richard Blakely grasped him by the tricep and helped him hobble to the edge of Spring Lake, where he plunged feet-first into chilly water.
The race Yarling was attempting required him to swim 500 meters and then cycle 12 miles, which would have been a cinch five years earlier. Yarling, a thin, sharp-chinned 72-year-old Vietnam veteran with bright hazel eyes, completed 110 triathlons between 1983 and 2012. In his most active year, 2009, he finished 14 triathlons.
Then the largest West Nile virus epidemic in Texas history erupted in 2012, after an abnormally warm and wet winter and spring. Yarling was one of more than 1,800 people in the state infected. The mosquito-borne virus attacked his spinal cord and brain, causing excruciating pain, deafening him in one ear and temporarily paralyzing his legs.
During his long recuperation, Yarling's once-powerful legs withered to thin sticks. His neurologist doubted he'd ever race again. Even five years later, Yarling still suffered from balance problems that caused him to wobble on his bike.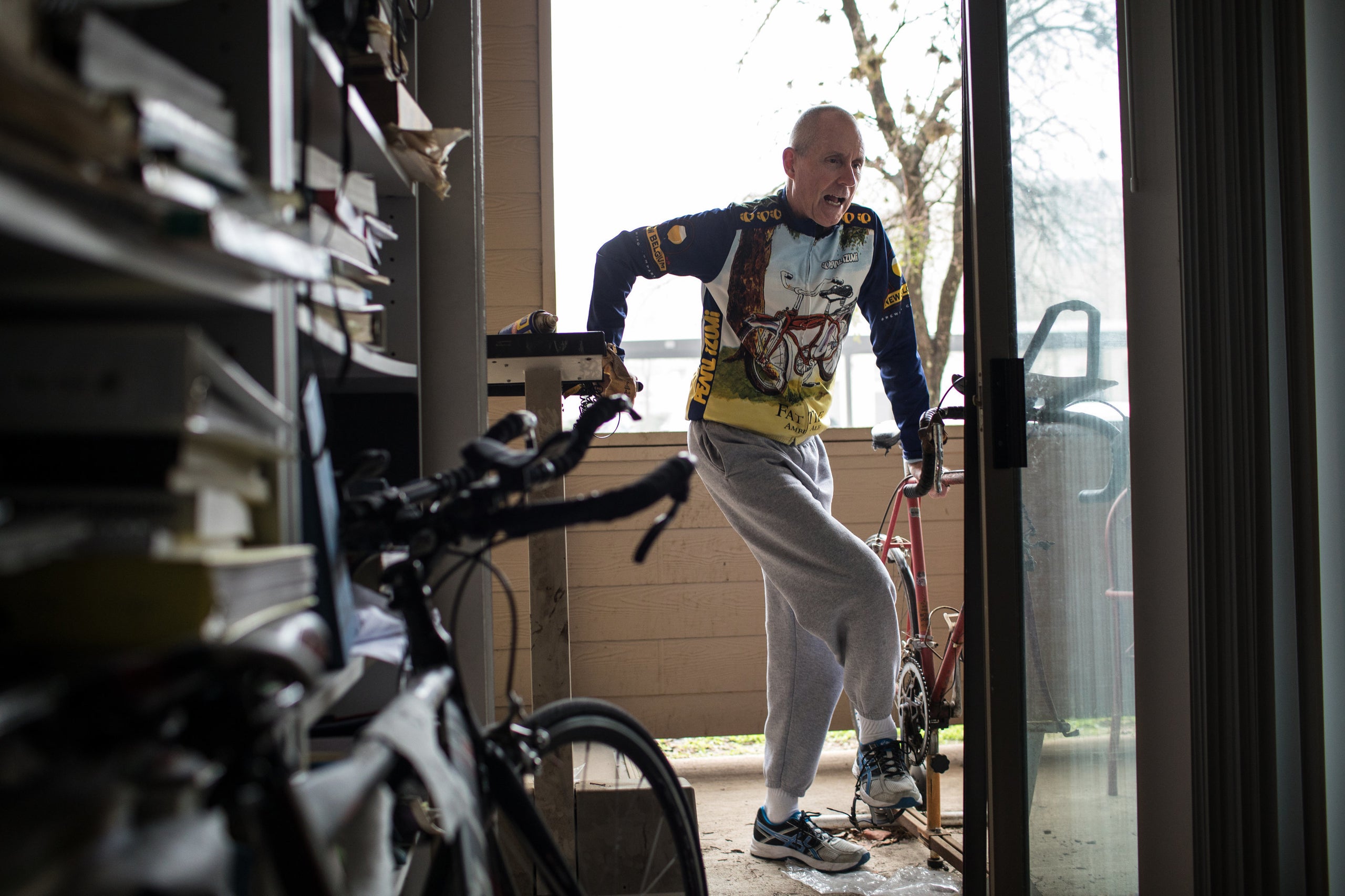 But Yarling was determined to resume racing. He'd gotten permission for Blakely to assist him during the swim-bike race in San Marcos. As Yarling swam, his friend ambled along the shoreline. Some 20 minutes later, at the end of the swimming course, Blakely hauled a gasping Yarling out of the water, then helped him pull a black-and-white racing shirt over his head and climb on his bike. He gave Yarling a push, the way a parent helps a child learning to ride, and watched him pedal out of sight.
Yarling planned to follow a route that wound north and west of Spring Lake, a 12-mile, hilly gauntlet, steamy with the heat of the summer sun. Somewhere out there, he'd either fulfill an ardent desire, or he'd come crashing to the ground.
Yarling's diagnosis and long recovery may seem like simple bad luck ― wrong mosquito, wrong time. But scientists say climate change is increasing the odds of bigger outbreaks. Mosquito-borne diseases like West Nile fever, said Dr. Robert Haley, who directs the epidemiology division at the University of Texas Southwestern Medical Center in Dallas, are just one of the many health risks that are rising with a warmer climate. Higher temperatures allow the West Nile virus to replicate more quickly inside the bodies of mosquitoes, and mosquitoes bite more frequently when it's hot.
"The higher your temperature," Haley said, "the more explosive these epidemics can be."
Climate change is what makes Yarling's story not just the tale of a triathlete's comeback. It's also a warning that a warmer world is amplifying the risk of disease.
A Mosquito-Borne Plague 
West Nile fever is the most common mosquito-borne disease in the mainland United States, producing a few thousand reported cases each year. In most people, infection causes no or only mild symptoms. But in a small fraction of patients — particularly those over the age of 60, like Chuck Yarling — the virus invades the nervous system, where it can cause convulsions, comas, polio-like paralysis and death.
Identified in the West Nile district of Uganda in 1937, the virus was first reported in New York City in 1999. It likely arrived in the U.S. from Israel, but precisely how it migrated across the Atlantic remains unknown. Texas experienced an epidemic in 2003, but by 2011, the virus seemed to have nearly vanished, Haley said. That year, the state reported only 27 cases.
But then the weather turned wacky. In Dallas County, the outbreak's ground zero, the winter of 2011-2012 brought heavy rains but not the usual hard freezes. That spring was the state's hottest on record. 
The higher your temperature, the more explosive these epidemics can be.

Dr. Robert Haley, University of Texas Southwestern Medical Center
The abnormal weather was consistent with a changed climate in Texas, where intense rainfall has grown more common and the average temperature has risen 1.5 degrees Fahrenheit above last century's average, according to state climatologist John Nielsen-Gammon.
And the weird weather likely enabled an unusually large number of mosquitoes to survive the winter and get a head start on infecting humans, Haley and a team of researchers later concluded. The spread of disease, the researchers wrote in a study of the epidemic, appeared "to have been precipitated by an extreme weather pattern."
Haley believes that even in the absence of climate change, a few people in the Dallas area probably would have contracted the West Nile virus in 2012. "But it almost certainly would not have grown into so large a human epidemic," he said.
By the end of 2012, the virus had sickened at least 5,674 U.S. residents and killed 286 people.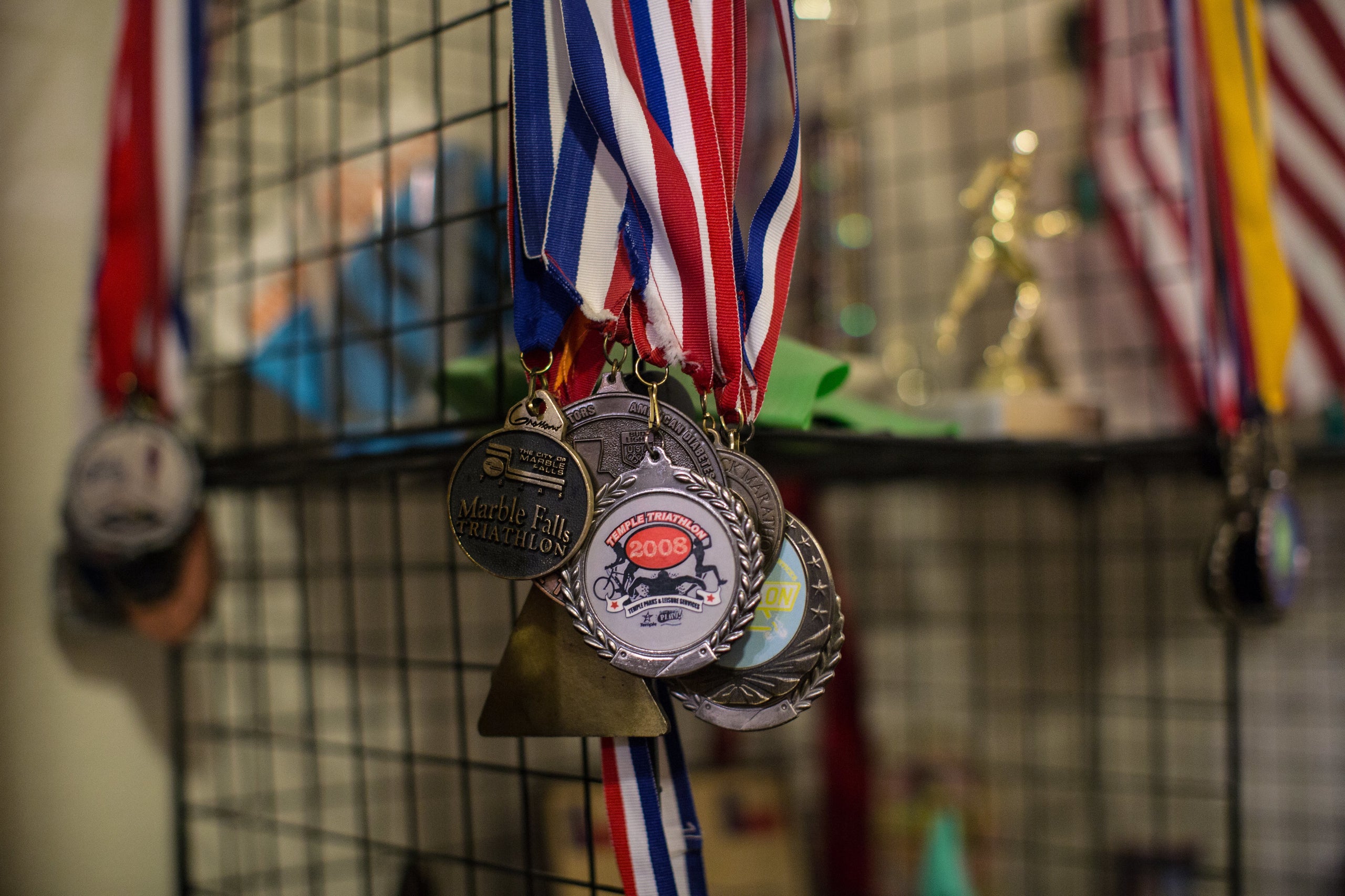 A Brush With A Deadly Disease
In 2012, Chuck Yarling was working as a math tutor and training for his next race. An avid social media commenter and occasional writer for the now-defunct conservative site Examiner.com, he expressed his fears about political correctness and the Obama administration. "I am concerned," he wrote online, "about how much power is being concentrated in our federal government."  
He and Richard Blakely, a fellow Vietnam veteran, had been buddies for more than 40 years. The two men had the habit of meeting every week at the Santa Rita Cantina, a Tex-Mex restaurant near Yarling's home in Austin where they always sat at the same table.
On the afternoon of Aug. 16, 2012, Blakely drove to the Santa Rita Cantina as usual. But Yarling didn't show up. Blakely stopped by the apartment where his friend lived alone. Yarling's truck was parked out front, but he didn't answer a knock.
Blakely went to get help, and a maintenance supervisor was able to find an apartment window that wasn't fully locked. Inside, the supervisor discovered Yarling collapsed on the bedroom floor, his skin burning hot to the touch. They called an ambulance.
When Yarling woke up at the Texas NeuroRehab Center in Austin, his sister was in the room. Yarling was so disoriented that he barely recognized her. "What the fuck am I doing here?" he recalled wondering. And then: "When am I going to race again?"
In neurologist Dr. C. Jack Fraim's opinion, the answer to the second question was "never." The virus had inflamed Yarling's brain and spinal cord, causing back pain so excruciating that he spent days weeping. The virus had also caused paralysis in his legs and feet, requiring Yarling to use a wheelchair. The doctor believed that at most, his patient would eventually move with the assistance of a walker.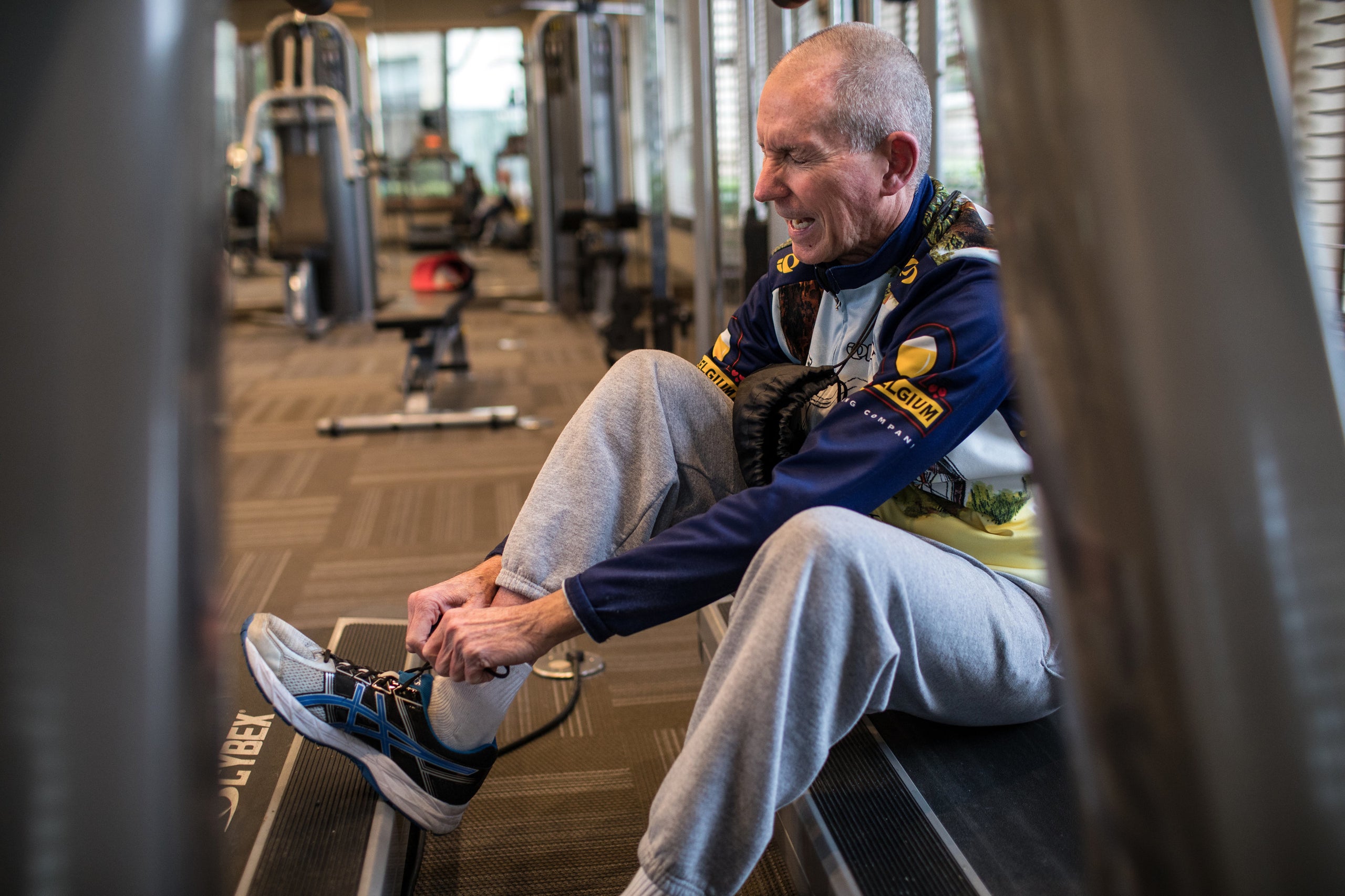 "I remember being fearful of that for him because of his prior history of being, you know, Triathlon Guy," Fraim said. He worried Yarling would become suicidal.
Yarling was depressed. He spent three months in rehabilitation centers, where he relied on nurses for everything, including changing his diaper.
"After a while," he said, "you really don't give a crap about much of anything."
The Hazards Of A Warmer World
It's difficult to predict exactly how the West Nile virus will behave in a climate-changed future. Epidemics result from an ecological dance between a virus, mosquitoes, human beings and birds, which also host the virus. Any small change — a mutation, a shift in bird migrations, a difference in human behavior — could alter the rhythm of that dance in surprising ways.
But Haley, the Dallas epidemiologist, worries that future outbreaks, fueled by a warmer climate, will grow bigger and endanger more people. He's so alarmed about climate change that he's started giving lectures on the subject to medical audiences, warning that disease outbreaks, heat waves, weather disasters and other climate-related threats are a major human health problem.
"It's much more serious than most people realize," he said.
But even as doctors sound the alarm, many Texas leaders have shown reluctance to acknowledge the threat to state residents. Republican Gov. Greg Abbott has disputed the idea that humans are causing the problem.
Like his state's conservative politicians, Yarling seems unconcerned by scientists' warnings.
"There is no such thing as a man-made global warming," he said. "It's all a myth."
I remember being fearful of that for him because of his prior history of being, you know, Triathlon Guy.

Dr. C. Jack Fraim
As for what did cause his illness, Blakely worried that Yarling's grueling triathlon prep may have been a factor. Days before he collapsed in his bedroom, Yarling had completed a strenuous training workout. Maybe that had worn down his body enough that it couldn't fend off the virus. It was a possibility, Yarling thought. But he was also sure that his physical fitness had ultimately saved his life.
In December, Yarling moved in with Blakely and his wife. Blakely refused to allow his friend to remain in a funk. He drove him to appointments. He took him shopping.
"He made me become mobile," Yarling said. 
Four-and-half months after Yarling was first hospitalized, a visiting physical therapist helped him stand up from his wheelchair and take a few steps with a walker.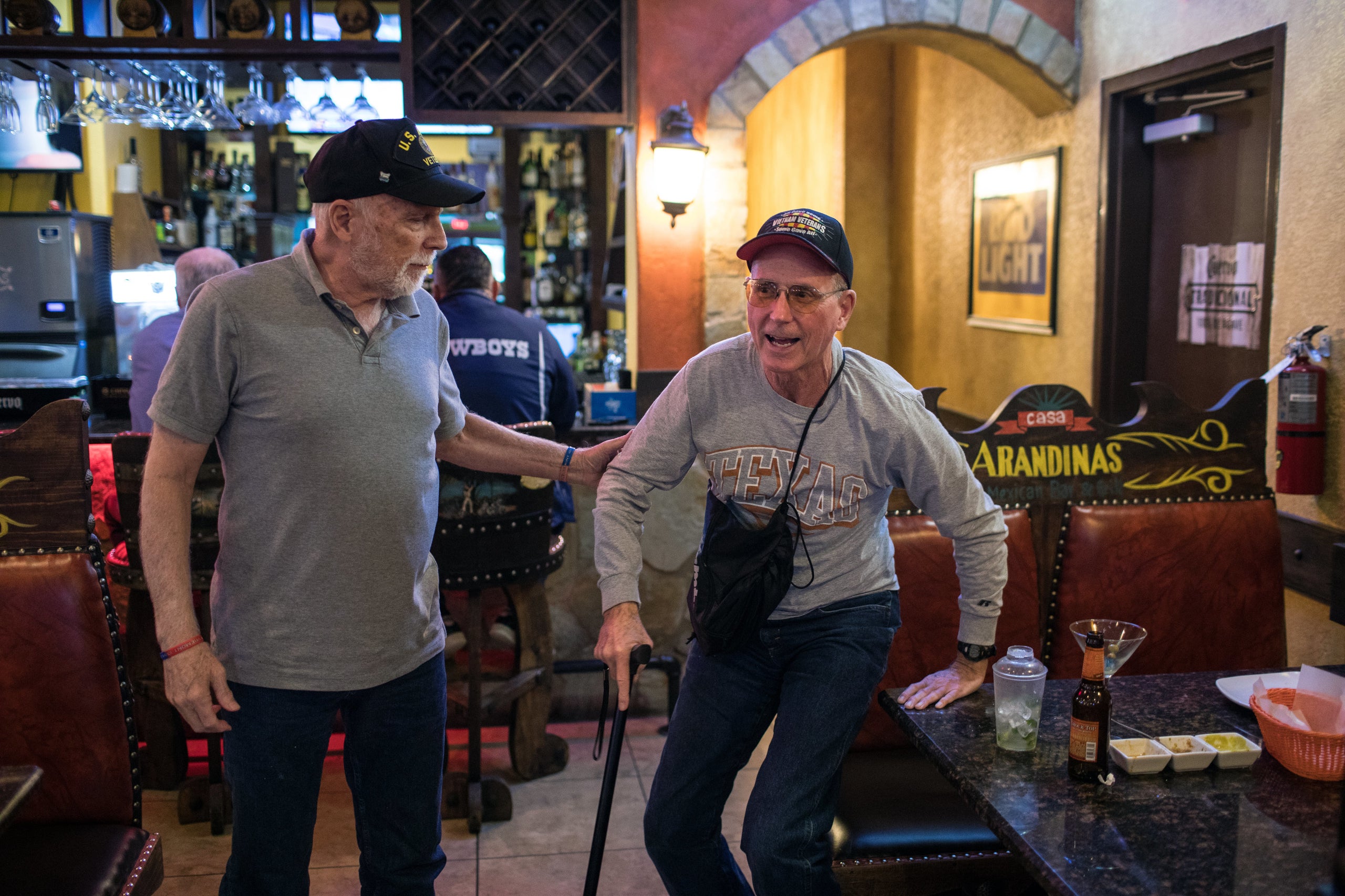 Now, Blakely had a new way to push Yarling. When the physical therapist wasn't around, he'd help his friend stand. While Yarling inched forward, Blakely rolled a wheelchair behind, ready to catch him.
As the months passed, balancing upright remained an elusive skill. But in the pool, Yarling could defy gravity. In May 2013, he swam 100 meters for the first time since his illness.
"I moved my big toe on my left foot!" he wrote to his Facebook friends a month later.
Nearly a year passed. "I walked 100 feet today with two canes!!!" he wrote. "Even I am immensely surprised and elated."
One night, Yarling dreamed that he was running in his first triathlon since the illness. But the road was slippery, and the fictitious officials called off the race before he could finish.
In June 2017, five years after the West Nile epidemic began, Blakely helped Yarling get back up on his bicycle for the first time. The bike rolled, and Yarling stayed upright, flying faster under his own muscle power than since before the virus attacked.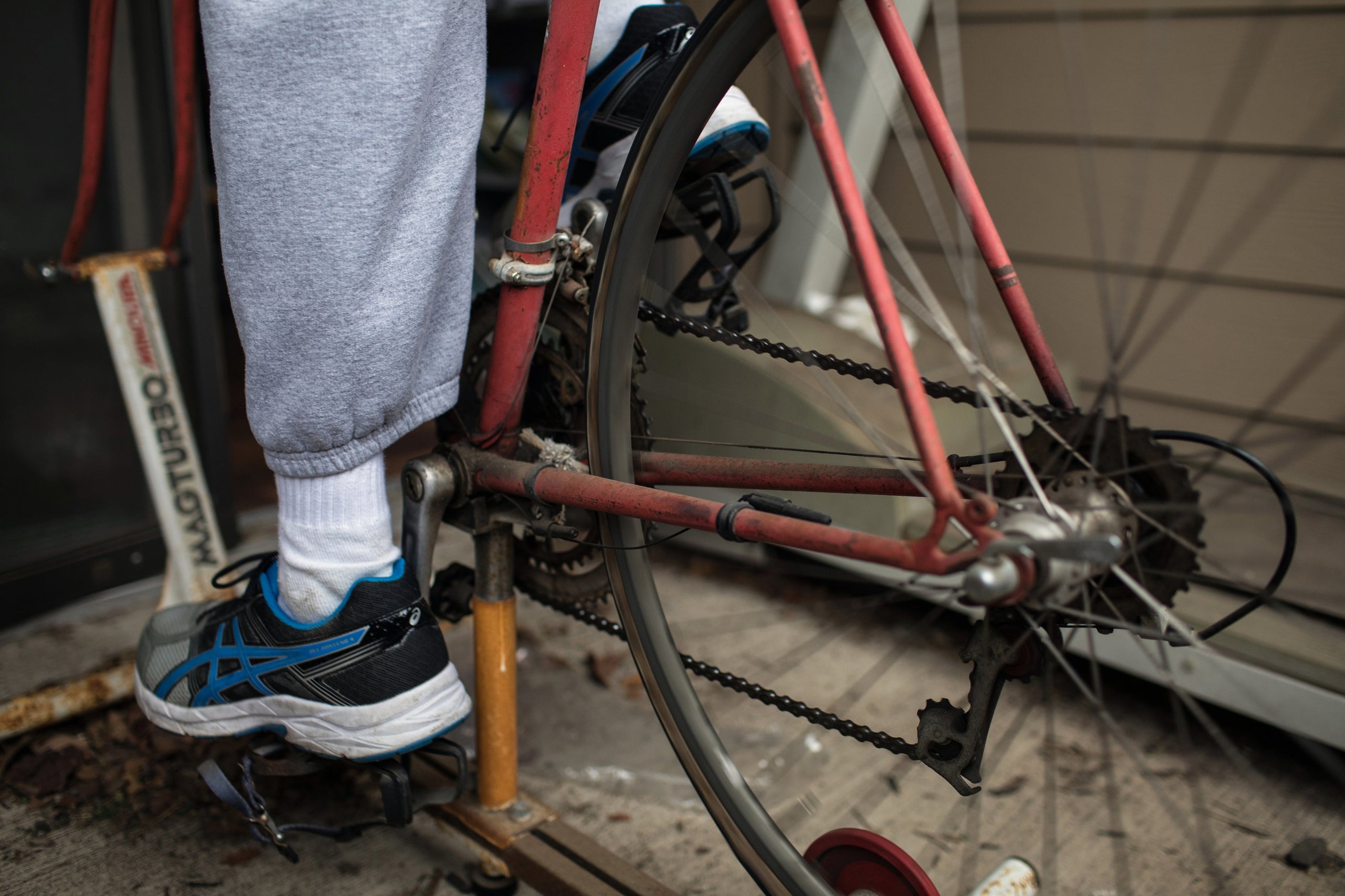 It was only five weeks later that the pair awoke before dawn to drive to San Marcos. After Blakely watched his friend ride away on his bike, he waited at the side of the race course. An hour passed, and he began to worry. One of Yarling's competitors, a woman he'd passed while swimming, zoomed toward the finish line.
"He should have been faster than her on a bike," Blakely muttered. Putting his hands to his hips, he peered at the horizon.
At last, Blakely spotted a thin cyclist wearing a familiar black-and-white racing shirt. As Yarling pedaled closer, Blakely could see that his friend's right leg was splattered with blood.
"You OK?" a race volunteer called.
"I had two crashes and some cuts to my skin, but other than that, I'm fine," Yarling replied.
Twice, he explained, he'd needed help from race workers to start rolling again after falls. But he refused to quit.
After medics cleaned Yarling's wounds and applied gauze, Blakely brought a shot of whiskey to his cot in the medical tent. Yarling downed it. He'd placed dead last, but he'd finished the race.
"I feel glorious," he said, beaming.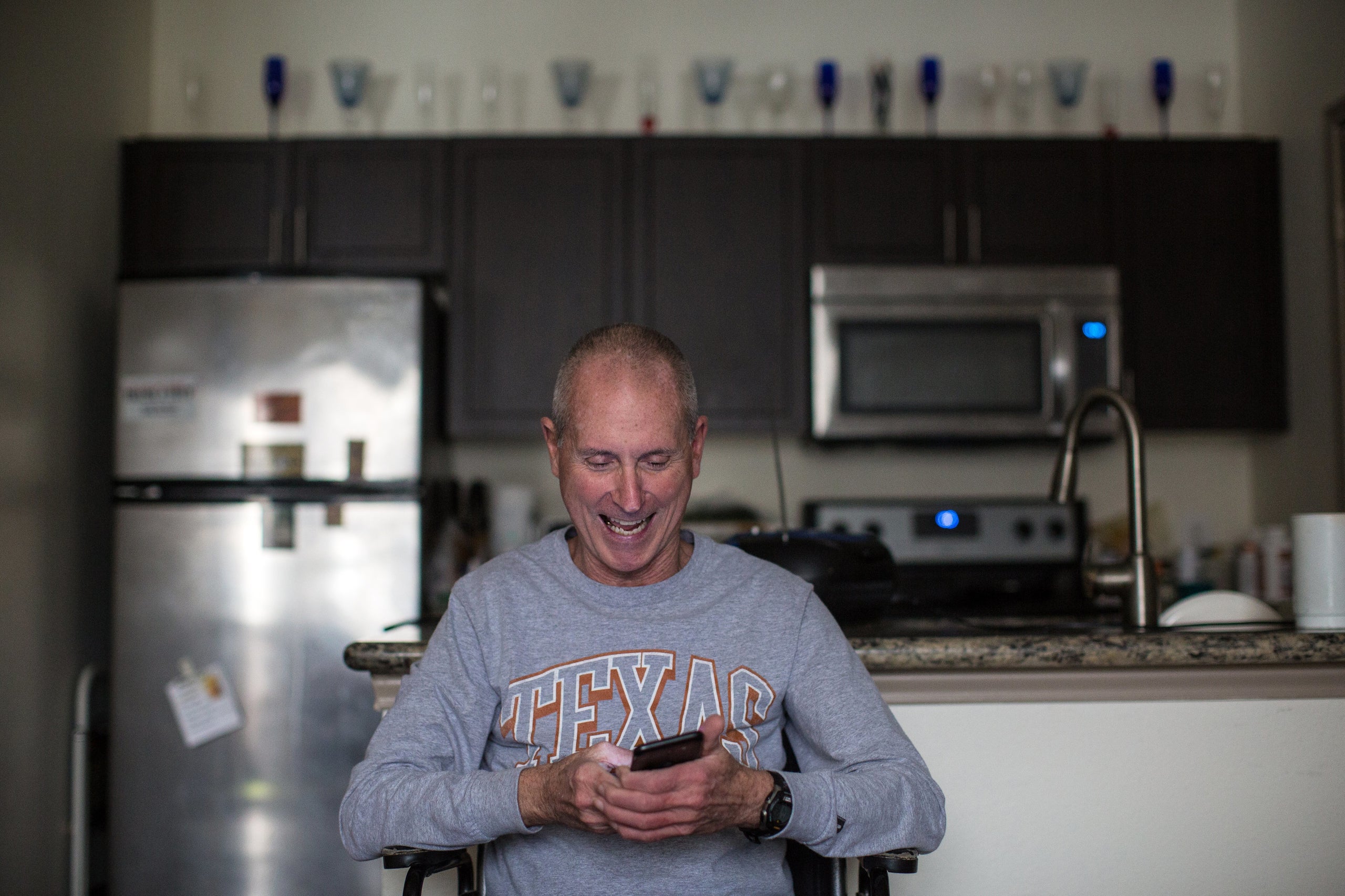 Calling all HuffPost superfans!
Sign up for membership to become a founding member and help shape HuffPost's next chapter