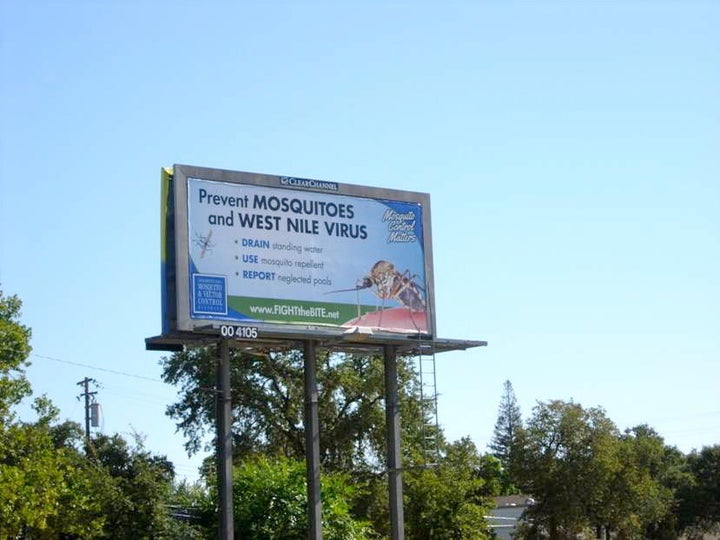 It's raining from the skies above Sacramento, Calif., and Miami. It's blasting out the back of trucks in Chicago and shooting from backpack-mounted guns in Washington, D.C.
Cities and private companies are targeting fine mists of insect poisons at mosquitoes, which this year have been buzzing in record numbers and threatening to infect people with potentially dangerous diseases, including the West Nile virus.
According to critics, for some people -- particularly kids -- the health risks associated with exposure to pesticides may be more worrisome than the diseases the pesticides are used to fend off. The West Nile virus, transmitted through the bite of a mosquito, usually triggers only mild flu-like symptoms. On rare occasions, it can prove deadly. Yet opponents of pesticide use question whether the chemicals actually lower the chances of contracting a mosquito-borne illness, or whether they might just make matters worse -- by hastening mosquitoes' development of resistance to pesticides, and unintentionally killing mosquitoes' predators.
"If you don't spray, you hear complaints from people who want you to. But as soon as you spray, you get complaints from people who don't want you to," said David Jefferson, environmental health division manager for Tarrant County Public Health in Fort Worth, Texas. While cities across Tarrant County differ in their mosquito-control strategies, the city of Fort Worth itself opts for a pesticide-free approach.
Lanae Davis, a librarian and caretaker of an organic garden at Fruit Ridge Elementary School in Sacramento, Calif., is one such resident who would rather not see the chemical weapons deployed.
Just as Davis finished covering up the garden's berries and tomatoes one recent evening, she saw a plane flying low overhead, leaving a mist of pesticides in its wake -- which coated the fruit of the school's plum tree.
"It was just about dusk," she said. "Many people were still out in the neighborhood, including children riding bikes and playing on a playground."
"A lot of kids at this school take asthma medication," added Davis, who said she's been extra vigilant about washing everything that comes out of the garden. "The respiratory effects of the spray are the most immediate. But long-term effects are what you really have to think about."
Sacramento County identified their first West Nile-carrying mosquitoes before Memorial Day this year, about a month earlier than usual. Since then, the numbers of dead birds and infected mosquitoes have risen steadily, prompting the district to use their full array of weapons to "protect human health," said Gary Goodman, assistant manager for the Sacramento-Yolo Mosquito and Vector Control District.
While this arsenal includes targeting mosquito larvae with non-toxic controls and educating the public about personal protection such as draining standing water around their homes, Goodman says that spraying for adult mosquitoes has become a necessary and effective component -- one that has been enlisted twice so far this year. Goodman highlighted a 2005 study from California, which found that the number of human cases of West Nile reported after the aerial applications dropped significantly.
"We do know aerial sprays knock the population back," said Paul Jepson, professor and director of the Integrated Plant Protection Center at Oregon State University. "You have this curtain of drops that descend slowly to the earth. The likelihood of exposure for mosquitoes is higher, because it's kind of everywhere. The public is also concerned, because it is everywhere."
However, Jepson suggests that the public health risks are trivial. "A mosquito is so small," he said, "so proportional to body size, it gets an overwhelmingly larger dose than we breathe in."
David Pimentel, an emeritus professor at Cornell University, begs to differ: "Any exposure is not going to do you any good."
Research has implicated exposure to pesticides -- including those registered for use in mosquito control and applied at levels below U.S. Environmental Protection Agency limits -- with a range of health problems, from asthma attacks to long-term learning and reproductive problems, even cancer. Evidence is also growing that hormone-disrupting chemicals, a class to which some pesticides belong, can wreak their havoc at very low doses.
What's more, Pimentel doesn't think that pesticide sprays do much good in terms of preventing disease. He calls the 2005 California paper "overly optimistic." (Other critics have gone as far as to say that it is "fatally flawed.") "If we totally stop doing what we're doing, I assure you that we would not have any more mosquitoes than we currently have with the spraying," Pimentel said, suggesting that the decision to spray is purely a political choice to appease constituents.
Pimentel's research has found that less than 0.0001 percent of the pesticide applied, whether from the air or ground, actually strikes mosquitoes -- and only a fraction of the mosquitoes in a targeted area end up dead. A separate study by the U.S. Centers for Disease Control and Prevention also found targeting adult mosquitoes with pesticides to be ineffective.
"If you put water in the sprayers, they would do just as much good," added Pimentel. The act of spraying might make the public feel safer, although that may not be a good thing if it results in a false sense of security.
One Washington, D.C., resident awoke early on a recent morning to what sounded like a chainsaw. It turned out to be someone spraying neighbors' backyards and alleyways.
"Where I live, one nearby block is using Mosquito Squad, another is using Innovative Pest Management," said the resident, who asked to remain anonymous over fear of backlash from neighbors in favor of the spraying. "You get the combined spray and you can't keep track of when it's coming."
"And these are tiny little yards, maybe 10-by-12 feet," she added. "When they blast the pesticides in one yard, it goes everywhere. The whole neighborhood smells like pesticides."
"Everyone knows everyone else in this neighborhood," she said. "There are people on both sides of the fence about mosquitoes and how they should be treated."
Calling all HuffPost superfans!
Sign up for membership to become a founding member and help shape HuffPost's next chapter