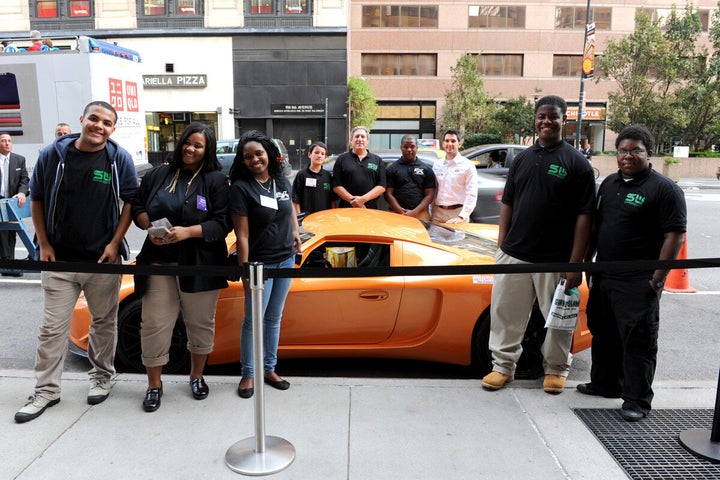 Who says teenagers can't change the world? In their free time after school, 15 teens from a low-income high school in Philadelphia built a car. And not just any car: their 160 mpg Factory Five GTM biodiesel hybrid kit car has outperformed other fuel-efficient cars built by professional engineers and graduate students from Ivy League universities.
Yesterday, this group of teenagers -- the West Philly Hybrid X Team, a crew of 15 high school mechanics from West Philadelphia High School -- were honored with the "Next Generation Award" at the Popular Mechanics Breakthrough Awards, which recognizes visionaries whose innovation in the fields of technology, medicine, space exploration, automotive design, and environmental engineering is changing the world we live in. Other winners include Steven Squyres and his Spirit & Opportunity team, who created robotic surrogates for humans on Mars, as well as director James Cameron, who was honored with the "Leadership Award" for innovations in filmmaking technology used for the film Avatar.
Under the guidance of faculty advisor Simon Hauger -- a former electrical engineer who now teaches math and science -- the West Philly team entered two vehicles into last year's Progressive Insurance Automotive X Prize, a $10 million prize for which 111 teams signed up. Out of the 111, West Philly was the only high school team. Their entries were a Factory Five GTM biodiesel hybrid kit car that achieved the equivalent of 160 mpg over 100 miles, and a converted Ford Focus gasoline plug-in hybrid. The team blew everyone's expectations out of the water when they made it to the semifinals, beating out over 80 teams. Equally astounding is the fact that at a school where 85 percent of students are economically disadvantaged and in a region with a drop-out rate of over 50 percent, every single member of the X Prize team graduated.
The program at West Philly started in 1998 with an electric go-cart which won the science fair. And, as Hauger adds, "Kids from West Philly aren't supposed to win the science fair." Over the next few years the team developed a full-sized vehicle that got 180 mpg equivalent, and went on to beat MIT and 40 other teams in 2002 at the prestigious Tour de Sol competition.
"[In 2002], urban high school students realized that these cars were the future," said Hauger. "But they felt like something was lacking -- if hybrids were going to catch on, something needed to change. I challenged them to solve that problem and they came up with the idea of making a badass hybrid. Why can't a hybrid be a sports car that's fast and fuel-efficient?"
In addition to winning the Breakthrough Award, their "badass hybrid" earned the team recognition from President Obama. In his announcement of the creation of a new initiative to increase resources for STEM (Science, Technology, Engineering and Math) education, Obama said:
"These students, under the direction of some terrific teachers, entered a global competition against serious corporate and college challengers to build a production-ready car that runs on very little fuel. So as part of an after-school program, they worked to get their vehicles ready... At first, the adults didn't really think their team had a chance -- admit it. But then something strange happened. Where older and more seasoned teams failed, they succeeded..."
The success of their project has drawn national attention to the importance of hands-on education in helping students with different learning styles thrive academically.
"People seem to believe... that if you can't learn at a desk in a row, and if you can't take a test, that you're not smart. But some people learn better when they're able to go to the shop and see it in action," said Azeem Hill, who represented the team at a meeting at the White House. After starting the program as a freshman in high school, he is now in his first year of college.
The "Next Generation Award" is just the beginning for this ambitious team. They're already knee-deep in their next project, building an electric version of Edison2 founder and Automotive X Prize champion Oliver Kuttner's Very Light Car (VLC), which, when finished, would become the world's most efficient electric car. The team is also looking to start a nonprofit after-school program which will employ students to create the vehicle. These students will use their hands and their heads to build real-life technology that will contribute to a greener, more sustainable world. It doesn't sound too bad for an after-school job.
"We have a fundamental belief that teenagers have valuable insights on solvable real-world problems right now," said Hauger. "When they're entrusted with that, not only can they build amazing cars, but they develop amazing business plans."
Related
Popular in the Community