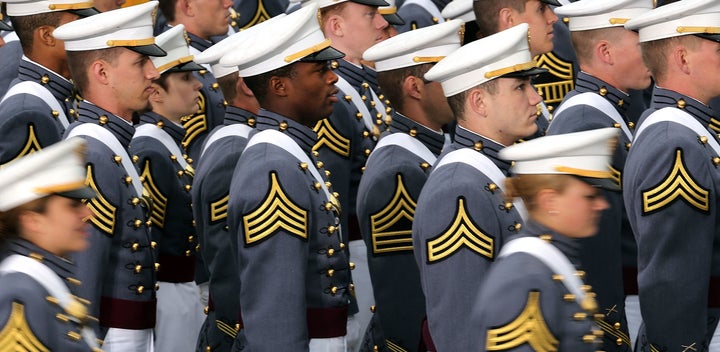 A professor at the U.S. Military Academy at West Point has resigned in the wake of a controversial article in which he made the case for targeted attacks on legal academics who are too critical of the war on terror.
Legal scholars had already been steaming over Bradford's article.
In "Trahison des Professeurs" (Treason of the Professors), which a legal journal published this summer, Bradford argues for military retaliation against legal scholars in the U.S. whose works "constitute information warfare that tilts the battlefield against U.S. forces."
This subset of academics, he writes, amounts to a "fifth column" of Islam -- in essence, traitors who are "responsible for the creation of the most important strategic weapon in the Islamist arsenal."
Along with the media and government officials, he contends, legal scholars form a "triumvirate" that "alone possesses the ideological power to defend or destroy American political will." He suggests arresting and interrogating the "treasonous"  individuals.
All of this is eyebrow-raising even in the world of legal academia, where hypothetical arguments are commonly tossed around. But by far Bradford's most outlandish suggestion is the possibility of attacking -- and presumably killing -- these professors.
Acknowledging that this proposal might be "shocking and extreme," he nonetheless writes that the "scholars and the law schools that employ them are -- at least in theory -- targetable so long as attacks are proportional, distinguish noncombatants from combatants, employ non-prohibited weapons and contribute to the defeat of Islamism."
Bradford told The Washington Post this week that he stands by his article and that his arguments have been "taken out of context."
The National Security Law Journal, a student-run legal periodical with ties to George Mason University School of Law, apparently accepted and edited Bradford's article with little vetting.
Cornell law professor Michael Dorf noted in his blog on Monday that he was able to find an earlier draft of Bradford's article in the Social Science Research Network, a scholarly repository, with comments by the student-editors. (At American law schools, it's common for students to edit and manage legal journals.)
On the page where Bradford argued that dissenting law professors should be treated like "combatants" subject to capture and imprisonment, one editor asked the author for a sensible edit.
"Is it okay to delete 'and killed'?" the editor asked.
Bradford apparently obliged, as those words were not in the final version of the article.
But almost everything else in that section and the rest of the article remains unchanged, including claims that legal "scholarship and advocacy that attenuates U.S. arms and undermines American will" are like "psychological operations" tantamount to "combatant acts."
Bradford doesn't stop there. From that proposition, he then takes an amazing leap in logic and contends that "if these acts are colorable as propaganda, inciting others to war crimes," then "such acts are prosecutable." (By "such acts," he means people exercising their rights to speak and write on a subject of great public importance.)
And if those acts are prosecutable, Bradford's argument goes, it makes sense to treat the scholars as "combatants who, like all other combatants, can be targeted at any time and place and captured and detained until termination of hostilities."
Sometime after the article's publication, Jeremy Rabkin, a George Mason law professor who advises the journal, issued a response saying that the dean and former dean of the law school had received "angry complaints" from other academics. He noted that he himself "did not learn of this article" until after it was published.
Rabkin then blasted the piece as "a betrayal of rational argument," an exercise in "frenzied rhetoric" with little "prospect of stimulating serious discussion of genuine policy challenges."
"Serious scholars don't spend time debating with authors who sound demented," wrote Rabkin.
A formal repudiation from the journal's leadership came last week, when the new editor-in-chief, Rick Myers, acknowledged the error of publishing the article and apologized to readers.
"The substance of Mr. Bradford's article cannot fairly be considered apart from the egregious breach of professional decorum that it exhibits," Myers wrote, promising to re-evaluate the article selection process.
Bradford's piece has since been delinked from the web page listing the journal's latest issue, but it can still be found here. Dorf, the Cornell law professor, noted that the article also remains accessible through legal research databases. A print version can be purchased via Amazon.
Calling all HuffPost superfans!
Sign up for membership to become a founding member and help shape HuffPost's next chapter