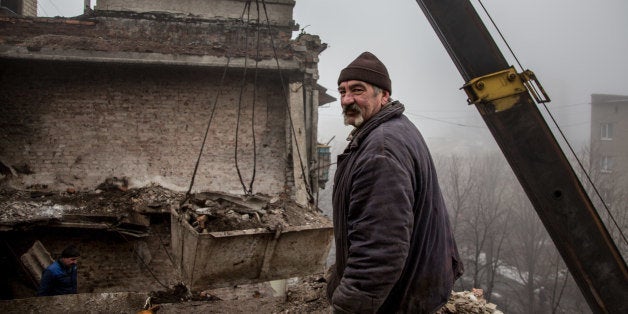 KIEV, Ukraine -- "No, I won't exchange your hryvnias back to dollars -- unless you have the receipt I gave you a week ago when you first arrived," says the lady at the currency exchange in the Kiev airport. Discouraged, we take our hryvnias with us back to the United States. That's right: two years since the launch of "reforms" designed to foster its openness to the West, Ukraine has not even abolished the stupid capital control laws that require each visitor to keep the receipt he is given when he first buys hryvnia for the length of his trip. In our hotel in the very center of Kiev, there is no water on the day we arrive, and there is no electricity on the day we leave. Both days the elevator does not work, so we have to carry our luggage up and down the third floor.
These observations reflect the overall state of the Ukrainian economy: two years after the Euromaidan revolution, it remains in disarray. In 2015, Ukraine experienced a 12 percent loss in GDP, an inflation rate worse than Syria, South Sudan and Yemen and the Ukrainian hryvnia was reported to be one of world's most devalued currencies. The resounding resignation of Ukraine's economy minister, Aivaras Abromavičius, in February 2016, further damaged the country's image, triggering the collapse of a parliamentary coalition. Yet another domestic political crisis is evolving, and reforms are sluggish.
To be fair, since its 2014 "Revolution of Dignity," Ukraine has introduced some reforms: the tax burden was diminished, banking regulations were improved and patrol police reform was launched, among others. Yet, no significant change has occurred in critical areas -- the ease of doing business, the state sector reform and the judicial system. A recent study about pre-trial detention practices "shows that the rule of law is still systematically violated in the practice of police stations in Ukraine." Hugely overinflated and inefficient, Ukraine's state sector, which accounts for over 50 percent of Ukrainian GDP and serves as the source of enrichment for multiple interest groups, is yet to be reformed. In sum, the changes have been few, partial and hardly noticed by both the Ukrainian society and the IMF, which recently postponed yet another tranche of financial aid.
Two years after the Euromaidan revolution, the Ukrainian economy remains in disarray.
Olena Bilan, a chief economist at Dragon Capital, says that many ongoing reforms do not occur in the areas that most Ukrainians experience in their daily lives. Plus multiple reform attempts are blocked by local interest groups. For example, when the government attempts to appoint new managers at inefficient state companies, such replacements are blocked by local courts. According to Bilan, it is common for the local courts to make decisions in favor of a petitioner paying a higher bribe -- sometimes a fake company registered only a month ago. The long-awaited dismissal of Ukraine's odious prosecutor general, Viktor Shokin, on March 29, is another case in line. As a prosecutor general, Shokin consecutively failed to punish a single member of the ex-President Yanukovych's regime while blocking such efforts by reform-oriented policymakers. On the day of his own resignation, Shokin managed to dismiss his reform-minded deputy prosecutor. Yet the period that Ukraine's President Poroshenko took to dismiss even such an odious official, raises doubts about the president's ability to push forward a serious, full-fledged and radical judicial reform.
Many Ukrainians blame Russia's aggression for the lack of reforms, but if anything, a war shall foster reforms. Israel's successful development in the late 20th century had a lot to do with its need to constantly fight for its own survival. Outside observers often name corruption as the main reason for Ukraine's troubles, but the all-encompassing term clouds more than clarifies the issue. Key explanation of consecutive reform failures in Ukraine is not so much corruption per se, as the lack of elite rotation.
The country's first attempt to reform followed the collapse of the Soviet Union. While the system changed its name, former Soviet leaders -- Communist party hierarchy, managers and bureaucrats -- largely retained their influence and made over 70 percent of Ukraine's elite at the time. These elites wanted to preserve a system with a high level of state intervention, which guaranteed their status and provided more rent-seeking opportunities.
Many Ukrainians blame Russia's aggression for the lack of reforms, but if anything, a war shall foster reforms.
Corruption and kickbacks became a natural extension of such a rent-based system. One of the most popular schemes involved the state gas company Naftogaz buying domestically produced natural gas each year at an extremely low price and reselling it to industrial customers with a something like a tenfold increase in price. The lack of reforms is manifested in multiple ridiculously outdated and unmodified Soviet standards and practices Ukraine preserved 25 years later. The second attempt came during the 2004 Maidan revolution. Yet again, the 2004 revolution failed to radically alternate the elites. It resulted in a pact between old and new elites, which preserved previous interest groups in power -- and allowed Yanukovych to become president in 2010. Lack of elite alternation blocked serious reforms, since new rulers lacked motivation and capacity to destroy the old interest groups. Instead of implementing economic reforms, the new government engaged in populist policies to buy off popular support, which inflated Ukraine's state expenditures sometimes up to 2.5-3 percent of GDP a year.
Alas, the recent Euromaidan revolution of 2014 continued this trend. Yet again the political protest failed to radically update Ukrainian establishment. A former Kremlin advisor recently argued that in Ukraine's new coalition government that came to power during the revolution, literally all members were Kremlin's "old clients."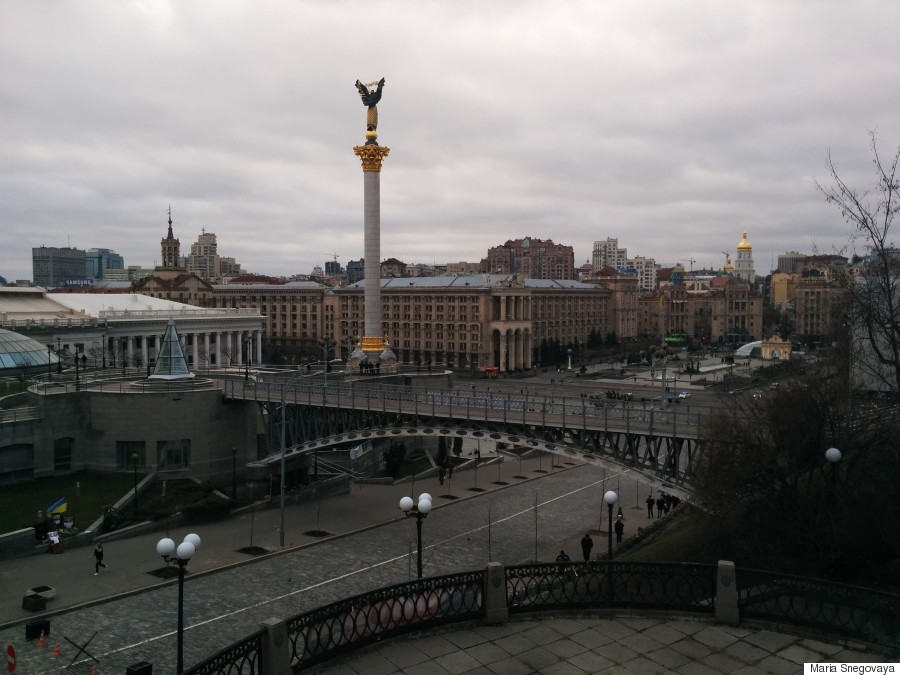 A recent photograph of Kiev's Maidan Square. (Maria Snegovaya)
Most of contemporary Ukraine's leadership has stayed in power for years under very different rulers. Ukraine's current president, Petro Poroshenko, has been in Ukraine's politics since 1998, working under different presidents and even served as economy minister for the corrupt ousted President Yanukovych. Likewise, current Prime Minister Yatsenyuk has been in politics since 2001, and also collaborated with different political leaders, including populist Yulia Tymoshenko. Currently, Yatsenyuk is allegedly backed by Ukraine's notorious oligarch Rinat Akhmetov -- the same oligarch who backed the ousted president Yanukovych in a previous electoral cycle and is rumored to be connected to the Kremlin. Poroshenko's and Yatsenyuk's commitment to reforms was already revealed back in 2014, when none of them found time to meet with famous Georgian reformer Kakha Bendukidze to discuss reforms.
Many other establishment members, including Secretary of the National Security Alexander Turchinov, Interior Minister Arsen Avakov and many others also served under various Ukrainian presidents and have been equally discredited by their connections to oligarchs, old vested interests and Kremlin-related groups. The same goes for the parliament: the ousted president Yanukovych's Party of Regions is largely reconstituted in the current Opposition Bloc party. The old oligarchs are still influencing most parties' lists and votes, including Prime Minister Yatseniuk's own party.
The total number of the newcomers to the Ukrainian elite circles connected to IMF and western policymakers -- including Natalia Yaresko, Ukraine's U.S.-born finance minister; Aivaras Abromavičius; Mikheil Saakashvili, former president of Georgia; and members of the Self-Reliance party in the parliament -- is small and they are unable to form a team to meaningfully influence the country's track.
A collapsing 40 million plus people located in the geographic center of Europe might create an immigration crisis the West has not witnessed before.
When reformers from a newly appointed Odessa's Governor Saakashvili's team attempted to reform the extremely corrupt customs clearance procedure in Odessa's port, Prime Minister Yatsenyuk ordered to take away from them the most profitable part -- the energy customs. The lack of a team and determination to attack the vested interest groups was also one of the reasons why Natalia Yaresko's candidacy has not been supported for Yatsenuyk's replacement by the current Ukraine establishment.
Hence to push reforms forward in Ukraine, one would require a radical renovation of its political establishment. To do so, the reform of electoral legislation is needed. Currently, the Ukrainian national parliament is elected through a mixed election system in which half of the representatives are elected from national closed party lists, while another half are elected from constituencies under first-past-the-post voting. Both closed party lists and first-past-the-post voting system fuel corruption by allowing parties to pass their preferred candidates into the parliament. A proportional party system with open lists would be a solution to this problem. Yet it is unlikely that the current Ukrainian parliament, which has previously attempted and predictably failed to pass similar amendments to electoral legislation in 2014, will be able to do so now.
Meanwhile, the risks of Ukraine failing to modernize yet again are rising. If not reformed, Ukraine may turn into a bigger version of Moldova. Moldova -- another poor country of the region -- similarly failed to alternate its elites despite several popular revolutions, and ended up stuck in a vicious cycle of popular revolts, corruption scandals, deepening social divide and continuous economic stagnation. However, the consequence of Ukraine becoming a poor failing state are much more dangerous. At worst, increasing social tensions -- assisted by neighboring hostile Russia -- may potentially foster further centrifugal tendencies among Ukrainian regions, ultimately leading to the country's breakdown. A collapsing 40 million plus people located in the geographic center of Europe might create an immigration crisis the West has not witnessed before. The apocalyptic prospects of such a scenario should make the Western elites realize the urgency of forcing reforms in Ukraine.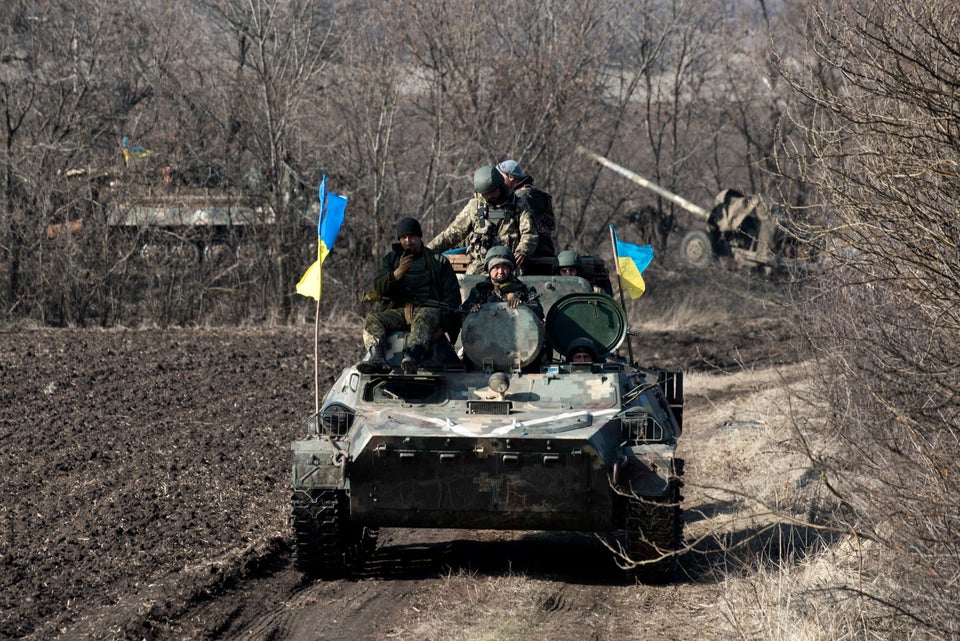 Ukraine's Volatile East
Popular in the Community