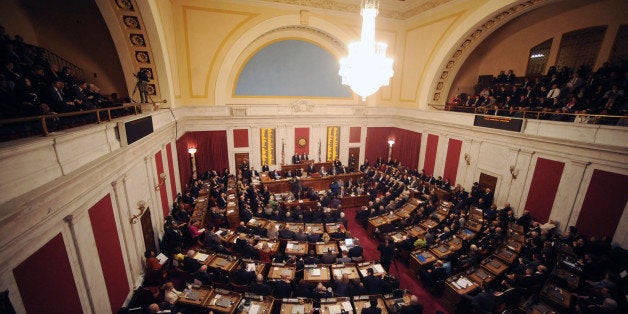 West Virginia's Republican-controlled legislature voted on Friday to override Gov. Earl Ray Tomblin's (D) veto of a bill that banned abortions after 20 weeks of pregnancy. The vote marked the first time in nearly three decades that the legislature has overturned a governor's veto.
"I believe the legislation is constitutionally sound and represents the right public policy in our state," West Virginia House Speaker Tim Armstead (R-Kanawha) said in a statement after Tomblin's veto on Tuesday. "It reflects the majority of West Virginians who believe that the unborn should be protected from feeling pain."
The legislation prohibits abortion after 20 weeks of pregnancy, with no exception for victims of rape or incest. Proponents of the ban claim fetuses can feel pain at that point, although that notion is scientifically disputed.
West Virginia's House voted 77 to 16 to override the veto on Wednesday, and on Friday, the Senate followed up with a vote of 27 to 5.
Tomblin cited constitutional concerns when he vetoed the bill. The legislation defies the Supreme Court's 1973 decision in Roe v. Wade, which protects a woman's right to have an abortion up until the point that the fetus would be viable outside the womb -- approximately 22 to 24 weeks of pregnancy.
"As governor, I must take into consideration a number of factors when reviewing legislation, including its constitutionality," the governor said. "At the start of the regular session, I urged members of the Legislature to consider a compromise that would help us establish legislation that would pass constitutional muster."
Reproductive rights advocates strongly oppose the 20-week abortion ban, because they say it fails to take into account the difficult and complex health situations that lead women to choose abortion after that point in the pregnancy.
"Governor Tomblin was right to veto this callous, cruel and unconstitutional attack on health care for women facing complicated and sometimes dangerous situations in their lives and pregnancies," said Nancy Northop, president of the Center for Reproductive Rights. "With this action today, the politicians behind this law have revealed how far they are willing to go to advance their ideological agenda at the expense of women's rights, lives and safety. They should be ashamed."
West Virginia is now one of 11 states that bans abortions after 20 weeks. State Attorney General Patrick Morrisey (R) said this week that he would defend the law in court if a constitutional challenge against it ever arises.
Calling all HuffPost superfans!
Sign up for membership to become a founding member and help shape HuffPost's next chapter
BEFORE YOU GO
PHOTO GALLERY
Top 10 Most and Least Religious States