CHARLESTON, W.Va. -- At Monday's congressional hearing on the chemical spill that left 300,000 West Virginians without access to tap water last month, lawmakers had a lot of questions -- and got few satisfactory answers in return.
The hearing of the House Transportation and Infrastructure Committee touched on many of the lingering questions that have emerged since the 10,000-gallon spill: Is the water absolutely safe to drink now? If it is safe, why are some residents still reporting a licorice-like odor? And how many other, similar chemical storage facilities are located near public drinking water sources? The answers are still not entirely clear a month after the chemicals leaked from a Freedom Industries storage facility into the Elk River, tainting the supply that West Virginia American Water uses to provide drinking water for a nine-county region.
Rep. Shelley Moore Capito (R-W.Va.) asked West Virginia American Water President Jeff McIntyre whether the water is safe now. McIntyre avoided a direct response. "As a water company, we don't set the standards," said McIntyre, "but we are in compliance with all the standards."
Capito posed the question to Dr. Letitia Tierney, commissioner of the West Virginia Bureau for Public Health. "That's, in a way, a difficult thing to say because everybody has a different definition of 'safe,'" said Tierney. "I'm as confident as I can be, given what we have ... I believe that the water, based on the standards that we have, is safe for every use." Tierney added that she has been drinking the tap water from her home.
Another key question that no one seemed to be able account for: Why, if the water is supposed to be safe, does it still smell like the chemical? Capito mentioned that people are reporting that they can smell it particularly when they are using hot water, like in the shower.
"We continue to work until the smell is eradicated from the system," said McIntyre. But, he also said, "just because you can smell something doesn't mean it's not safe."
In a brief public comment period at the end of the hearing, residents expressed ongoing frustration with the water company. "Freedom Industries is not who I pay my water bill to," said James Gilpen, a resident of Cross Lanes, W.Va. "I pay my bill to West Virginia American Water. They should protect us." Gilpen said he's developed a skin condition since the chemical spill. "Why can't one of you stand up and say our water is drinkable?" he asked. "If you can't supply us with good drinking water, something needs to be done."
"It will be a long time before you restore faith in the drinking water again, and you'll never have mine," Sue Davis, a 71-year resident of the region, told the panel.
Following the hearing, Capito expressed frustration with what she called the "hesitancy for anyone to establish that the water is safe." "We want to hear that. We couldn't get that really from anybody," she said.
Lawmakers also grilled McIntyre on West Virginia American Water's decision not to shut down the water treatment facility entirely, and instead to issue an advisory against using the water. McIntyre said that recent extreme cold conditions, which cause line breakages and prompt people to run their taps to prevent pipes from freezing, prevented the company from stockpiling a large amount of water. Shutting down the system entirely, he said, would have meant that there was not enough water to flush toilets or fight fires.
That answer, however, did not appear to satisfy Sen. Joe Manchin (D-W.Va.), who joined House members for the hearing. Manchin suggested that the company should have a reserve or an alternate intake source in the event of such a disaster.
The lawmakers at the panel saved their harshest comments for Freedom Industries, the owner of the storage site, whose representatives were conspicuously absent from the hearing. "There is an odor coming from Freedom Industries, and it's not licorice," said Rep. Nick Rahall (D-W.Va.).
The company's lawyer told The Huffington Post that it could not send a representative "because the company is relatively small and we are focused exclusively on remediation of the spill."
Another central line of questioning focused on why such chemicals were stored along the river, just a mile and a half upstream from the drinking water supply, and why more was not done to prevent a spill.
"Ensuring that above-ground storage tanks are structurally sound and have adequate secondary containment seems like simple commonsense today, but before the Freedom Industries' release, the general thought process was that if the material in a given tank wasn't regulated by any of the multitude of state or federal programs, then it was probably harmless to both the public health and the environment," said Mike Dorsey, director of the Homeland Security and Emergency Response division of the Department of Environmental Protection. "The fallacy of that type of assumption is clear now. "
Manchin has introduced Senate legislation that would require more inspection of chemical storage tanks. Capito said that she plans to introduce a House companion bill on Monday evening.
Maya Nye, a spokeswoman for the citizen group People Concerned About Chemical Safety, said that the push for regulatory reform in the wake of the spill is promising. But she also noted that nothing had come of previous efforts to reform chemical policy in the state, both after an August 2008 explosion at a Bayer CropScience plant that killed two workers and after a January 2010 toxic release at a DuPont facility that killed one person.
"I'm hopeful," said Nye, "but history tells me to be extremely skeptical."
Before You Go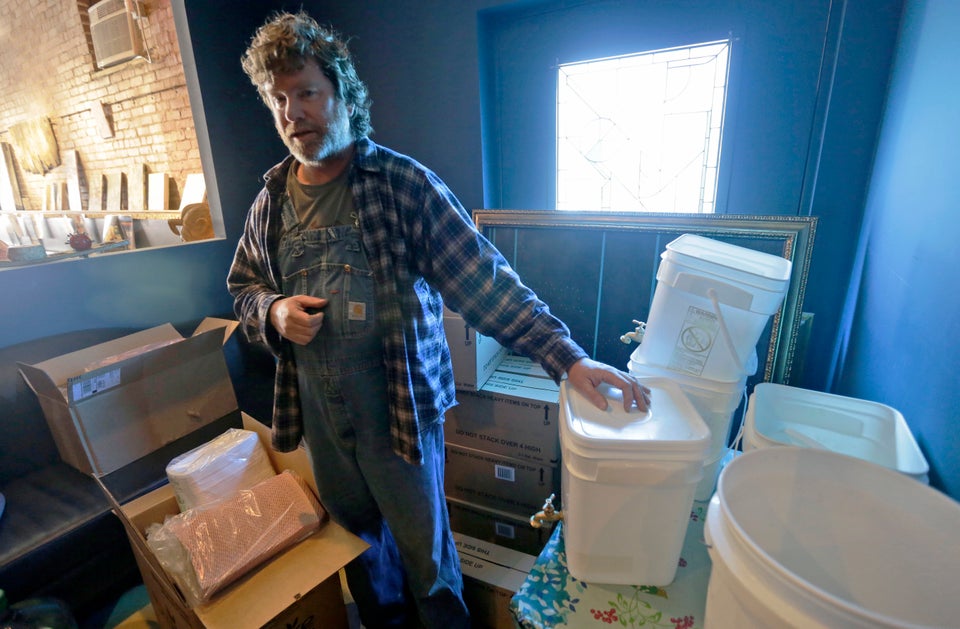 West Virginia Chemical Spill
Popular in the Community