Two weeks after actress Daryl Hannah and NASA climatologist James Hansen were arrested at a peaceful protest against mountaintop removal coal mining in West Virginia, irate coal miners disrupted the annual 4th of July community picnic atop Larry Gibson's Kayford Mountain (video below).
Kayford Mountain, just east of the state capitol Charleston, is the only mountain left in the area that has not been decapitated for coal, which is burned to generate nearly 50 percent of America's electricity. Coal companies, such as Richmond, Virginia-based Massey Energy, clearcut trees and then use explosives and heavy equipment to blast 600 to 800 feet from the tops of densely-forested mountains, dumping the excess rock and dirt into the Appalachian mountain streams that provide millions of people downstream with their drinking water. Cincinnati, Louisville and other major cities still use the Ohio River as a drinking water source, despite the contamination from coal mining.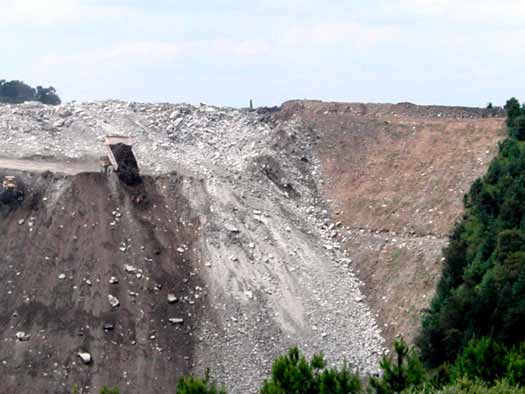 For over 20 years, Gibson has refused to sell his 50 acres to the coal companies. He has been subjected to countless acts of violence in this economically depressed region. He was recently named one of CNN's "Heroes" for his courage in protecting his mountain from mining.
The July 4th picnic, to celebrate the beauty and culture of West Virginia's mountains, is an annual family event and features local musicians playing traditional Appalachian songs.
In a shocking video posted on YouTube, a large shirtless coal miner curses and threatens the July 4 picnickers, at one point making a slashing motion across his throat, saying "F--- you and your kid."
According to picnic attendees, West Virginia State Police took two hours to arrive at the remote site, and no arrests were made.
Environmentalists attending the picnic expressed fear that the violence could worsen as the last few seams of coal are mined out in the region, and as the nation shifts from burning dirty fossil fuels -- such as coal -- to renewables like wind and solar.
At the June 23 protest at Marsh Fork Elementary School where Hannah and Hansen were arrested, a coal miners wife allegedly assaulted Judy Bonds, an opponent of mountaintop removal and the 2003 Goldman Prize winner for environmental activism. Following the protest, coal miners trashed an environmentalist group's campground and drove past their houses, revving their engines and screaming all night long.
Environmentalists called on West Virginia Gov. Joe Manchin to help quell the violence, but noted that in the past Manchin has appeared at rallies for the industry group "Friends of Coal." Manchin has remained silent about the Kayford Mountain violence.
"This violent, unprovoked attack demonstrates the tactics Massey will use to silence and intimidate local residents," Bonds said. "This reminds me of the 1999 reenactment of the Blair Mountain march, in which coal industry supporters kicked, pushed, and spat on [Former West Virginia Congressman] Ken Hechler and other marchers, including female senior citizens and me."
"Pro-mountain community activists adhere to principles of nonviolence, but the coal industry has no such principles," Coal River resident Vernon Haltom said. "Pro-coal rally speakers have consistently used hostile, aggressive and inflammatory language. Last year we asked Gov. Manchin and others to tone it down. Instead we are subjected to violent attacks with the tacit approval of Manchin, Massey CEO Don Blankenship, West Virginia Coal Association president Bill Raney and United Mineworkers president Cecil Roberts. Not one of them has publicly denounced the violence or called for industry supporters to behave nonviolently."

Popular in the Community