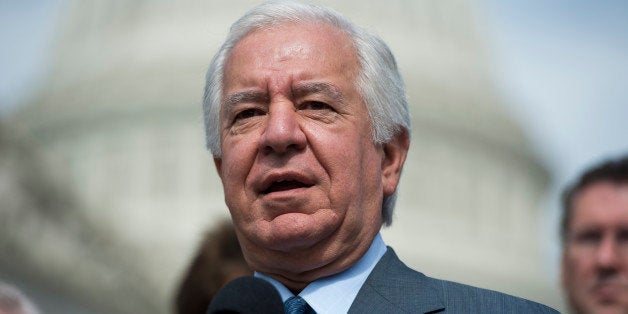 WASHINGTON -- Hundreds of thousands of West Virginians were still without safe tap water Monday after a spill reported on Thursday dumped chemicals used to clean coal into the water supply. While lawmakers from the state have issued supportive statements, the state's Democrats have been cautious saying whether there needs to be additional chemical safety regulations or oversight.
Rep. Nick Rahall (D-W.Va.), the ranking Democrat on the House Transportation and Infrastructure Committee, was asked whether he would pursue any legislative changes following the spill at a press conference Monday in West Virginia. "My committee ... will be exercising our oversight authority, but in due time," said Rahall. "We want to look at what happened, how we can keep it from happening again and if, God forbid, it were to happen again, how can our response be better than it was this time?"
Rahall's spokesman told The Huffington Post that the congressman was traveling back to Washington on Monday afternoon and could not be reached for additional comment.
Rahall is already facing reelection pressure in a state known for its allegiance to the coal industry. He got some relief Monday, when the American Energy Alliance, a group backed by the Koch brothers and allied with coal interests, backed off on ads in the state accusing Rahall of supporting a tax on carbon. "Given the more pressing concern facing West Virginians as a result of the recent chemical spill in the Elk River, the American Energy Alliance is pulling our three week initiative to promote accountability for Rep. Nick Rahall over his vote to support a carbon tax," American Energy Alliance president Thomas Pyle said in a statement. "While we remain staunchly opposed to a carbon tax and committed to holding public officials accountable for the actions, now is not the time for this advertisement. Our efforts in the next several weeks in West Virginia are more rightly directed at helping the families in the affected region."
Sen. Joe Manchin's (D) office also was reluctant to say anything specific about potential new rules. "Right now we are focused on making sure West Virginians have water and we get through this crisis before we start proposing or thinking of proposing new regulations," Manchin spokesman Jonathan Kott told The Huffington Post. "Senator Manchin will certainly be looking into this matter and figuring how we prevent it from happening in the future."
Manchin will speak Wednesday at an event on energy policy sponsored by the American Coalition for Clean Coal Electricity, an industry group representing coal companies. His spokesman confirmed the event is still scheduled.
The state's other Democratic U.S. senator, Jay Rockefeller, issued a statement on Friday calling for a U.S. Chemical Safety Board investigation into the spill. He said he was "profoundly troubled" by the disaster and wanted the board to determine the cause. The CSB has announced that it will investigate, and Rockefeller has followed up with a call for additional funding for the board. His office did not immediately respond to a request for comment about additional rules or regulations.
A pair of Democrats on the House Energy and Commerce Committee -- Reps. Henry Waxman (Calif.) and Paul Tonko (N.Y.) -- on Monday called for an investigation into the spill. In a letter to Rep. John Shimkus (R-Ill.), chairman of the Subcommittee on Environment and the Economy, they called for an immediate hearing "to examine the regulatory gaps that this incident has exposed in the nation's toxic chemical control laws."
REAL LIFE. REAL NEWS. REAL VOICES.
Help us tell more of the stories that matter from voices that too often remain unheard.
BEFORE YOU GO
PHOTO GALLERY
West Virginia Chemical Spill