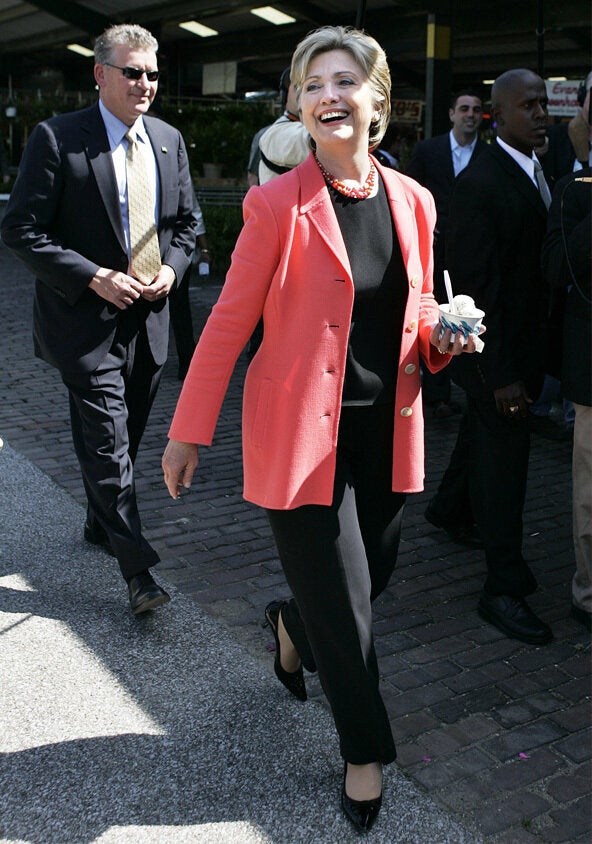 Highlights from preliminary results of exit polls in the West Virginia Democratic primary on Tuesday. The polls were conducted for The Associated Press and television networks:
Three quarters of Hillary Rodham Clinton voters said Bill Clinton's campaigning was important to their vote. More than half of Barack Obama voters said the former president's campaigning was of little or no importance.
Two in 10 voters said Obama shares the views of his fiery former pastor, Rev. Jeremiah Wright, "a lot" and three in 10 said Obama shares Wright's views "somewhat." Nearly a quarter said Obama shares Wright's views "not much" and a quarter said the candidate doesn't share his one-time preacher's views at all.
Seven in 10 Hillary Clinton voters supported her idea to suspend the federal gas tax for the summer. Obama opposes the plan and a little more than half of his voters called it a bad idea.
More than six in 10 voters picked the economy from three choices as the most important issue facing the country. About one in five picked the Iraq war.
Clinton voters were more likely than Obama backers to say the economy was hurting their families a lot. Half of Clinton voters said the current recession or economic slowdown has affected them and their families a great deal. About three in 10 Obama voters said the slowdown has affected them a great deal and more than half said it affected them somewhat.
RACE, GENDER AS VOTING FACTORS
One in four Clinton voters and about one in 10 Obama voters said race was an important factor in their vote.
About one in five Clinton voters said gender was an important factor in their vote. Nearly as many Obama voters said that.
As in earlier primaries, most Obama voters said the candidate quality that mattered most to their vote was that he can bring about needed change _ a signature of his campaign. A third of Clinton voters cited experience but as many picked change.
As in other states, West Virginia Democratic primary voters were more likely to accuse Clinton than Obama of unfair campaigning. Even half of Clinton's own voters said she campaigned unfairly, as did three-quarters of Obama backers. Three in 10 Obama voters said their own candidate campaigned unfairly while more than half of them said Clinton hit below the belt.
About one in 10 Obama voters acknowledged Clinton as more qualified to be commander in chief. Very few Clinton voters said that of Obama.
LOOKING AHEAD TO THE END OF THE NOMINATION FIGHT ...
If they had to choose, seven in 10 voters said they'd prefer that their candidate wins the Democratic presidential nomination, even if the race continues for months. A quarter said they'd prefer the race ends as soon as possible, even if their candidate loses the nomination.
... AND LOOKING AHEAD TO NOVEMBER
Barely a third of Clinton supporters say they'd vote for Obama over John McCain in a November matchup. As many claim they'd vote for Republican John McCain and a quarter said they would not vote for president. If that horse race were Clinton vs. McCain, half of Obama backers say they'd vote for Clinton, about three in 10 say they'd back McCain and the rest would stay home.
As expected, roughly 95 percent of West Virginia Democratic primary voters were white. Half of voters were from rural areas.
It was one of the oldest electorates among 31 Democratic primaries with exit polls to date, with four in 10 over age 60. The only other states with somewhat similar numbers were Arkansas, Arizona, New Mexico and Oklahoma _ and Hillary Clinton won all four states.
It also was the electorate with the highest proportion _ just about seven in 10 _ of people who lack a college degree thus far this primary season. The same held true for whites without a college degree _ again, historically a strong Clinton group.
Preliminary results from exit polling by Edison Media Research and Mitofsky International for The Associated Press and television networks. Partial samples of 1,016 voters in 30 precincts around in West Virginia; sampling error plus or minus 4 points.
Popular in the Community