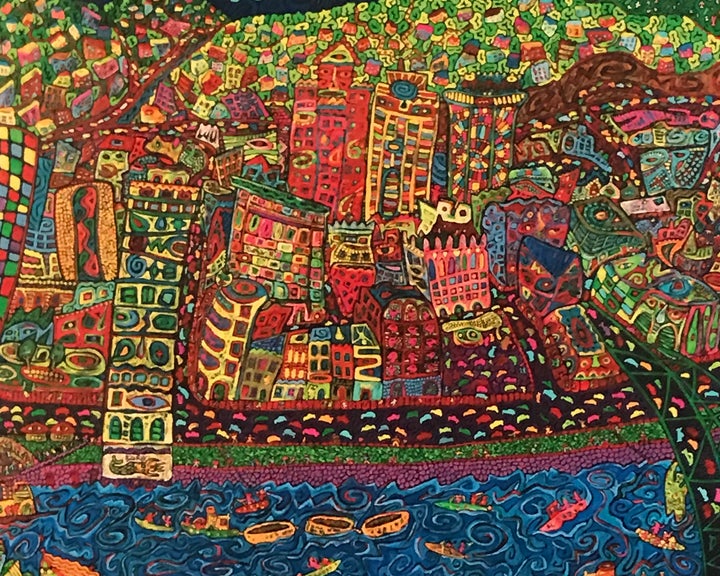 At last year's West Virginia Interfaith Refugee Ministry's rally, one of my friends asked me if I knew that her doctor is a Muslim. She's been going to see him for years and was surprised when he mentioned that he's a Muslim from Syria.
Do we ever stop to consider how fortunate we are to have an HBCU (Historically Black College or University) in nearby Institute, West Virginia? How many of the baby boomers who grew up in Charleston speak and write well because of Ruth Newsome, their African-American English teacher at the former Charleston High School? Mrs. Newsome chose to teach here, giving our community the benefit of the stellar education and skills she'd gained in other states. Given that even today only 7.7 percent of public school teachers are African-American, that's something we should recognize and celebrate. But somehow West Virginia is seen without remembering our diversity.
Even our West Virginia coal mining history gets falsely homogenized. As the volunteer board president of WVIRM, I've given talks at small churches and various community groups around our state about refugees and resettlement. Often a retired coal miner will speak up, wanting to push back against the idea that welcoming ethnically diverse newcomers would be something new for West Virginia. One very elderly retired miner raised his hand at a talk I gave at a small, rural church. He spoke of working side by side in the mines with Hungarians, Czechs and Slovaks who spoke little English. He trusted them with his life, and they trusted him just the same, even if they could barely communicate.
While part of the beauty of America is that we strive to see everyone as American ― all the same, regardless of ethnicity or heritage ― we still need to recognize and celebrate the diversity we have in our communities and our history. When I attend St. John's Episcopal Church here in Charleston, I see the people surrounding me in the pews as my friends, all struggling with their faith, just as I am. But I also need to remember to be grateful to the past parishioners who welcomed so many of my friends' parents and grandparents to worship here when they arrived from Lebanon and Syria throughout the late 19th and 20th centuries. For the early arrivals, Charleston did not yet have an Orthodox Christian Church, so they were welcomed in Episcopal, Roman Catholic and other denominations.
Let's remember and celebrate this history, and let's recognize and be grateful for the thriving Orthodox and Coptic Churches we have today in our community.
Something people do notice is that many gas stations and mini-marts in West Virginia have truly delicious pepperoni rolls on their shelves. But do they recognize the depth and history of the thriving Italian community in West Virginia? Do they reflect on the fact that both of our senators, Joe Manchin and Shelley Moore Capito, are a part of that community and heritage by birth or marriage?
"Our local mosque has seen a healthy growth in membership from 10-20 families to 300-400 families since 1987."
On my father's side of my family, I have Jewish relatives who live in other states. One of them turned to me at a family wedding and commented that he could never live in a place like West Virginia because there is no Jewish community. In fact, Charleston has a thriving Jewish community, with a Reform temple and a traditional Synagogue. Each congregation hosts classes and events that are well attended by Jews and non-Jews alike.
How does all that add up to the homogenous, white Appalachian image of Charleston, West Virginia? It doesn't. Charleston is a welcoming, supportive and diverse community. Generations of people have come here and built their lives, in any faith or no faith, with any ethnicity, color, creed or orientation. Come see.
Popular in the Community