Dr. Michael Brumage, a 25-year U.S. military veteran who has deployed around the globe three times, saved the toughest challenge of his professional life for retirement in his home state of West Virginia.
It's there that the retired U.S. Army Medical Corps colonel, physician and longtime public health professional has devoted the last two years of his life. "I knew what I was walking into," he said, about the opioid crisis that has become a major calling for him. He says it's "the most complex battlefield" he's ever seen.
The gravest public health emergency in America has hit Brumage's home state hard, with the nation's highest drug overdose rate that claimed nearly 900 lives last year.
Brumage, executive director and health officer of the Kanawha-Charleston Health Department, runs a harm-reduction program that includes overseeing a clean needle exchange for opioid users. It's powered not with federal or state dollars, but with donations, grants and volunteers. In just over two years, it has grown as large as a similar program run by the city of Baltimore after 20 years ― serving some 3,700 patients.
People enrolled in a harm-reduction program are five times more likely to go into recovery than if they're not a part of it, he said.
"I'm convinced based on the evidence that syringe service programs, as part of a larger harm-reduction program, are really one of the major solutions to dealing with the epidemic," Brumage said. "So in the syringe service program, of course, what we're trying to do is avoid becoming the next Scott County, Indiana, where they had over 200 cases of HIV in about a year."
HuffPost spoke with Brumage about how, in facing a national drug epidemic where his home state sits at ground zero, "our compassion is being challenged" against an "epidemic of epidemics."
The below interview is an abridged version of the original transcript, and has been edited for length and clarity.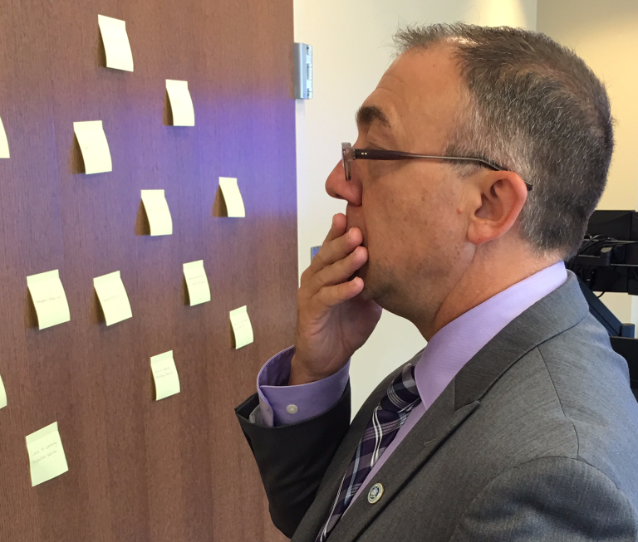 Can you briefly describe the extent of the problem that you're up against with the opioid crisis?
As you really peel back the onion, it's not an epidemic. It's an epidemic of epidemics, because you have everything from overdose deaths to the hepatitis C rate, which is now the No. 1 infectious killer in America. You have children who have been abandoned because their parents are using drugs. You have needles which are in public spaces, which is an environmental hazard. And just so many other aspects of this. This is a very, very complex public health emergency. And I'm not quite certain that most Americans or even most policymakers have grappled with the true complexities of where we are on a day-to-day basis.
West Virginia represents something of a paradox when it comes to the opioid crisis ― and maybe larger issues of health care ― in that it's one of the states that has most directly benefitted by state and government action and programs, but also politically one of the most resistant to anything that's seen as an extension of big government or government overreach. I'm curious about your perspective on how that impacts or challenges the work you're trying to do every day.
I think that Sen. Shelley Moore Capito (R-W.Va.), who sits on the Senate Appropriations Committee, understands the depth of this problem, and I'm hopeful that she will find the right appropriations to combat this epidemic.
We've also benefitted from Medicaid expansion. I think we're either the most or one of the most successful states in signing up people into Medicaid expansion. And you know I've actually gone to Capitol Hill personally, from a position of trying to convince the powers that be that this is one of the best tools that we have to fight the epidemic. So we're really, really, I think in need of resources. Our state has been profoundly affected by the decline of the coal industry, and I think that's one of the factors that's ― it's certainly not the only factor ― but it's one of the factors that's playing a role.
But if it were just about the coal industry, then you would really see this epidemic only in coal-producing states where people have been laid off, but you're seeing that it's across the United States.
So it's a little bit of a paradox. I mean you know West Virginia was one of the states that most supported President Trump, and I'm really hopeful that President Trump will ― that we will see what he promised, which is, you know, throwing lots of resources at this issue.
And it should be done in a wise way, of course. I've seen the effects of large government programs when I was active duty, and throwing only money at problems doesn't work. It has to be spent wisely. I'm really a firm believer in that.
"I would say that given this is the worst public health problem in the United States today, and that, basically every year we're having a Vietnam from people lost to the opioid epidemic, that we would spend the same resources to combat that as we would any war that we fight."
As someone on the front lines of this, I'm interested in how you approach doctor-patient relationships, and trying to perhaps get back a sense of lost community that seems like it is certainly at least one factor in this crisis.
What you're describing is the recreation of a sense of connection, belonging, and purpose that is bigger than public health alone, and it requires a full community effort to be engaged in that. Where we touch this problem is in our harm-reduction clinic, and what our responsibility is to those patients is to treat them with dignity and respect. Because, in fact, these are like modern-day lepers: No one wants to touch them, see them, or acknowledge their existence.
Now the problem has grown to the point where it can no longer be ignored in our state, or in our nation for that matter. But it's most profound here.
What happens is that these people show up in emergency rooms ― they often describe to us as being treated very poorly, they've had many run-ins with law enforcement, and they're often homeless. So they're derided, and despised, and marginalized. So this is our opportunity to reconnect them with a greater society and hopefully with a sense of greater purpose and ― with at least for the brief time that we have with them ― a sense of compassion and respect. And I'll tell you that makes a huge difference.
So I really think that that's an important point which you've touched on, which is the reconnection of individuals with society at large. Because they're being treated now as outcasts, and I think that more attempts to marginalize them are actually hugely counter-productive. Our compassion is being challenged at a national level ― with national dialogue, but also specifically with these folks ― and we need to lean into them, not run away from them.
Is there anything else you'd like to touch on that you think is important that we haven't discussed?
I would say that given this is the worst public health problem in the United States today, and that, basically every year we're having a Vietnam from people lost to the opioid epidemic, that we would spend the same resources to combat that as we would any war that we fight. You wouldn't send soldiers out onto a battlefield ill-equipped, and I don't know that we would want to fight this worst of all public health problems that I've seen in my lifetime without the appropriate resources.
"Our compassion is being challenged at a national level ― with national dialogue, but also specifically with these folks ― and we need to lean into them, not run away from them."
Popular in the Community