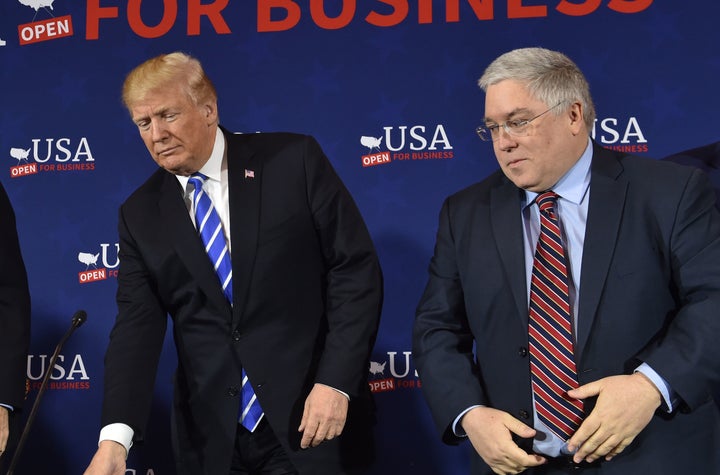 Patrick Morrisey is President Donald Trump's new man in West Virginia.
The Mountain State Republican won a heated primary on Tuesday, defeating U.S. Rep. Evan Jenkins and Don Blankenship, the former coal baron who mounted an insurgent campaign for the nomination after emerging from a year in prison following his conviction for conspiring to violate mine safety laws. Morrisey, who has served as the state's attorney general since 2013, picked up support early in the race from the party establishment.
In a victory speech, Morrisey said that "for too long the Washington elites have looked down on West Virginia and our values."
In the days ahead of the vote, with internal polls showing Blankenship surging, the establishment mounted a last-minute effort to make sure he didn't become the nominee. Blankenship was the chief executive of Massey Energy when the company's Upper Big Branch mine exploded in 2010, killing 29 miners.
Instead, Morrisey will face two-term incumbent Sen. Joe Manchin, the president's most dependable Democrat in the Senate, who cruised to an easy victory Tuesday over progressive primary challenger Paula Jean Swearengin to secure the Democratic nomination. Despite voting in favor of the White House's agenda 61 percent of the time, the president has targeted Manchin, the lone Democratic senator in a state Trump won by 42 percentage points in 2016 and remains extremely popular.
Trump first waded into the race last month at a roundtable event on taxes in White Sulphur Springs. Standing beside Morrisey and Jenkins, he called on voters to oust Manchin. Blankenship did not receive an invitation.
"We have to get more Republicans in office," Trump said. "You're going to have a chance to get a senator that's going to vote our program. That's going to help you in so many ways."
Blankenship tried to paint Jenkins and Morrisey as establishment pawns, while mainstream Republican groups poured money into the race in hopes of keeping Blankenship off the ticket. Upper Big Branch had made Blankenship the face of greed and recklessness for many West Virginians.
A group with ties to Senate Majority Leader Mitch McConnell aired anti-Blankenship advertisements, and McConnell prodded Trump to get involved and weigh in on behalf of Jenkins and Morrisey. Blankenship had dubbed McConnell "Cocaine Mitch" and created a firestorm when he referred to the Kentucky senator's father-in-law as a "Chinaperson" and later defended his use of the racist term.
McConnell's political team trolled Blankenship late Tuesday, posting a graphic of the senator in a cloud of cocaine with the words, "Thanks for playing, Don."
If Morrisey wins on Nov. 6, it would mark a milestone in the president's takeover of what was once known as the bluest state in America. The state's other senator, Shelley Capito, is a Republican who worked closely with the White House on rolling back environmental regulations to bolster coal. Last August, Gov. Jim Justice, a billionaire coal executive, announced his decision to switch parties and become a Republican at a rally with Trump. All three of the state's U.S. representatives are Republicans. The GOP commands majorities in the state Senate and House of Delegates, and it controls five of six offices of the executive branch.
But Morrisey faces a formidable opponent in Manchin. The 36-year veteran of West Virginia politics has served as governor and secretary of state and enjoys the advantage of incumbency and the biggest war chest in the race. Manchin handily defeated his primary opponent, progressive activist Paula Jean Swearengin, on Tuesday and raised nearly $6 million by last month. That's far ahead of Morrisey's $1.9 million.
Vice President Mike Pence was among those who congratulated Morrisey on his victory. "The great people of [West Virginia] need a senator who supports the #MAGA agenda," he posted to Twitter.
Dave Jamieson contributed to this report.
Popular in the Community