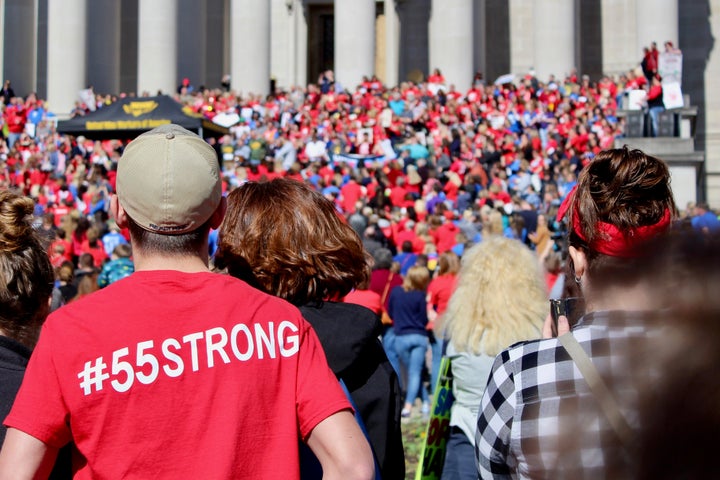 UPDATE: 11:30 p.m. ― All of West Virginia's schools will remain closed on Thursday, despite a tentative deal between union leaders and Gov. Jim Justice earlier in the week. Many teachers had taken to the halls of the state's Capitol during a "cooling off" period to voice their ongoing frustration with the negotiations.
It will be the sixth day all schools across the state have been shuttered.
Earlier: The tentative deal struck Tuesday night to end a statewide teacher strike in West Virginia is on shaky ground just hours after being announced by Gov. Jim Justice (R), with employees in some counties pondering whether to extend a walkout that seemed to be over.
Striking teachers continued to fill the halls of the state capitol in Charleston on Wednesday despite the day being billed as a "cooling off" period before schools would reopen on Thursday. Many of them demanded that the unions and legislators get back to the bargaining table to improve a deal they deemed unsatisfactory.
The arrangement Justice rolled out would give teachers and other school personnel a five percent raise, and workers employed by the state a three percent raise. Although it marked progress from the meager wage increases earlier proposed by Justice, the deal did not placate strikers' bigger concerns over the state employee health care program.
Justice said the state would temporarily freeze employee costs under the program, known as the Public Employee Insurance Agency (PEIA), while a task force was set up to develop a long-term fix to rising premiums and co-pays. But many striking employees apparently don't trust the issue will be resolved, and fear increased health costs could wipe away their raises.
The director of the West Virginia Education Association, one of the two state unions leading the strike, told The Charleston Gazette Mail on Wednesday that "we'll wait and see" whether the strike continues.
Jenny Santilli, a Spanish teacher protesting at the Capitol on Wednesday, said many teachers would have rejected the deal had union leaders put it up for a vote. Santilli was upset that the health care issue remained in play, and that state workers would have to settle for smaller pay increases than educators.
"We're furious," she said. "All hell is breaking loose."
Striking workers weren't the only ones to find out the details of the deal when it was announced at a press conference by Justice Tuesday night. A Republican source who asked to remain anonymous said many GOP legislators learned of the deal in a caucus meeting while watching Justice live on television. Shouting erupted from members upset with the offer.
Teachers and other school employees first walked off the job last Thursday, with the workers in all 55 counties onboard with the first such major strike in West Virginia since 1990. Teachers have not seen an across-the-board pay hike since 2014, and increasing health care costs mean take-home pay has gone down for some.
Public-sector workers do not have collective bargaining rights in West Virginia. Unlike in most other states, unions do not negotiate contracts for their members spelling out pay and benefits, then have members vote on them; instead, the unions must pressure the state legislature to pass bills.
As of Wednesday afternoon, all employees had was the governor's word that legislators would take up and approve his proposal.
Santilli said many teachers in her area, Harrison County, were leaning toward continuing the strike on Thursday. While the strike so far has shut down schools across the state, it's possible dissatisfaction with the deal could lead to reopenings in some counties but not others, splintering what had been a unified strike under the banner of #55strong.
Greg Cruey, a teacher and union representative at his school in McDowell County, said he believed union leaders struck a good deal under the circumstances. He called the raise "more than we've gotten in a long, long time."
He said he was satisfied that unions would have a place on the task force formed to address the state employee health plan, and added that teachers could walk out again if legislators don't follow through on their end of the proposed deal.
But Cruey acknowledged that many of his colleagues think quite differently, and that the historic strike might not yet be over.
"There a lot of discord and confusion and unhappiness," he said. "It won't surprise me if there are a few more strike days. The question is whether the union will stick together in solidarity, and whether '55 united' means something or whether we'll eat our young instead."
Nick Visser contributed to this report.
Related
Popular in the Community