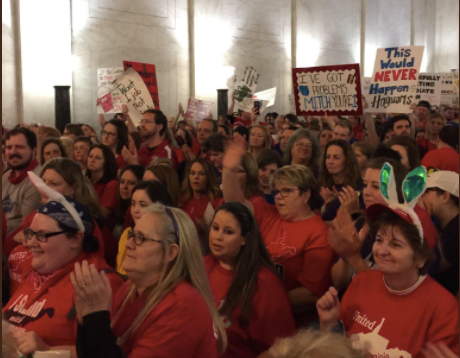 Once it became clear West Virginia schools would close for a statewide teacher walkout this week, staffers from Nitro High School came up with a plan to keep hungry students fed while school was out.
The school normally puts out backpacks of free food on Fridays for students to take home for the weekend, leaving them in a few discreet spots so kids in need can grab them without embarrassment. This week, teachers and administrators increased the number of packs and left them out on Wednesday, so kids could make it through the strike on Thursday and Friday, then on through the weekend, without hunger pangs.
"Even when we know a big snow is coming, we [make sure] those kids will get those backpacks," said Megan Meadows, a counselor at the school, which is in Kanawha County.
The teachers would have caught state officials off guard if they'd walked off the job with little notice. Instead, they announced their two-day walkout five days ahead of time ― in part so that undernourished students wouldn't be left in the lurch. Roughly 1 child in 4 in the state lives in poverty, one of the highest rates in the country.
"One the reasons that we didn't just go out overnight was to give people time to plan, to think about this food issue, and to also allow parents time to sort out what they would do with their children for two days," said Kym Randolph, spokeswoman for the West Virginia Education Association, one of the unions leading the two-day strike. "We tried to make allowances so that no one would go hungry."
As ABC7 reported, teachers and volunteers filled a gymnasium in Martinsburg ahead of the strike, packing donations from local food pantries to give to students on Wednesday.
"For a lot of our children, the meals they get at school are the only meals they get for the day," Christine Campbell, president of the American Federation of Teachers-West Virginia, told HuffPost.
Teachers and other public employees in all of West Virginia's 55 counties are taking part in the walkout. Teachers have not seen an across-the-board raise since 2014, and rising health care costs mean that some teachers have actually seen their take-home pay go down. They are demanding salary raises and a fix to the state's public employee health insurance fund so premiums don't continue to rise.
"For a lot of our children, the meals they get at school are the only meals they get for the day."
Only three states in the country have lower teacher pay than West Virginia, according to the National Education Association. HuffPost recently spoke to one elementary school teacher who needs to work at Hardee's on the weekends to cover her family's bills.
Public-sector employees in West Virginia don't have the same collective bargaining rights that workers do in most other states. The state's two teachers unions cannot bargain directly over wages, but instead must lobby the state legislature to pass legislation regarding wages and benefits. They also do not have the explicit right to strike, although they have done so before, most recently in 1990. West Virginia's attorney general declared this week that any walkouts would be illegal, but as of Thursday night, the state had not filed for a court injunction to order teachers back to work, according to Randolph.
Teachers plan to return to work Monday, but it's possible the unions will continue with isolated rolling strikes, with certain counties having to shut down schools periodically if teachers' demands aren't met. That, in turn, would mean more meal planning.
In addition to packing food bags, Nitro High School staff also collaborated with Cross Lanes Baptist Church to host pizza lunches at the school and the church on Thursday and Friday during the closure. Some students ended up coming out to the church to help feed other students. Members of the church took pizza out to the teachers who were on picket lines.
"We want to make sure the kids are not hungry, and the teachers are appreciated," said Brandon Carter, associate pastor at the church. "We're not in the political fray. They've made a decision they need to make for their livelihoods. We're not concerned with that. We're just letting them know we care about them and support them."
Related
Popular in the Community