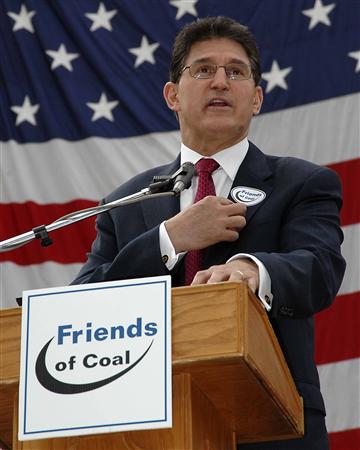 West Virginia Governor Joe Manchin is a Friend of Coal.
So when angry coal miners - allegedly from Massey Energy, which is chaired by notorious CEO Don Blankenship -- disrupted a peaceful Fourth of July picnic atop West Virginia's Kayford Mountain, home of "Mountain Keeper" Larry Gibson and the site of a long-running campaign to save one of The Mountain State's mountains from mountaintop removal coal mining, Gov. Manchin had nothing to say.
The horrifying video taken at the picnic -- complete with a obese shirtless man threatening to slash the throats of picnickers -- has now gone viral on the internet, with over 40,000 views on You Tube.
The Fourth of July picnic followed a tense rally by West Virginia environmentalists on June 23 in which NASA Climatologist James Hansen, actress Daryl Hannah, former West Virginia Congressman Ken Hechler and 30 others were arrested protesting at a mine owned by Massey, an out-of-state coal company based in Richmond, Virginia. The Massey mine is located next to the Marsh Fork Elementary School.
Despite the ugly threats made against Hannah, picnickers and local citizens trying to stop mountaintop removal, Gov. Manchin has remained silent as the ugly threats escalate. Violence against environmental activists seems almost inevitable in the coalfields this summer as West Virginia politicians ignore the tense situation.
"Why haven't West Virginia government officials condemned the violence directed towards opponents of mountaintop removal?" asked West Virginia resident Brad Wood. "I attended the June 23rd rally at Marsh Fork and heard numerous death threats hurled at the speakers."
"He's scared of Massey because Don Blankenship has tried to sue him before," said Charleston, West Virginia resident Dana Kuhnline of Gov. Manchin.
West Virginia coalfield resident Judy Bonds, winner of the 2003 Goldman Prize (often referred to as the Nobel Prize for environmental activism) said "The Governor is escalating the violence by ignoring the coal thuggery. Governor Manchin should issue a statement of "Tourists Beware" of coal thugs in southern West Virginia. Governor Manchin has cracked down on non violent protesters but has allowed coal thugs to create fear by using violence and threats against American citizens in order to stop our first amendment rights."
Bonds was slapped by an irate miners wife as she marched at the June 23 protest against Massey.
Bo Webb, a Vietnam Veteran and West Virginia native stated "Governor Joe Manchin has failed miserably in his duty to protect and defend the first amendment rights of coalfield citizens against assault and intimidation by the thug lieutenants of Don Blankenship. Governor Manchin has chosen to keep his mouth shut and hide in the corner like a coward."
Popular in the Community