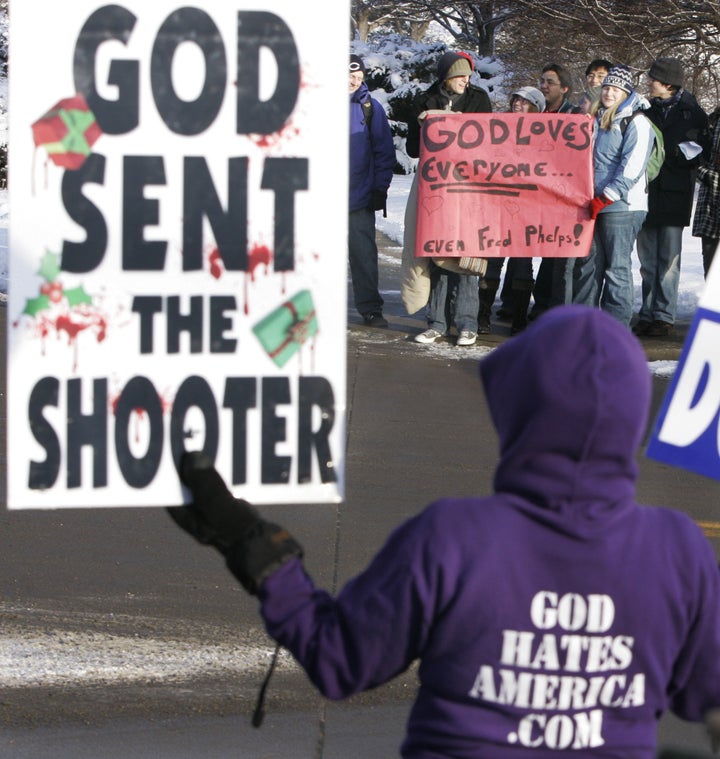 Kansas-based Westboro Baptist Church has decided to back down from their plans to picket the funeral of 9-year-old Christina Taylor Green, the young girl who was gunned down over the weekend in Tucson, Arizona, in a shooting that claimed the lives of 5 others. In return, they have been promised airtime by two radio stations.
Shirley Phelps-Roper, a spokeswoman for Westboro, told The Topeka Capital-Journal that KXXT-AM, a 50,000-watt station out of in Tolleson, Arizona, and Toronto-based CFNY-FM, 102.1 "The Edge," have both offered to host the church to talk about its views, on the condition that the congregation would reverse their decision to protest Green's funeral.
According to Phelps-Roper, however, Westboro still plans to go through with their demonstrations at the funeral service for slain U.S. District Judge John Roll, and at the original site of the rampage in Tucson.
On Tuesday, the Arizona legislature proposed a piece of legislation designed to block the church's followers from disrupting the ceremonies of the victims. Arizona Gov. Jan Brewer later signed the bill, which bars protests within 300 feet of a funeral and within an hour from its beginning or end.
Calling all HuffPost superfans!
Sign up for membership to become a founding member and help shape HuffPost's next chapter