Members of the Westboro Baptist Church who brought their "God Hates The Media Tour" to The Huffington Post offices Wednesday were met by a Yeti, a whole lot of gay pride and the ultimate truth: God loves cupcakes.
Four members of the group showed up to picket outside HuffPost in New York City's East Village Wednesday, carrying signs reading "God hates fags," "Same-sex marriage dooms nations" and "Fag media."
To combat the hate spewed by the quasi-religious group, Baked By Melissa donated 1,000 rainbow mini cupcakes for editors to hand out at the event. HuffPost Weird News editors got in the spirit by dressing up like a Yeti, a penguin and SpongeBob SquarePants. Executive Religion Editor Rev. Paul Raushenbush was on hand to proclaim the good news of God and cupcakes. And drag queens also made a glamorous appearance in their finest attire.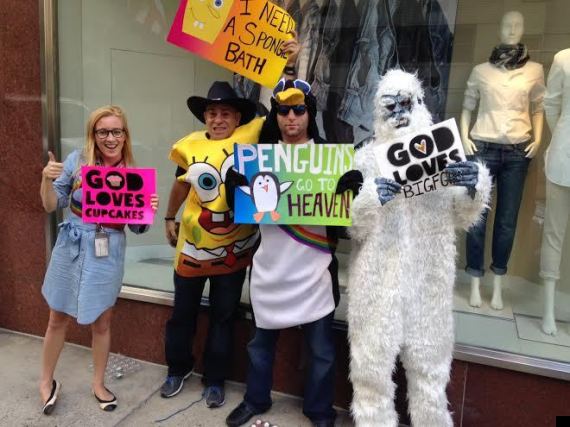 We're not scared of a handful of sad people with access to school supplies and a few nasty slogans. We're ready to celebrate how far we've come in spite of them. We're ready to honor the brave, beautiful actions that have been heaped up in the face of their hatred and we're ready to add our own humble offering to that pile. And if we continue to stand up to these bullies, I know one day the warning on that sign they held up at [Matthew Shepard]'s funeral will become a promise and the Westboro Baptist Church will be doomed to live in a nation full of happy, fearless, unapologetic fags and our happy, fearless, unapologetic friends.
In August, WBC announced plans to head to New York City for a God Hates the Media Tour that targeted companies like NBC Universal, CBS, Fox News, BuzzFeed, Gawker, Facebook and the Wall Street Journal.
"The media specializes in lies, they excel at slandering the Church of Christ at every opportunity, spewing gross blasphemy out of every outlet they have, mocking the truth, and promoting and exalting the basest of men, and the vilest sin of the day," the WBC press release said.
WBC's media tour kicked off Sept. 9 with protests outside the New York Times building on Eighth Avenue. The group then moved on to Fox and HBO.
Video Produced by Amber Genuske and Oliver Noble
See more images from the event below:
Before You Go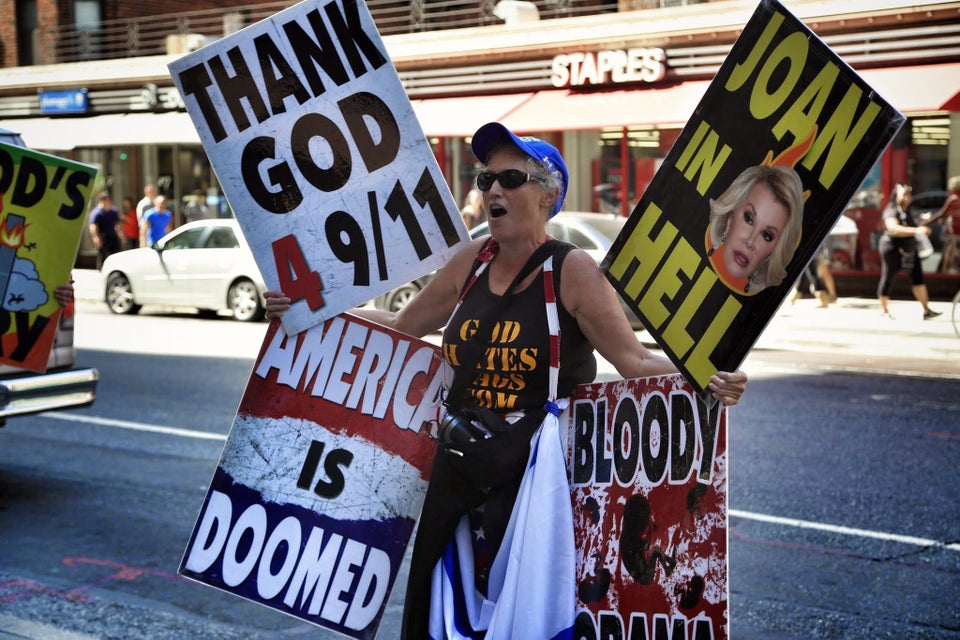 Westboro Protests HuffPost
Popular in the Community