 Hurricane Sandy continues to pummel the coastal Atlantic region as the historic "superstorm" makes its way up the East Coast. The death toll has risen to at least 65, and the damage may cost as much as $55 billion, but the Westboro Baptist Church is thanking God for the storm.
Shirley Phelps-Roper, daughter of Westboro pastor Fred Phelps, has spewed a series of tweets about Hurricane Sandy since the storm first brewed in the Caribbean last week. "God sent the whirlwind. #ThankGodForRighteousJudgment," Phelps-Roper tweeted after deaths were announced in Cuba.
She went on to target specific states in Sandy's path, including Connecticut and Delaware, both of which have legalized same-sex marriage. The Westboro Baptist Church, an independent Baptist church based in Topeka, Kan., is infamous for protesting funerals of members of the armed forces because gays are allowed to serve.
The Westboro heir described Hurricane Sandy as the "wrath from God hangs over NY and Doomed USA like a Sword or Damocles." She also mentioned the Hawaii tsunami and a Nebraska wildfire as signs from God.
"The church's 75 members, most of whom are related to Phelps, seize upon disasters and calamities, including roadside bombs in Iraq, the attacks of 9/11, Hurricane Katrina and the recent mining deaths in West Virginia, as God's punishment for a country that tolerates gays," MSNBC's John Belzman wrote in 2008.
Chaplain John McTernan pointed to the LGBT community, President Barack Obama and the conflict in the Middle East as reasons for Sandy.
"Hurricane Sandy is hitting 21 years to the day of the Perfect Storm of October 20, 1991 [sic]," McTernan writes on his blog. The anti-LGBT minister continued, "It appears that God gave America 21 years to repent of interfering with His prophetic plan for Israel; however, it has gotten worse under all the presidents and especially Obama. Obama is 100 percent behind the Muslim Brotherhood which has vowed to destroy Israel and take Jerusalem. Both candidates are pro-homosexual and are behind the homosexual agenda. America is under political judgment and the church does not know it!"
Father James Martin, a Jesuit priest, knew that certain people would use the hurricane to promote their own agendas.
Hurricane Sandy is shaping up to be one of the worst storms the East Coast has ever seen. States along the Eastern Seaboard have issued State of Emergency warnings to residents, and thousands have evacuated.
"I think this one's going to do us in," Mark Palazzolo, owner of a bait-and-tackle shop in Point Pleasant Beach, N.J., told the Associated Press. "I got a call from a friend of mine from Florida last night who said, `Mark, get out! If it's not the storm, it'll be the aftermath. People are going to be fighting in the streets over gasoline and food.'"
Related
Before You Go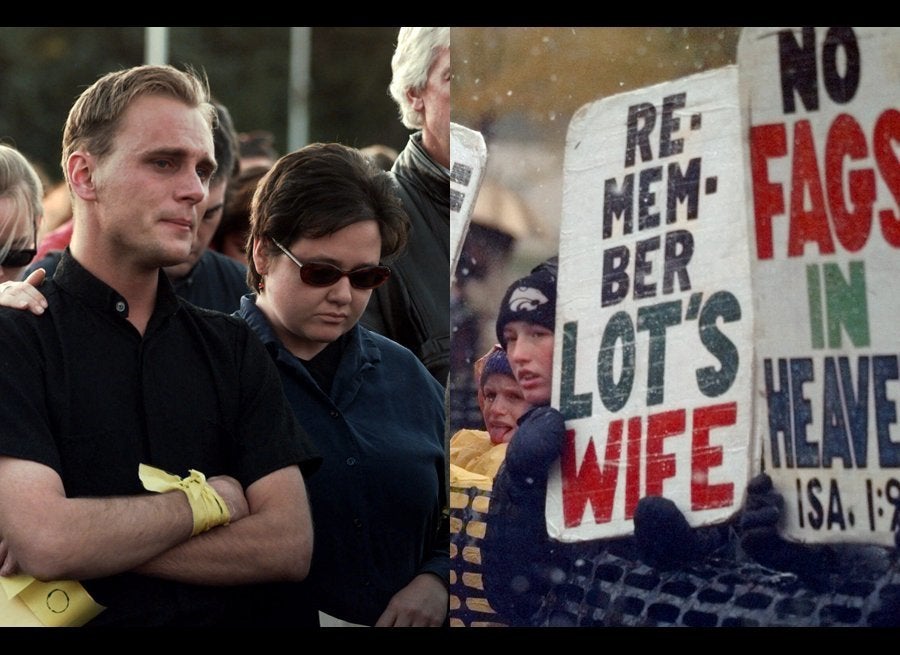 Westboro Baptist Demonstrations
Popular in the Community