It all started with a 6-year-old girl who wanted to take a stand against the Westboro Baptist Church and promote peace. Now, it is a national event.
On Saturday, Aug. 10, Jayden will set up her last lemonade stand of the summer season. She will be in the backyard of the rainbow-hued house, facing the Westboro compound. But this time her mission with Planting Peace stretches beyond the boundaries of Topeka: She wants to get other children across the nation involved.
So far, 70 stands are already confirmed, with kids participating as far away as England. All the money will go toward Equality House's anti-bullying initiatives.
"We're giving [the money] to the rainbow house to help people who are sick, and to help people be nice to each other," Jayden said in an interview relayed to The Huffington Post.
"I know this experience for Jayden is just the first of many building blocks of teaching her how to grow up to be a loving and compassionate young lady," her father, Jon Sink, founder of the philanthropic arts group FRESHCASSETTE - Creative Compassion, added.
He said his daughter can't comprehend how much money she has already raised, but every time she hears the amount go up she tells "everyone within earshot."
Those who've had the opportunity to work with Jayden are blown away by how such a simple act has resonated with so many.
"The story of Jayden's lemonade stand is a simple one; a little girl, awesome parents and a desire to help make the world a better place," Aaron Jackson, co-founder of Planting Peace, told HuffPost. "And to make a happy story even better, she has inspired others to do the same. We at Planting Peace are so proud of her."
"Her story has reached far and wide, as people from all around the world have commented on the story, emailed us, supported her efforts and cheered her on," he added. "And now, kids all over the world are putting up lemonade stands and raising money for a more peaceful world. It gives me hope."
Before You Go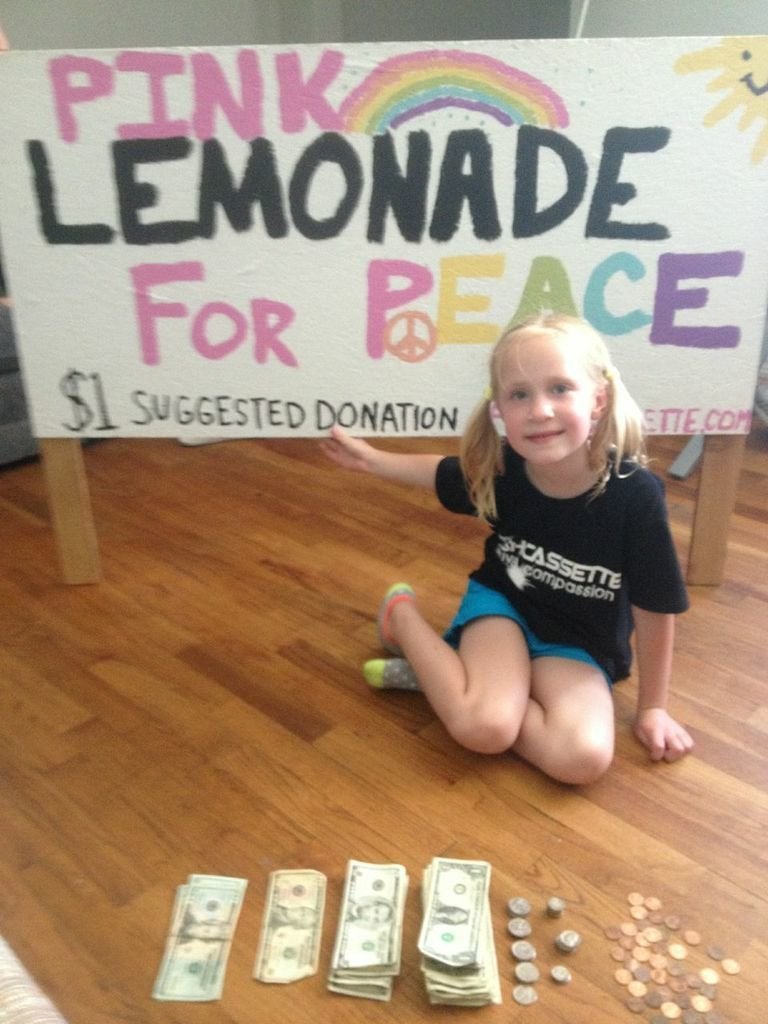 Jayden's Pink Lemonade for Peace
Popular in the Community