The Westboro Baptist Church has responded to one little girl's campaign to raise money for peace the only way they seem to know how: with a homophobic jab.
Over the weekend, the story of Jayden Sink and her lemonade stand went viral online, with thousands of people sharing news of how a 5-year-old took on the Westboro Baptist Church.
As The Huffington Post previously reported, Jayden is the daughter of Jon Sink, founder of the philanthropic arts group FRESHCASSETTE - Creative Compassion. The two decided to sell lemonade outside the Equality House -- a rainbow-colored dwelling owned by nonprofit Planting Peace that campaigns for human rights, gay rights and anti-bullying efforts -- to raise money for peace and love Saturday.
The Equality House sits across the street from the Westboro Baptist Church's Topeka, Kan., compound, and the anti-gay, quasi-religious group was none too happy with Jayden's event. Members from the group apparently attempted to call the local police and later stooped to yelling profanities at lemonade drinkers.
On Monday, Westboro members took things to a new low when they posted an anti-gay message on their marquee, reading: "FAGS & ENABLERS ALL BURN IN HELL LEMONADE WON'T COOL ANY TONGUES."
A sign outside the Westboro Baptist Church compound. Story continues below.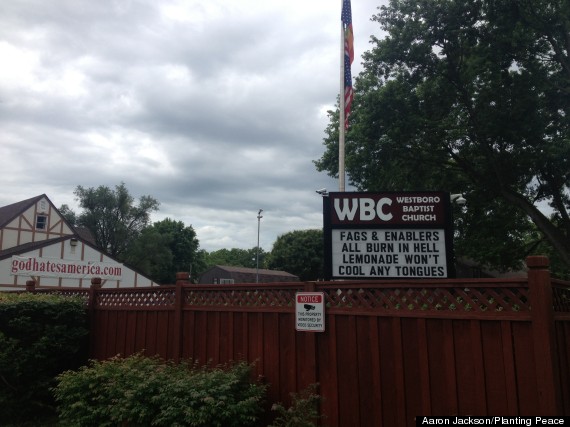 Davis Hammet, Director of Operations at Planting Peace, is not surprised Westboro rejected Jayden's message. The group's messages of hate have been directed at many more people than just Jayden. Just a few days ago, that same marquee had a message thanking God for killing the children in the Oklahoma tornado.
"We don't hate the Westboro Baptist members, we pity them," he told The Huffington Post in an email correspondence Monday. "We see their hateful signs every day and they remind us how important it is to take a stand for equality and justice. The nasty things they say come from a very dark place. We truly pity them and are thrilled that many members are finding their way out of this hate group."
Of course, we all know who the real winner is. To date, Jayden has helped raise more than $16,000 for Planting Peace and the Equality House with an online campaign through Crowdrise. She plans to set up her stand outside the Equality House on more hot summer days in the future.
Planting Peace founder Aaaron Jackson wants everyone to remember this is a story about peace and not about retribution, he told HuffPost in a separate email Monday. Jayden simply sought to spread goodwill, something Westboro chooses not to do,
"I believe that Jayden's story of spreading love and peace by raising awareness and money by way of a little pink lemonade stand is why so many people have embraced the story and felt compelled to take part in the movement."
Calling all HuffPost superfans!
Sign up for membership to become a founding member and help shape HuffPost's next chapter
BEFORE YOU GO
PHOTO GALLERY
18 LGBT Kids And Allies Who Are Way Braver Than We Were At Their Ages