A mother was filled with pride when her young son mounted a quiet counter-protest against picketers from the Westboro Baptist Church over the weekend, the Augusta Chronicle reports.
Nine-year-old Josef Miles and his mother, Patty Akrouche, were walking around the Washburn University campus in Topeka, Kan., on Saturday when they saw a group of Westboro Baptist Church protesters armed with signs.
The Church is infamous for using pickets with phrases like "God hates fags" and "Thank God for dead soldiers."
After reading some of the signs on display, Akrouche said that Miles asked her if he could create one of his own.
Using a small sketch pad, he wrote out his message in pencil and held it out while he stood across from the picket line.
"GOD HATES NO ONE," he wrote.
While describing the incident on her Facebook page, Akrouche said her son is "a wonderful young person [who she enjoys] learning from every day."
"He's growing up to be a fine young man," Akrouche wrote. "I got my Mother's Day gift a day early."
Miles is not the only person who has been seen protesting the Church's rallies. Last year, BuzzFeed published a list of the 30 Best Anti-Westboro Baptist Church Protest Signs.
For more of The Huffington Post's coverage on the Westboro Baptist Church, click here.
Check out images of Miles's protest: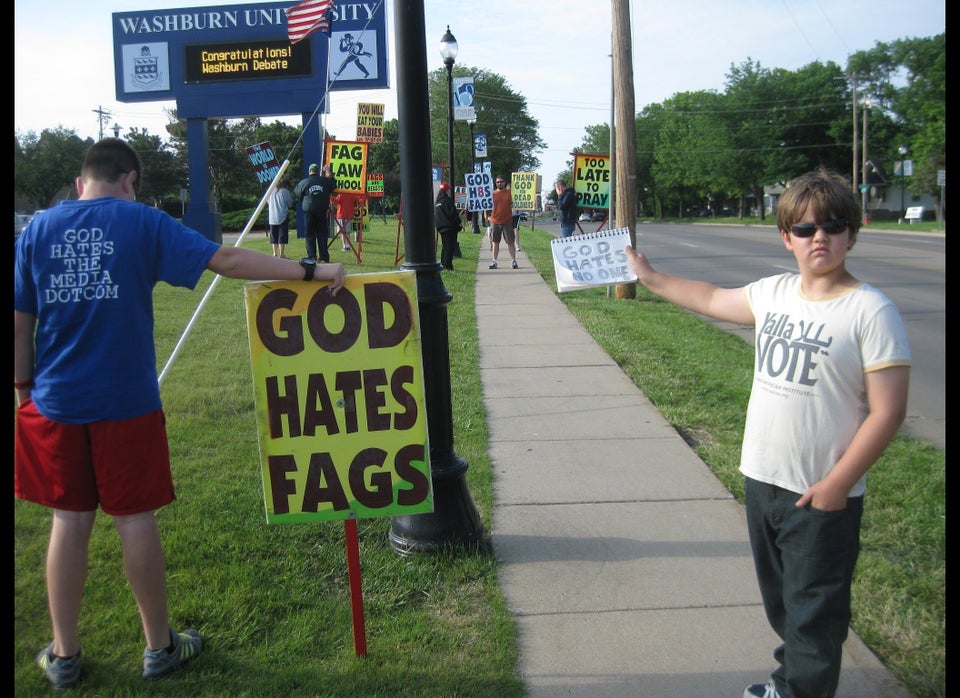 God Hates No One
Support HuffPost
The Stakes Have Never Been Higher
Related
Popular in the Community