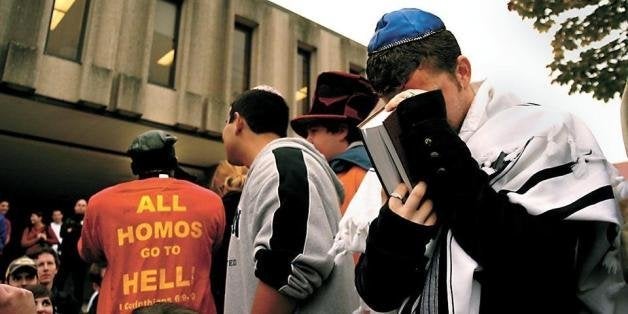 The pain of the Kansas shootings that targeted innocents at Jewish community centers is still fresh, but that only serves as an invitation for the callous Westboro Baptist 'Church' to plan a picket of the victims' funerals.
Three people were killed on Sunday, none of whom were Jewish, reports the Associated Press. Dr. William Corporon, 69, and his grandson Reat Griffin Underwood, 14, were at the Jewish Community Center of Greater Kansas City for a singing contest audition, and Terri LaManno, 53, was visiting her mother at the Village Shalom Retirement Center.
The suspected shooter, Frazier Glenn Cross, has been identified as a former "grand dragon" of the Carolina Knights of the Ku Klux Klan, and he reportedly shouted "Heil Hitler!" while being held by police. The attacks, which targeted a Jewish community center and a Jewish retirement home, are being classified as hate crimes, according to The Washington Post.
WBC wrote on its website, "WBC will picket the funeral of William Corporon and Reat Underwood in religious protest and warning. God is not mocked. He sends curses to this nation such as the shooter at the Overland Park JCC to remind this nation that she has sinned away her day of grace."
They initially tweeted after the shooting:
But their disgusting plans will not go unchallenged. Alex Brown, a student at the University of Kansas, has planned a counter protest called "The 'Do Jewish' Movement" to support the victims' families against the WBC protest and to express love for the community, both Jewish and non-Jewish.
This is why I along with several others want to start this "Do Jewish movement" as a way to unify ourselves together in a "Silent" (non-harmful or offensive) counter-protest by joining in front of the Westboro picketers wrapped in our Teffilin and talit and for some with our kippah on as well, and pray. Just simply do what we jews have been doing for the past thousands of years, and pray. It may be anything from a silent meditative prayer or a song that is sung by many. Whatever way you chose to pray it must be non-violent, non-combative or offensive. We are not here to protest against anything, we are gathering here to express pride in our judaism and our love for the community both jewish and non-jewish.
Brown explained that the tactic was inspired by an incident on the Kansas University campus, when a man called Charles Goldberg prayed in response to anti-Semitic protestors. Goldberg shared a photo in support: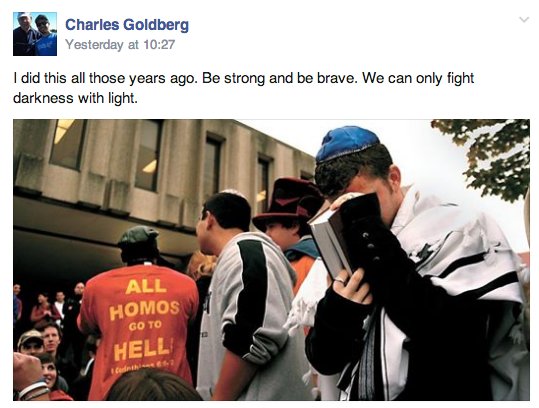 The funeral will be held on Friday. A commenter wrote that a police department source "assures me that they will be there "in force" to protect against anybody, perhaps of like mind or influenced by the shooter, who might attempt to cause a disturbance where it is known that many Jews will be gathering. May this give anyone with safety concerns some piece of mind."
Calling all HuffPost superfans!
Sign up for membership to become a founding member and help shape HuffPost's next chapter
BEFORE YOU GO
PHOTO GALLERY
10 Amazing WBC Counter Protests