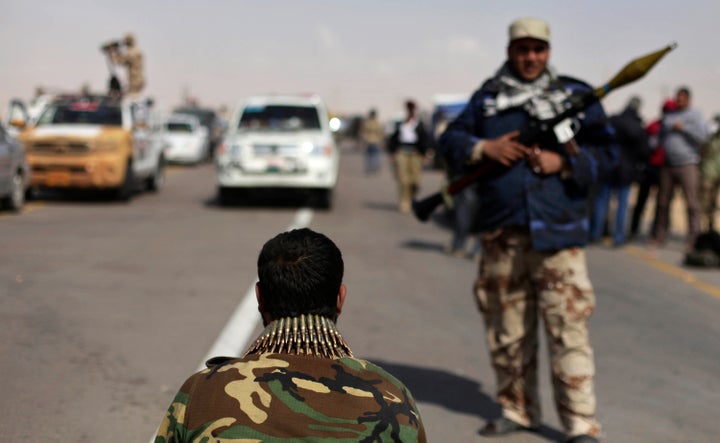 BREGA, Libya, April 2 (Reuters) - A Western coalition air strike hit a group of rebels on the eastern outskirts of Brega late on Friday, killing at least 10 of them, rebel fighters at the scene said on Saturday.
A Reuters correspondent saw the burnt out husks of at least four vehicles including an ambulance by the side of the road near the eastern entrance to the oil town.
Men prayed at freshly dug graves covered by the rebel red, black and green flag nearby.
"Some of Gaddafi's forces sneaked in among the rebels and fired anti-aircraft guns in the air," said rebel fighter Mustafa Ali Omar. "After that the NATO forces came and bombed them."
Rebel fighters at the scene said as many as 14 people may have died in the bombing, which they said happened around 10 p.m. local time (2000 GMT)
Most blamed a Gaddafi agent for deliberately drawing the friendly fire but some said other rebels had shot into the air by accident.
"The rebels shot up in the air and the alliance came and bombed them. We are the ones who made the mistake," said one fighter who did not give his name.
Another, Mohammed Abdallah, said the rebels still needed air strikes to face Gaddafi's better armed forces. Pointing to his assault rifle, he said: "We cannot fight him with just these."
Gaddafi's forces fired rockets on Brega overnight and fighting continued further west around the town's university early on Saturday, rebels said.
The road into Brega was only lightly manned. A rebel at a checkpoint advised journalists not to venture further as Grad rockets had been landing further into town.
Rebel captain Khaled al-Ferjani said earlier that the rebels had passed through the eastern gate.
"The rebels entered the eastern gate and a group of Gaddafi's forces surrendered to them," he said.
Further towards the centre of Brega, a small cloud of dust rose up near the road, suggesting a mortar had landed. Some rebel trucks that were travelling into town turned around and headed back. (Writing by Tom Pfeiffer; editing by Myra MacDonald)
REAL LIFE. REAL NEWS. REAL VOICES.
Help us tell more of the stories that matter from voices that too often remain unheard.