I know from traveling extensively that no company does more to get money from A to B, anywhere in the world, than Western Union. I have heard for years about the generosity of the Western Union Foundation. So, when I had the opportunity to interview Luella Chavez D'Angelo, President of the Western Union Foundation, on my favorite topic of connecting goodness, how could I say no?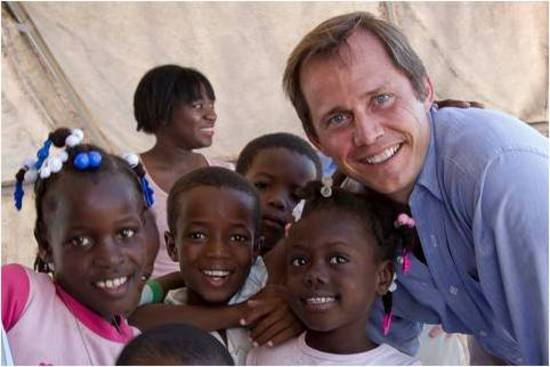 Western Union's Mariano Dall'Orso, Sr. Regional V.P., Caribbean & Central America Region, meeting the children of Haiti post earthquake. Photo courtesy of Western Union.
Luella told me her company's simple mission:
Western Union is focused on delivering value to its shareholders while also increasing value to society. Globally, more than 2.7 billion people have no access to formal financial services. We serve people at the bottom of the economic pyramid and we help them transfer funds to help build economies.
My first trip to the "Developing World" was in 1979 to Bogotá, Colombia, where I studied for six months. There I encountered abject poverty for the second time. The first time was in Appalachia, when I spent a summer painting houses in Switchback, West Virginia. Poverty knows no boundaries.
I realized both in West Virginia and Colombia -- and later in Haiti, Ghana, and México -- that there were not a lot of jobs around in those places. I realized that many families survived only because someone in the fold was brave enough to travel far away to get a job -- and then sacrificed to send desperately needed money home.
Years later, having founded Orphans International Worldwide in 1999, I sent money from New York City to our staff in Sri Lanka and Indonesia by remittance because many of our staff did not have regular bank accounts. Western Union was often cheaper than wire transfers.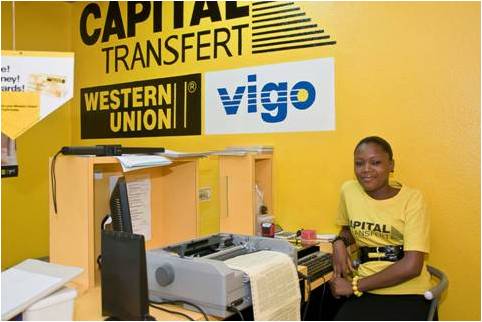 Haitians living overseas - such as in Miami, Brooklyn and Montréal - are the lifeline to family members in Haiti. Photo courtesy of Western Union.
Remittances to developing countries are projected to be nearly triple the amount of foreign aid and investment delivered to developing nations combined, and these remittances put food on tables, pay for school fees, and provide capital to small businesses across all borders.
No corporation understands this better than Western Union Company, the leader in what is termed "global payment services." With multiple remittance products, WU provides consumers and businesses with fast, reliable, and convenient ways to send and receive money around the world, to send payments, and to purchase money orders.
Western Union, along with its Vigo and Orlandi Valuta-branded services, are offered through a combined network of approximately 445,000 agent locations in 200 countries and territories. The only places that don't have Western Union are places I try to avoid: North Korea, Iran, Myanmar, and Somalia.
In 2010, Western Union completed an unprecedented 214 million consumer-to-consumer transactions worldwide, moving $76 billion of principal between consumers, and 405 million business payments. There are more WU locations globally than there are Starbucks, Walmarts, Burger Kings, and McDonald's combined!
In addition to making remittances more reliable, Western Union also has a charitable foundation. Since its inception in 2001, the Foundation has awarded more than $71.7 million in grants to 2,010 organizations in 104 countries and territories, including support for almost 100 disaster-relief operations around the world.
Through its signature giving program Our World, Our Family, Western Union supports initiatives to empower people through access to economic opportunity. The program is a five-year, $50 million commitment reflecting efforts made by Western Union employees, agents, and partners around the world -- opening doors to education and inclusive finance, supporting global citizens on their journey to a better life.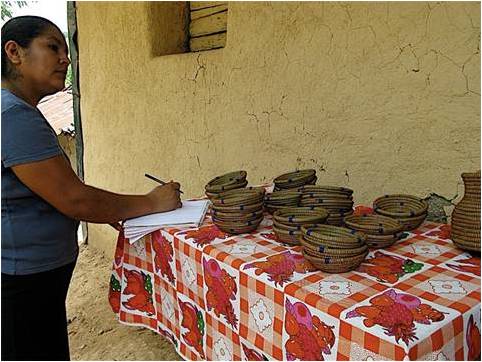 Western Union supports women's microfinance in Nicaragua through Pro Mujer. Photo courtesy of Western Union.
I spent a few days looking into the Foundation's approach and realized that they have several facets of support:
"Grant Program: WU is committed to enriching the lives of people around the world by focusing on the educational and economic opportunity issues that are important to its consumers and their communities. It believes that giving back to these communities makes them better places to live and work-in turn making them better places to do business."

Disaster Relief Grants: When lives hang in the balance, WU aids the relief efforts of government and humanitarian organizations that provide for affected families in critical circumstances. It was the first corporation to donate to the United Nations Central Emergency Response Fund for humanitarian emergencies and natural disasters.

Agent Giving Circles: In more than 200 countries and territories, Western Union identifies local programs that meet their giving criteria. Western Union then matches their agents' donations dollar-for-dollar, doubling their impact in the community.

Family Scholarship Program: The Western Union Foundation's Family Scholarship Program is an initiative for migrants, immigrants, and their families. The Family Scholarship Program is intended to help two members of the same family move up the economic development ladder through education."
Recently, the United Nations Development Programme (UNDP) and the Western Union Foundation announced a $500,000 initiative, to assist Filipino and Moroccan migrants living and working abroad, to contribute to sustainable local development in their home countries.
This contribution represents a portion of a $1.1 million grant from the Western Union Foundation to support the efforts of three United Nations agencies to advance the Millennium Development Goals the paramount set of eight internationally-agreed goals designed to reduce poverty, hunger, disease, and maternal and child deaths by 2015.
Through this WU sponsored program, migrants abroad will be offered new ways to collectively support development priorities set by the government and local communities in their home countries. These may include improving access to critical services like health, education, and finance, and supporting small business and job creation. The World Bank estimates that in 2010, some 8.5 million Filipinos living abroad remitted $21.3 billion and 4.5 million Moroccans sent home $6.4 billion.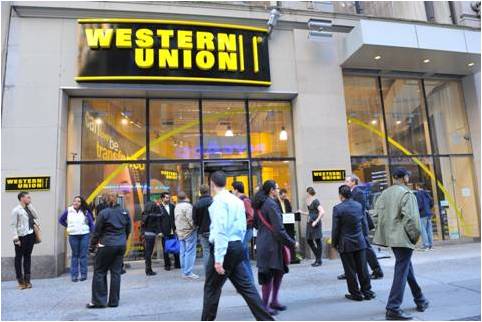 Photo courtesy of Western Union.
With the support of the Foundation, UNDP will assist the two countries develop policies, institutions, skills, and mechanisms that employ remittances to reduce poverty. They will:
"Engage diaspora communities as transnational actors of local development and services delivery."
This will enhance partnerships between all levels of government, the private sector, and non-governmental organizations.
The Western Union Foundation recently announced the details of its 2011 commitment of another milestone gift: $1.1 million to the United Nations family. In addition to the UNDP contribution (half of which was paid in 2010), the Western Union Foundation committed another $600,000 to the U.N. Children's Fund (UNICEF) to support its efforts in restoring the education system for children in Haiti.
Pro Mujer makes a difference for women at the market, thanks to assistance from theirlong-term partner, the Western Union Foundation. Photo courtesy of Western Union.
Having been in Haiti since 1999, I have come to care enormously about this nation. I am particularly impressed with how generous WU has been in Haiti post-earthquake. Following this disaster, WU announced a number of disaster relief efforts to help the victims of Haiti's devastating earthquake. This included a donation of $1.2 million for earthquake relief efforts and a "No Transfer Fee" program when sending money to Haiti from the U.S., Canada, and in France.
Luella explained to me why:
"After the earthquake in Haiti, we sent out an immediate appeal to our staff. We instituted at 2-to-1 match for our employees and a 1-to-1 for our agents. And what followed was the largest 'give' in our history - larger that the Tsunami, 9/11, or Katrina. Over 100 agents contributed and we matched their gifts. I was proud to belong to a company that has such a strong sense of shared value."
Last month, on International Corporate Philanthropy Day, Western Union and the United Nations announced an innovative partnership to harness the potential of this untapped resource to address global poverty and to improve the lives of millions of people in the developing world.
Luella Chavez D'Angelo was hired in 2000 to serve as the inaugural director of the First Data Western Union Foundation and today is president of the Western Union Foundation. Working with WU employees, clients, and agents, the Foundation partners with non-profit organizations through Western Union's Our World, Our Family.
Job satisfaction is high, Luella reported to me:
"Coming back from last week's meeting on corporate philanthropy in New York, I felt even more inspired. I am reminded that I am not selling cereal or hamburgers - my company is providing a service. One that provides people with better lives, helping families separated by vast oceans so that they can remain intact."
Prior to working in the museum field, Luella was V.P. of Institutional Development for the University of New Mexico Health Sciences Center. In this capacity, she was responsible for marketing, government and alumni relations for the University of New Mexico School of Medicine, Pharmacy and Nursing, as well as the University of New Mexico Hospital and Children's Hospital of New Mexico.
Luella holds a bachelor's degree in Marketing Management and a Master's in Business Administration, with an emphasis on finance, from the University of New Mexico. She was born in Albuquerque. She is a businesswoman who is a role model for balancing work and family. She is married, has 3 children (9, 24, 27 years old), and has lived in Denver, Colorado since 1995.
As my readers know, I have a strong interest in good people, non-profits, multinationals -- what I call Stewardship. I hold Western Union as an example of best practices in the field of Corporate Social Responsibility ("CSR"). The Western Union Foundation, under Luella's leadership, is a wonderful example of corporate philanthropy -- stewardship at its finest.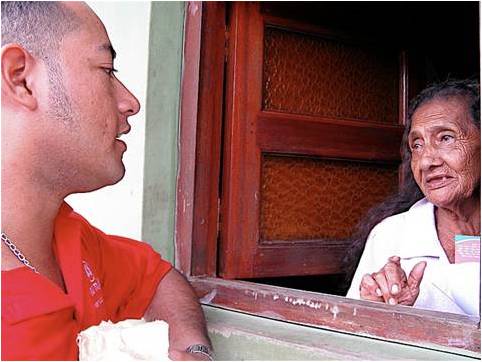 With support from Western Union, Pro Mujer helps support the elderly of Nicaragua. Photo courtesy of Western Union.
I reached out to several people I have met over the years who understand corporate philanthropy to get their take on Western Union's commitment to bettering the world. Patrick Gaston, Strategic Advisor and Executive-in-Residence at the Clinton Bush Haiti Fund, told me:
"Western Union is a terrific example of a socially responsible company that allows people in the communities it serves, such as Haiti, to have access to programs that can measurably improve lives."
Luella is particularly fond of two NGOs I also admire, Mercy Corps and Pro Mujer. I know both well. In fact, I share my orphan director in Haiti, a registered nurse, with Mercy Corps. I asked Lynn Patterson, co-founder of Pro Mujer, what she thought about multinational corporate stewardship, and how it has impacted life in the developing world. Lynn said:
"A symbiotic relationship between organizations with a social mission and multinational companies committed to corporate stewardship is a powerful one. For-profits can often bring a different rigor such as business and management practices, while non-profits can provide invaluable technical expertise. By working together towards improving the quality of life of those living in developing communities, these collaborations can have a tremendous impact on lives around the world. Since 2005, Pro Mujer and Western Union have worked together in the effort to empower women entrepreneurs in Latin America and we look forward to their continued support."
One of the most intriguing things Luella mentioned to me is how WU monitors the funding of projects around the world. Much to my surprise, they use the highly successful "Rotary Model" that I have frequently described. Instead of local Rotarians around the world following the progress and cash-flow of a given project in the field, WU uses its own agents. Luella elaborated:
"Engaging our agents in site visits gets them out of the store fronts and into their communities - often corners of their communities they have never visited. I hear all the time, 'I never knew this was happening in my back yard!' Then they ask an important follow-up question, 'How can we donate locally to assist WU help with the project?"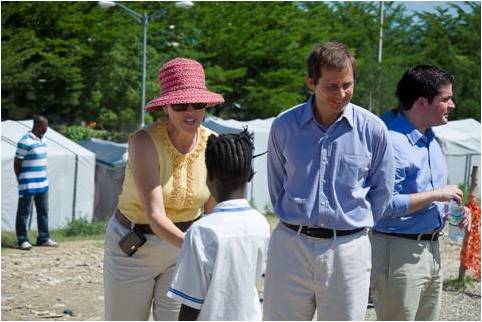 Western Union Foundation President Luella Chavez D'Angelo and SeniorRegional V.P. for Central America & Caribbean Mariano Dall'Orso, gatheringinformation and offering hope in Haiti. Photo courtesy of Western Union.
If all companies were like Western Union, the world would be better. I understand that this multinational corporation's ethos is taken in part from its new President and C.E.O., Hikmet Ersek. I look forward to interviewing him down the road to find out what he has done to make a company the size of many nations actually care about humanity.

Calling all HuffPost superfans!
Sign up for membership to become a founding member and help shape HuffPost's next chapter