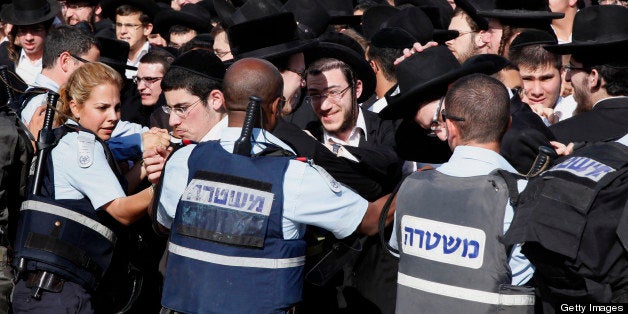 "Clashes erupt at women-of-the-wall prayer service," read the title of a prominent newspaper on Friday last week.

According to some media reports, "thousands of ultra-Orthodox protestors clashed with Israeli police during the first monthly prayer service held by Women of The Wall just a few days ago." The tension between ultra-Orthodox groups in Israel and the Women of the Wall has been on the rise during the past few weeks. Although, the Jerusalem District Court has officially allowed women to wear prayer shawls at the Western Wall, a handful of ultra-Orthodox rabbis have called their constituents to protest this ruling.

These developments are concerning. When Jews clash with Jews, it hurts. As history demonstrates, such conflicts almost always lead to havoc and destruction. So how should we respond? What can we do?

A Sense of Proportion
My dear mentor, world-scholar Rabbi Adin Steinsaltz, once imparted to me that the difference between a wise man and a fool is that a wise man "makes the important issues of life important and the trivial issues trivial," yet the fool "makes the important issues trivial, and the trivial issues important."
His poignant advice summarizes best the approach we should adopt today: We must maintain a sense of proportion between the truly important issues and the trivial ones. After all, that which unites us is so much greater than that which divides us. We all desire to make the world a better place. We all endeavor to nurture our children and surroundings with the richness of our heritage and traditions. We all care deeply about our communities, and we all wish to harness their dynamic force. But we can only do so if we learn to decipher the important issues from the trivial ones. And we ought to come together, as members of the same family, and focus on our common contributions, values and goals.

Joining Hands Together
The eminent Hasidic master Rabbi Chaim of Tsanz (1797-1876) related the following to a disciple who had had a bitter dispute with a friend: "A man was once lost in a forest for several days. Finally, he saw another man approaching him. 'Please show me the way out of the forest!' he called out to him. 'My dear brother, I too am lost,' the other man replied. 'But I can tell you this: the way I have come from leads nowhere; it has only led me astray. Let us join hands and search for a new way together.'"
It is time for us join hands together in the sometimes overgrown forests of confusion. And though we each have unique perspectives and ways of conduct, we ought not to walk alone.
Instead of fighting over the different forms of prayer, let us pray over the different forms of fighting, and ask that we reunite as one, with our hearts and ears, in respect and in dignity. This will build bridges, not walls; love, not apathy; harmony, not dissonance.
An acceptable solution for all internal conflicts will then undoubtedly arise.
Related
Popular in the Community