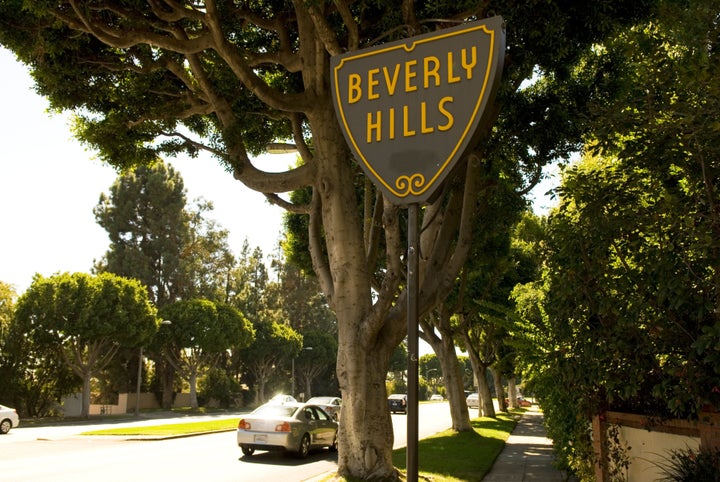 In a mostly amicable race so far, one of the first issues to divide the leading candidates for Los Angeles mayor involves another city altogether -- Beverly Hills.
During a candidate debate last week held in Beverly Hills, the leading candidates were split over plans to have the $6.3 billion Westside subway extension route run under a high school in that affluent city.
Los Angeles City Councilman Eric Garcetti strongly supported the plan, while both Councilwoman Jan Perry and attorney Kevin James called for alternative routes, citing hazardous conditions, such as methane gas, that make tunneling a risk.
The subway route is opposed by the city of Beverly Hills and Beverly Hills Unified School District, both of which are suing to stop the construction.
"I don't think it's a good idea, particularly because there are other options," Perry said. "There are oil fields, there is instability."
The debate, held at Beth Jacob Congregation in Beverly Hills, provided insights into the candidates' varying opinions on transportation. The mayor of Los Angeles holds a seat on the 13-member Metropolitan Transportation Authority board, and appoints three other members to help oversee the agency.
During his tenure at Metro, Mayor Antonio Villaraigosa has pushed to greatly expand rail lines throughout the county. He has also used his position to push local and national initiatives for transportation funding.
The Westside Subway extension -- a line that would eventually run from Koreatown to Santa Monica -- is Villaraigosa's most ambitious project, but it has rankled Beverly Hills residents who fear construction could spark an explosion under Beverly Hills High School.
They want the route changed, and the Century City stop moved from Constellation Boulevard to Santa Monica Boulevard.
As a board member, an incoming mayor could try to change the existing subway route, a process which would require a new environmental review.
None of the candidates at Thursday's debate promised to demand another route, but some echoed the fears of Beverly Hills residents. Candidate James warned of the dangers of methane gas and said he'd published a position paper against the subway corridor.
Candidate Emanuel Pleitez also spoke out against "grandiose rail and subway" projects.
Garcetti was the only candidate at the debate to strongly express support for the route under Beverly Hills High, calling the subway extension "the most important public transit project" in the Los Angeles region.
"We must see that this gets done," Garcetti said. "I support the route where it is, I know that's not a big vote-getter here in Beverly Hills, but I will be a straight shooter on these issues."
City Controller Wendy Greuel, who has been accused by critics and the Garcetti and Perry campaigns of skirting tough questions at mayoral debates, was more vague in her answer, saying the "dialogue" with Beverly Hills should continue.
The morning after the debate, Greuel's spokesman Dan Loeterman acknowledged that Greuel "waffled" on the question.
Greuel disagreed with her spokesman's assessment of her performance in a brief follow-up interview Friday. She maintained she was clear in her remarks and said she supports Metro's chosen route.
"I support the decision that the MTA made, the direction to go under Beverly Hills High," Greuel said.
She added: "No, I didn't waffle ... I was maybe not as articulate as I should be, but that was my position. I felt like I took a position."
While Beverly Hills residents can't vote in Los Angeles' March 5 municipal election, the city's wealthy citizens can contribute to the candidates' campaigns.
To date, the majority of Westside groups in Los Angeles support the planned Constellation Boulevard route. This spring, Westside homeowners attended a Metro board meeting in a show of support for the line, some wearing purple buttons proclaiming: "I (heart) Constellation."
Additionally, the Comstock Hills Homeowners Association presented the board with a letter stating that 11 Westside homeowner groups support the route chosen by Metro.
"I don't know of any Westside organization that opposes the stop (at Constellation)," said Jan Reichmann, president of the Comstock Hills Homeowners Association.
Perry's decision to oppose the tunnel came after attending Metro meetings and reading documents related to the project, she said in an interview Saturday.
She said her position wasn't influenced by her longtime friendship with Lisa Korbatov, who sits on the five-member Beverly Hills Unified School District Board of Education, and is a vocal opponent of the route.
Korbatov helped throw a fundraiser for Perry in 2011, and was scheduled to help throw another one over the recent holiday period, an event canceled because of scheduling issues. Korbatov has been quoted in Perry's campaign literature, saying Perry has the "kind of independence and leadership" needed by the mayor of Los Angeles.
Korbatov's parents helped establish the garment district in downtown Los Angeles, and the family is longtime supporters of Perry, who represents parts of downtown. Lisa Korbatov and her family members have contributed at least $4,700 to Perry's mayoral campaign, according to the City Ethics Commission.
Asked about her ties to Lisa Korbatov, Perry replied: "I make my own decisions, I don't make them based on friendships. I talk to a lot of people." Korbatov also dismissed any notion Perry made her decision based on the two women's friendship.
Besides the city of Beverly Hills, the Bus Riders Union also opposes the rail line expansion, calling the project a waste of money.
dakota.smith@dailynews.com 818-713-3761 twitter.com/dakotacdsmith ___
(c)2013 the Daily News (Los Angeles)
Distributed by MCT Information Services
Related
Popular in the Community