The wild changes in the short history of the modern surf culture are widely debated, evidenced and documented, yet little has been written about the humor of the lifestyle. As the concept of the surf film was evolving, it must be noted that laughs and comedy gags were an integral part of the new medium.
"There's nothing more boring than a surf film," laughs surf filmmaker Don Russell. He is referring to the monotony of watching wave after wave while landlocked in a theater seat. "Filmmakers have to keep it interesting. Bud Browne did that with humor."
The laughs and gags are evident in Bud Browne's Locked In!, a film that epitomizes his filmmaking aesthetic. The 1964 film headlined the closing night of the recent Honolulu Surf Film Festival.
"Locked In! is the last film of Browne's golden period, a time of exuberance, daring and innocence," says Anna Trent Moore, director of the Bud Browne Film Archives, "After that, surfing styles changed." In the film, there is no surfboard less than nine feet long.
The 83-minute romp was shot on 16-millimeter film where focus, light and color are not easily manipulated. In the days before pixels, GoPro and disposable waterproof cameras, Browne's long shots from the beach do not deter from the theatrical experience. At the screening of the recent Honolulu Surf Film Festival, the audience was bobbing and weaving along with the surfer on the screen.
"Besides the humor, the thing was that Bud always had the best surfing footage too," says legendary surfer Corky Carroll, "Others covered up the fact that they lacked enough really good footage by clever narration and humor skits, but Bud had it all."
"There's nothing more boring than a surf film," repeats Don Russell. He is a Malibu surfer and filmmaker, two passions that began before World War II. The wiry surfing legend was so enamored with his surf gags and goofy bits that he cut out the surfing in his surf films. Russell really likes to laugh.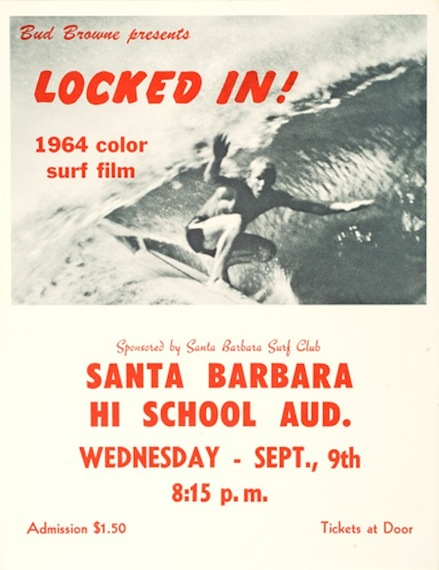 Actually, Russell got it wrong. A surf film, even a scratchy, blotchy antique like the Bud Browne masterpiece, is always compelling and never boring. Watch the audience. The joy of the sport is easily translated from the screen to the soul. After all, Surfer Magazine voted Locked In! as one of the Best Surf Films Ever Made.
And Russell is right. All surf and mood is boring. Browne's cozy home movie style complements the surf footage. Friendly narration, inside jokes and goofy gags make a nice ride of an evening.
"When (Browne) made the decision to become a surf filmmaker, he returned to (USC) to study the craft of filmmaking in earnest," says archive director Moore, "Bud always saw film as a form of entertainment. When he made a film, he really wanted to create something that not only showed surfing, but also offered entertainment."
Carroll agrees, "His skits in the early movies were priceless, from Buzzy Trent talking about taking wipe outs to Hevs McClelland being Superman, it was great stuff."
Some gags are more famous than others. "Super Surfer" made several appearances in Locked In! As played by Hevs McClelland, founder of the United States Surfing Association in 1961, the caped crusader didn't do much surfing and he didn't do much good. He got caught in a small phone booth with a talky beach babe as he was changing from his mild-mannered suit into his Super Surfer uniform. The audience howled when a little surf tyke took a poke at him. In another gag, Super Surfer is tandem surfing with a hottie, who turns out to be a blow up doll.
Many complain that California is over-surfed. Nothing has changed! In the 1964 film, Browne features a funny collage of too many Malibu longboarders trying to take the same short waves with disastrous results.
"It was just cornball, aw shucks, Ozzie and Harriet surf humor," says surf author Ben Marcus, "All (the surf filmmakers) used humor, but maybe Bud was first and used it the most. Rascal pranskterism." Archive director Moore states, "Browne invented surf film humor."
Back then, these bits were called "gags." Today, we call them "Vines," after the social media site that exhibits very short, six and a half second films.
The exquisite sport of tandem surfing is ripe with inelegant mishap. Hanging on or saving grace can get ugly and funny in a hurry. Ditto the wipeout. Locked In! is merciless to a universal legend; Greg Noll keeps wiping out, repeatedly and spectacularly.
"I remember when the crowd would go nuts during the wipe out sequences," says Corky Carroll, "Always funny, as long as it's not you getting the hammer, hahahaha." In Locked In!, the sixteen-year-old Carroll mugs it up for the camera, establishing a lifetime of smartass.
"Browne was intrigued by the lifestyle," says Anna Trent Moore, "These surfers were a close group of friends. They were always horsing around. The comedy came from the lifestyle."
A surf fashion sequence is always welcome, from any era. Yes, the modern bikini thong has become a worthwhile innovation to the padded diaper of '64. Guy's board shorts still look the same. Naturally, Browne gives a harbor seal a few choice words as color commentary.
Cute girls are always an easy diversion and gurfer beach babes are eternal. In one segment, the film profiles Joyce Hoffman, a baby-fat teenager and surfer. It's all in the family of the small surf culture in 1964. Her step-pop, surfer Walter Hoffman built a fabric empire that helped create the classic Hawai'ian shirt phenomenon and launched a fashion revolution.
The Mãkaha Skate Team, a few junior high schoolers from Long Beach, CA, walked all across their small, wood, homemade skateboards. The young sultans wore blue windbreakers emblazoned with their club logo. In 1964, the skateboard, a decade old innovation, was exploding in popularity.
The best comedy bit was a jaw dropper. Two goofy inlanders take to the waves with their flimsy rubber rafts. A wave bounces a raft into the air and the kook gawks as it flies high, into the sky, above the clouds.
"Bud Browne was reticent and thoughtful, a man of very few words. He rarely laughed. His big laugh was just a smile," says Anna Trent Moore, "His humor was dry but he loved slapstick and he loved Laurel and Hardy."
Born in 1921, Bud Browne was raised in the era of the silent comedy. At the neighborhood movie palace, every feature film screening was preceded by a series of newsreels, cartoons and short comedies.
Decades later, by 1960, the television set could be found in most American homes. Networks, scrambling for content, were showing old films as programming. Forgotten comedy stars, such as Laurel and Hardy, Harold Lloyd, Buster Keaton and Hal Roach's crew were finding a new generation of appreciative audiences. The Sixties surfer knew Browne's frame of reference and applauded.
"The irony of it all is that personally, Bud was a shy, reserved individual who described himself as a "man of few words," confides Moore, "I believe his quiet nature found an outlet to express himself through the comedic relief in his films."
Humor is largely absent from the contemporary surf film. This is odd, given that the sport has never been riper for a lampooning. "The image of surfing today doesn't lend itself to humor," proposes Anna Trent Moore, "It's a different kind of laugh." With the increased competition for prize money and sponsorships, many believe surfing has become too serious. Carroll agrees, "(Surf films) don't have a sense of humor anymore. It must be what the current market wants to see."
Sam George, who is a former editor of Surfer Magazine and the filmmaker of the documentary Hollywood Don't Surf says, "As 1950's surf culture tried to figure itself out, the era's surfers were much less self-conscious than those of today. And much more ready to laugh at themselves." Surf writer Ben Marcus asks, "Surfers are too self important now, perhaps?"
Back in the day, on the beach, only two things mattered: your mates and the waves. Today, the simple joys are easily lost when one adds trophies, cutthroat competition, sponsor contracts, fashion shoots, seven-figure salaries, social media hits and the GoPro strap-on. Now that's comedy.

Calling all HuffPost superfans!
Sign up for membership to become a founding member and help shape HuffPost's next chapter